Men's Pair and PR3 Mixed Double advance at World Rowing Championships
Windy and choppy conditions were the story of day four at the World Rowing Championships in Belgrade, Serbia with GB's M2- and PR3 Mix2x progressing through to their semi final and final respectively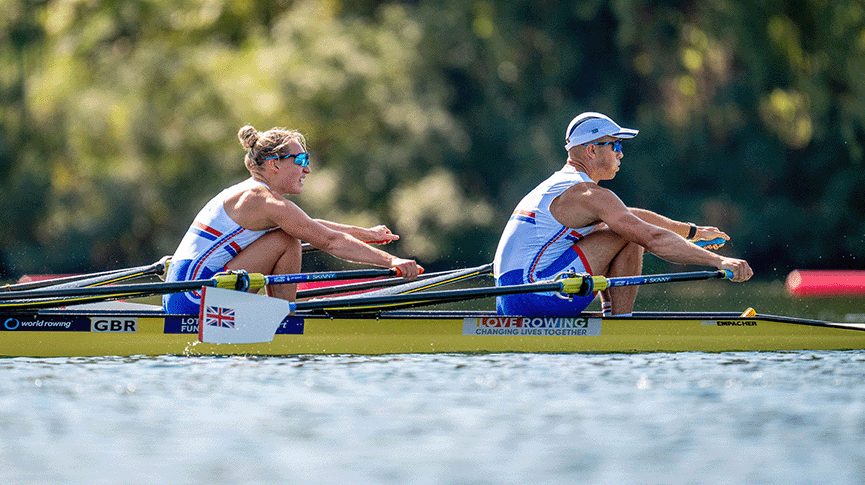 The Men's pair (M2-) quarter final saw the GB duo of Ollie Wynne-Griffith and Tom George lead from the start and finish ahead of South Africa and Australia. "It was a long and slow race," Tom explained, adding: "But I'm happy with it, we did what we needed to do. If I think back to a year ago we might have struggled with the conditions and lost it, but we've learned so much and come a long way over the last 12 months and that feels really positive."
Ollie commented: "We had a few bits to work on from the heat and I think we built on those nicely, especially in those tough conditions where it was hard to know where to measure the effort in the headwind. It was a direct headwind which made it a long race, around an extra 40 seconds on the body which doesn't seem like a lot over a six minute race but that can certainly take its toll. You just have to be that bit more accurate, that bit calmer, that bit more relaxed. It was nice to get out, control it, focus on our own rowing and do what we needed to do. This regatta is all about stepping through the rounds and so that's another box ticked because it gets us a step closer to Olympic qualification."
Annie Caddick and Sam Murray were second in the PR3 Mixed double sculls (PR3 Mix 2x) repechage putting them through to the A final where the top five boats will qualify for the Paralympic Games. Sam said: "We executed our plan pretty well. We just wanted to make sure that we got that slot for the final. Now we've got another day and a half to recover and prepare ourselves for Friday. Annie added: "Being in the top five is where we want to be… Just don't come last! It sounds easy but I expect it will feel pretty daunting when we're on the start line. We had a good heat earlier in the week and it was probably one of our best rows so we felt confident going into today and got the result we needed!"
Kyra Edwards and Saskia Budgett were fifth in the Women's double dculls (W2x) repechage, while Lucy Glover finished sixth in the Women's single sculls (W1x) quarter final. Both boats will now race in C/D semi finals.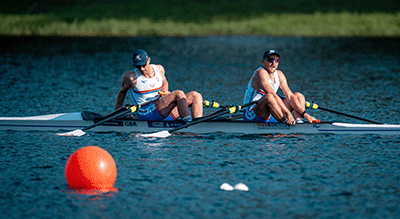 Aidan Thompson and John Collins comfortably won their Men's double sculls (M2x) E final placing 25th overall.
You can follow the World Rowing Championships live across British Rowing social media channels, here on our World Rowing Championships hub and on the World Rowing website. Finals will be shown on BBC2, BBC iPlayer and the BBC website.
Results from Day Four at 2023 World Rowing Championships
Boat
Race
Time
Result and Progression
M2-
Ollie Wynne-Griffith (Leander Club/ Cambridge University BC)
Tom George (Leander Club/ Cambridge University BC)
Quarter final
07:04.21
1st → A/B Semi Final
PR3 Mix2x
Annie Caddick (Molesey BC)
Sam Murray (Molesey BC)
Repechage
07:42.38
2nd → A Final
W2x
Saskia Budgett (Tideway Scullers School)
Kyra Edwards (Nottingham RC)
Repechage
07:10.70
5th → C/D Semi Final
W1x
Lucy Glover (Edinburgh University BC/ Warrington RC)
Quarter final
08:15.65
6th → C/D Semi Final
M2x
Aidan Thompson (Twickenham RC/ University of Surrey RC)
John Collins (Leander Club)
E Final
06:53.09
1st  → 25th overall
Photos: Benedict Tufnell