George Hammond hands NSR baton to Mike Martin
National Schools' Regatta 2023 will see the end of an era when Chairman George Hammond steps down after nearly 40 years of service to junior rowing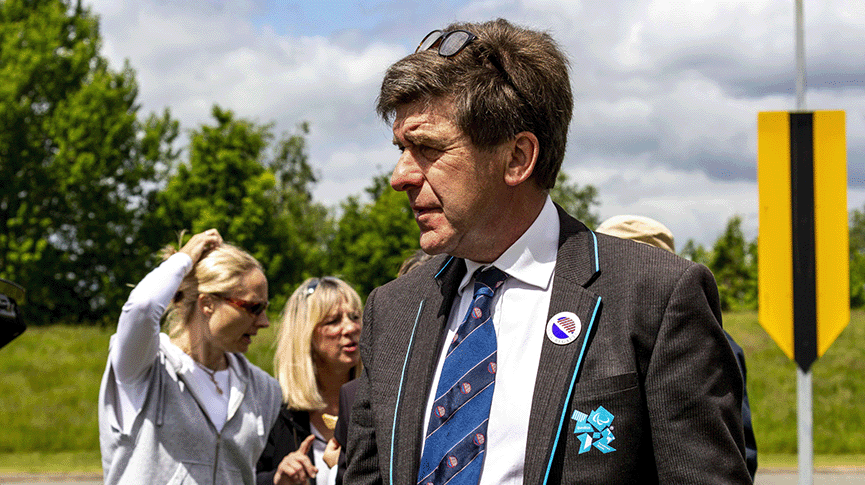 George Hammond, who won the Beryl Crockford Award for outstanding contributions to junior rowing a the 2022 British Rowing Awards, learned to row at Eton College. He won Junior Colts (J15) Eights in 1972 at the final National Schools' Regatta (NSR) to be held at the Child-Beale Estate along the River Thames at Pangbourne. Two years later, he won The Queen Elizabeth, The Queen Mother's Cup, by which time the NSR was taking place at the National Watersports Centre in Nottingham. As a junior, he was also selected to row for Great Britain in 1974 and 1975.
George's passion for rowing continued after he left school. He volunteered in the sport and later qualified as an umpire. In 1985, he was encouraged to 'lend a hand' at NSR by his friend, Jonathan Hill, whose father founded the regatta in 1947 and with whom he had rowed at school in 1975. For many years, George and Jonathan would meet the Committee at Holme Pierrepont on a Friday night and set up for the regatta the following day! At this stage, the regatta was a one-day event where 200 crews took part in a mere 60 races.
In 1985 George took over as Entries Secretary from Ronnie Howard and from this point onwards George became the face of the regatta to a generation of school and club coaches from across the UK. George undertook this role until 2006 when he became Chairman.
"For so many people… George is the National Schools Regatta"
Mark Davies, British Rowing Chair, said: "For so many people (including me!) George is the National Schools Regatta. He has been synonymous with the event for almost all my conscious life, and given that I'm getting quite old, that's a very long time. He's been absolutely fantastic over decades, and generations of oarsmen and women – and the sport as a whole – owe him a huge vote of thanks."
As with many great leaders, George has ensured that his successor is in place. George will be succeeded by Mike Martin, who is a very well-known and respected teacher and rowing coach in the British and Scottish school community. Mike has been working with the Committee over the past year to ensure a smooth transition.
George continues to be heavily involved in rowing competitions as a Steward of Henley Royal Regatta, where he is one of the Committee of Management, and also as Chairman of Bedford Regatta.
NSR has published a full tribute to George's work for the regatta, containing several entertaining anecdotes, on the their  website.