2022 British Rowing Awards winners announced
The 2022 British Rowing Awards took place virtually last night, introduced and hosted by CEO Alastair Marks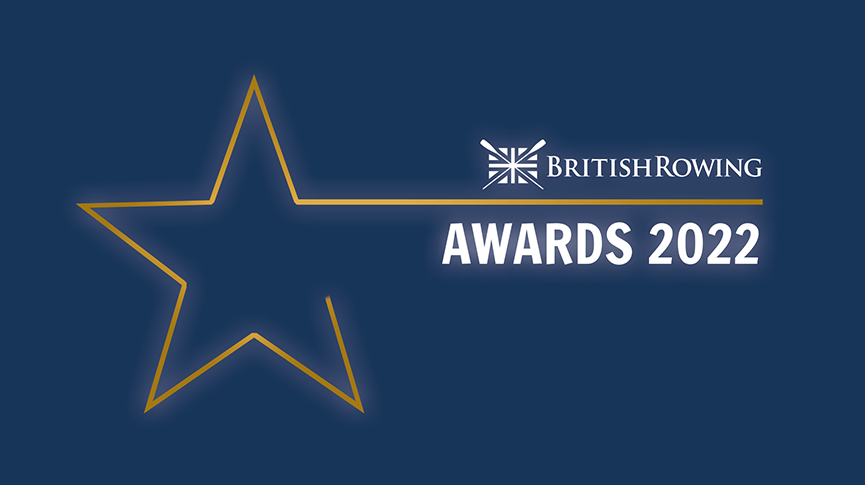 Alastair was joined by special guests from across the rowing community to make the presentations, including London 2012 Olympian Adam Freeman-Pask and British Rowing Chair Mark Davies and Deputy Chair Kate O'Sullivan, and many more.
It was an evening that saluted the achievements of all of the shortlisted individuals, crews and clubs who have done and achieved so much for our sport, both on and off the water.
The national winners were:
2022 Club Crew of the Year: Mika Rosenfeld and Louise Allen (Bewl Bridge RC)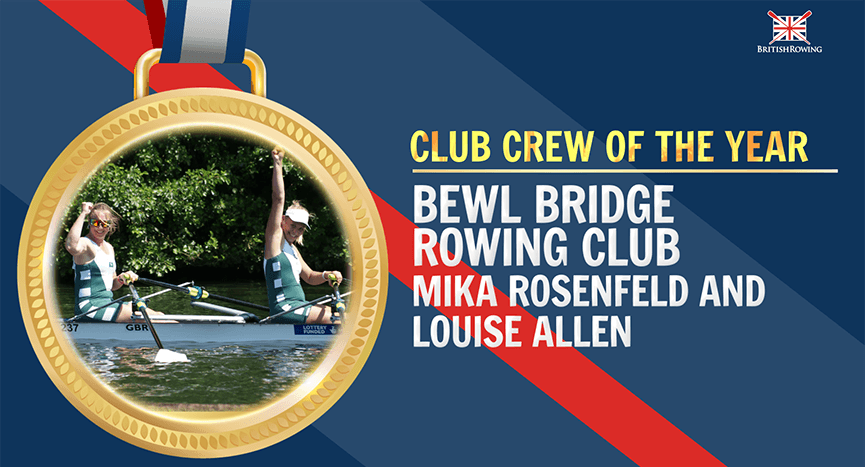 Despite having only formed their double scull partnership in 2020, and with Louise only learning to row in 2018 and Mika having had a long break from the sport (including having two children), this masters crew has had an amazing year. They have juggled being a single parent with no family support in the UK, lack of access to ergos, careers that mean that they are not able to train together very frequently but the club have rallied around and shared their amazing journey providing support and babysitting.  The culmination of their successful year came on the back of Mika driving to Bordeaux (with her children) where Mika and Louise won gold at the World Rowing Masters Regatta. This was on top of major successes at the British Rowing Masters Championships and Henley Masters Regatta.
Commended
The panel also wished to commend Jersey RC's 'Girls that Row'. Not only have this crew achieved some excellent results, which is even more noteworthy given that two of them were new to rowing, but off the water they have been developed a strong Instagram profile to build awareness of women in sport and coastal rowing in the local community, and to demonstrate you can create a strong team bond and friendships whilst working and training hard and helping to organise beach sprint competition in their community.
2022 National Rowing Safety Award: John Mulholland, the Regional Rowing Safety Adviser for the Northern Region
John is a respected Regional Rowing Safety Adviser and member of the National Rowing Safety Committee. He cares passionately about rowing safety and works with clubs and competitions in the Northern Region to promote rowing safety so that everyone involved with rowing is kept safe.
He is also a valued member of the National Rowing Safety Committee and is always willing to contribute to our discussions and actively share his ideas and advice.
2022 University Crew of the Year: University of York BC Senior Men's Four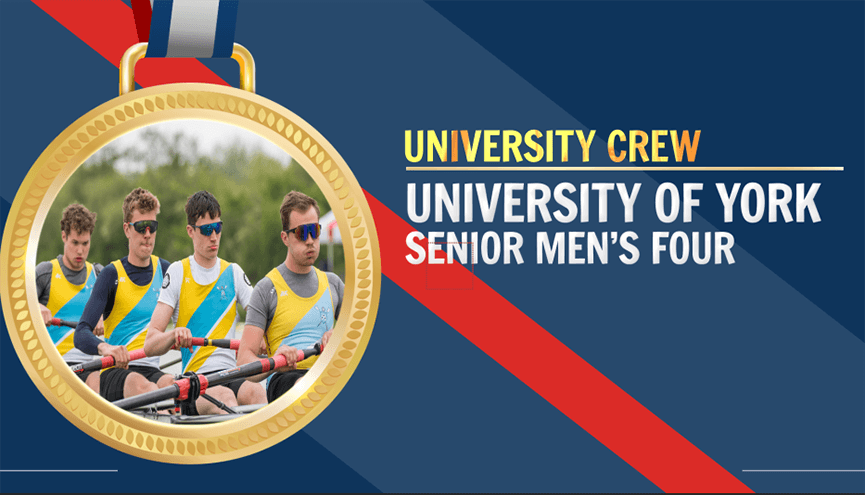 This crew overcame all sorts of obstacles to produce a fine set of results last season including the club's best ever position at BUCS and a top four finish at Marlow Regatta.
Commended
In such a competitive category, the panel also wished to commend the Reading University BC Men's Championship Quad and the University of Nottingham BC Women's Four, both of whom had very successful seasons too.
2022 Junior or School Crew of the Year: Windsor Boys' School BC Fawley Challenge Cup 'A' Crew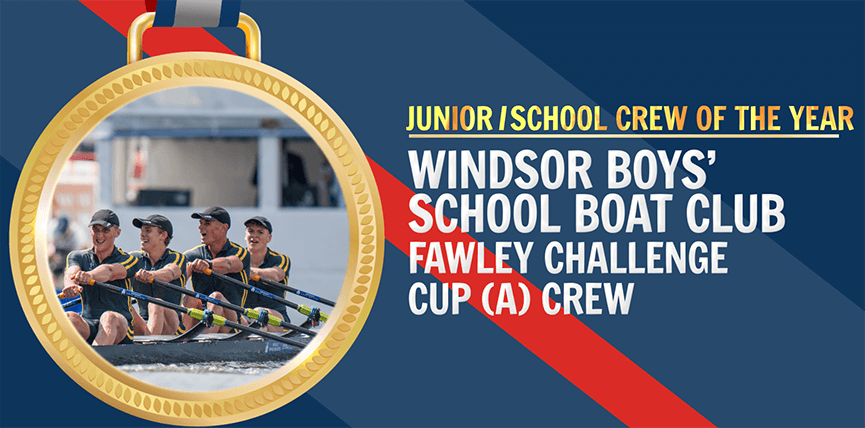 The crew from Winsdor Boys', which won the Fawley Challenge Cup at Henley Royal Regatta, really was ​​the outstanding Junior Crew of the Year. They turned around losses in the 2021 final at Henley which could have knocked them back but in fact it clearly inspired them to work harder and smarter,  they  produced good individuals as well as a strong crew ethos, and dominated the season.
Credit should also be given, of course, to the school's 'B' crew, who also reached the final at Henley and must surely have been instrumental in pushing the 'A' crew on.
Commended
Also commended in this award are the winners of the Diamond Jubilee Challenge Cup at Henley Royal Regatta last year, Claires Court School BC. The girls' programme at the school is relatively new and still small and although they were not necessarily the favourites going into Henley, they executed an impressive series of races to win the trophy.
2022 Beryl Crockford Award: George Hammond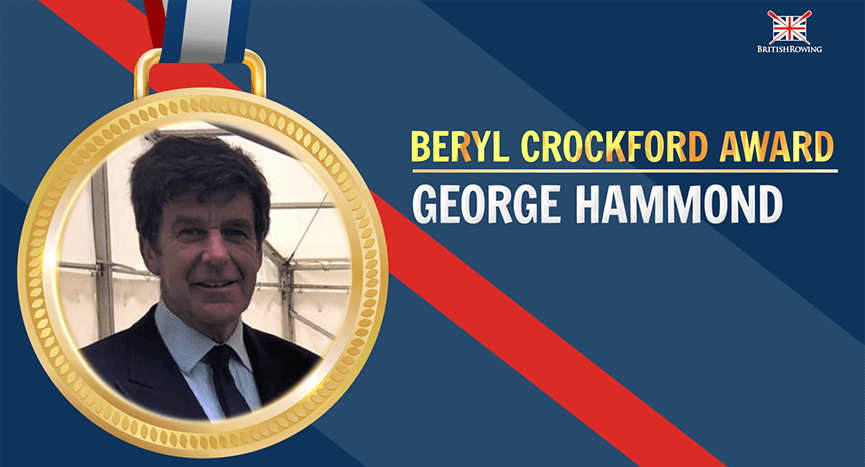 This is awarded each year to someone who has made an outstanding contribution to junior rowing.
Over the last 16 years, George has guided the National Schools' Regatta through a series of significant changes, which have ensured that it continues to provide competition for as wide an entry as possible, whilst ensuring the highest quality racing. His vision and leadership of the event has always put the competitor at the heart of the many decisions that have had to be made.
George's support for junior causes through the charitable arm of the Regatta has promoted junior rowing in many different areas and this has helped to widen access and participation within our sport. Likewise, his role as a Steward of Henley Royal Regatta has again helped with the increase in participation and depth of competition in the junior events there.
In summary, his support and vision for junior rowing has been remarkable and this award is richly deserved.
Medals of Merit
Sue Ganley (Boston RC)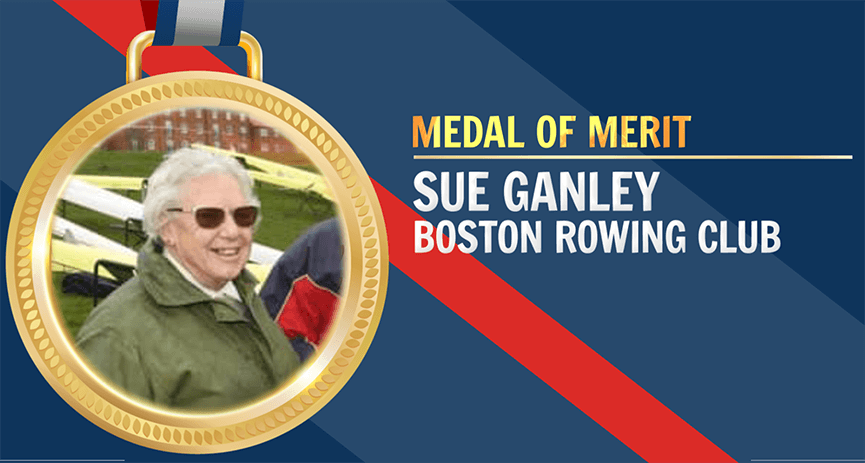 Sue is a familiar face to anyone who has made the journey to Boston Rowing Club for GB Trials. She has someone who has never rowed, yet given so much to the sport. For the GB Trials, she is always on site before the first trailer arrives the day before and they leave long after the last one has departed.
With nearly 50 years of association with her club, Sue serves as Club President and has the best attendance record at their Committee meetings. Club members say that her indefatigable volunteering for the club and positive approach inspire others who are a fraction of her age.
David Saul (Leeds RC)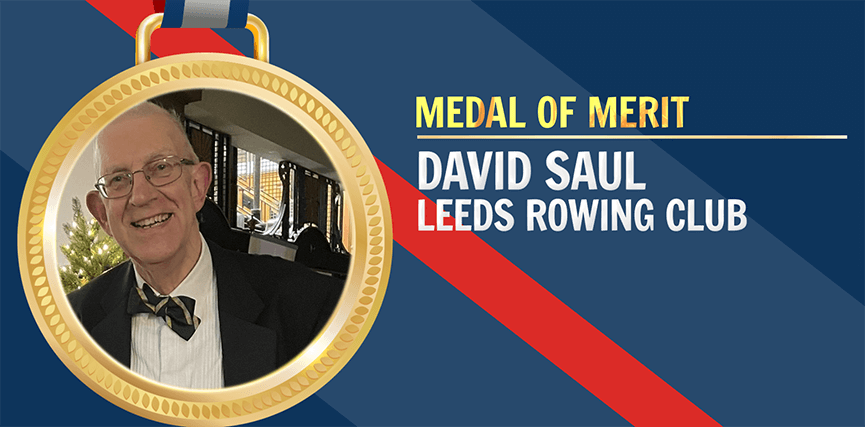 David has been described as the architect of what Leeds RC has become, having had a burning ambition to create a club which is competitive, fun, and welcoming but also not afraid to push fresh thinking and new ideas to ensure the club continues to thrive.
He has been the driving force in developing the partnership in the city between all the different rowing organisations in the city, creating the Leeds City Rowing Partnership between Leeds RC, the University of Leeds, British Rowing, the Gorse Academies Trust, and London Youth Rowing.
But David is more than just a guiding hand with the club, he is a mentor, a friend, a sounding board for problems and someone who will listen. David encourages people to be the best they can possibly be. He's helped transform rowers from being ordinary athletes into Henley rowers, motivated rowers to achieve their dreams of rowing for Great Britain and ensured that within his powers his athletes will have the best equipment to achieve their potential.
Keith Atkinson (Nottingham Rowing Club)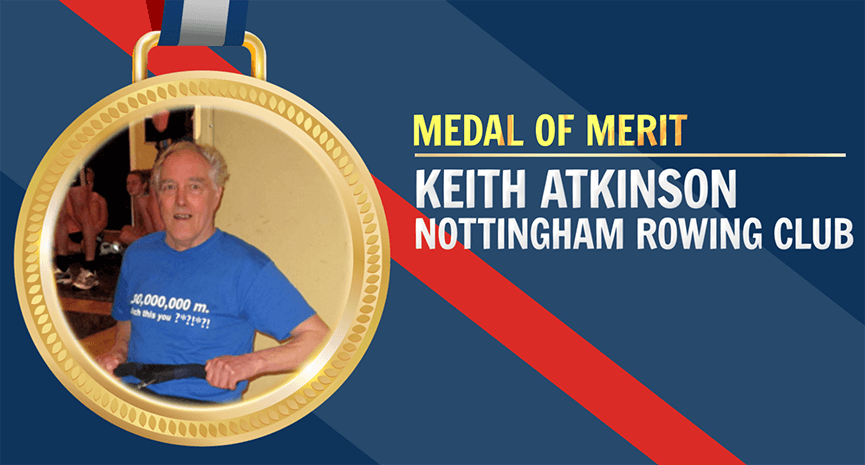 Keith first took up rowing nearly 70 years ago in 1954. After studying at Durham University, he returned to the Nottingham club where he learned to row where he went on to serve as Club Captain in the sixties and then became President in 1977, a position which he held until he retired in 2017
In 1979 he started to row on the rowing machine, mainly to keep fit. Shortly after this, he was diagnosed with Multiple Sclerosis, but continued to row. He set a target of completing 50 million metres by the time of the Tokyo Olympics and this he did with months to spare.
Most mornings whilst the rest of the world was tucked up in bed at 5am he was on his machine grinding out another 10,000 metres.
Penny Senior (Avon County RC)
Penny has been junior coordinator at her club since the late 1990s, bringing Project Oarsome to her club in 1999/2000. She's still fulfilling this role after more than 30 years and is highly respected by juniors and parents alike.
However, that's not all, she has served twice as Club Captain, from 1991 to 1995 and then again from 2007 to 2022, presiding over periods of major developments on and off the water including growth in membership across junior, senior and masters' sections, a new boathouse and facilities block and leading on the planning and boat buying programme which the club has followed.
As well as leadership roles, she carries out day to day tasks where needed including commissioning and selling new club kit, managing the cleaning contract, and holding the site keys.
She has led a junior coaching team whose crews have had successes at national and international level since 2002, winning medals at the National Championships, Junior Championships, Henley Women's, National Schools, Coupe de la Jeunesse, BR Indoor Championships and competed at Junior Worlds.
Regionally, she took over as junior representative in 2007 and is still doing it now. She attends the British Rowing Junior Rowing Committee and manages the team for the WAGS and Wales Team at JIRR, running crew trials, selecting the team, trailing to the event and managing the admin.
She really has made a massive contribution to the sport.
2022 Volunteer of the Year: Piers Herrmann of Yare BC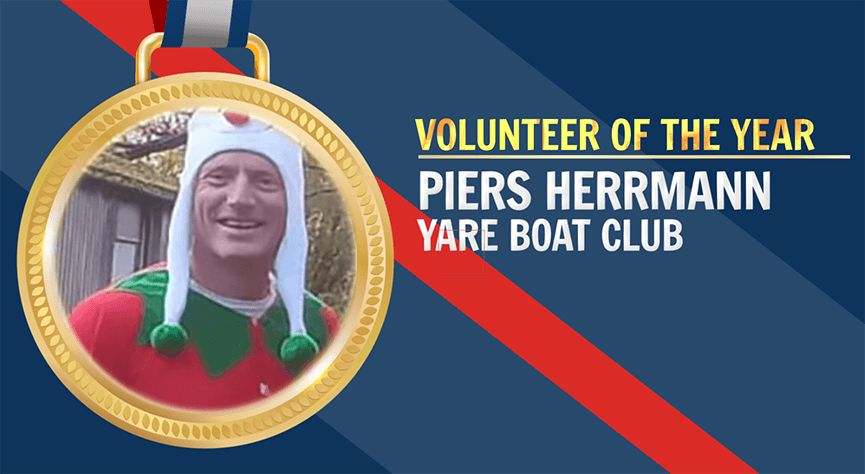 The sheer range and volume of voluntary activity that has been undertaken by Piers made him the outstanding nominee. The amount of effort and work that he has clearly put in to developing both people and his club is evidenced by a wide range of successful outcomes and the panel was unanimous in selecting him as an exceedingly worthy winner.
Commended
The panel also wish to recognise Paddy Davidson of City of Bristol RC with a commendation as they considered that his exceptional dedication and exemplary behaviours are truly in keeping with the spirit and ethos of rowing, and he is clearly held in high regard by his clubmates.
2022 Rising Star Volunteer of the Year: Alex Wilkins from the University of Leeds BC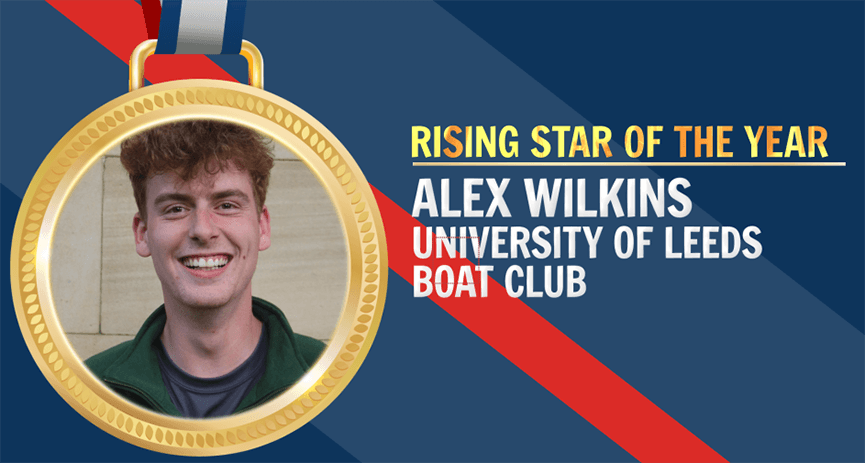 Alex received very impressive feedback around his contribution to the sport and how he has dealt so positively with the unfortunate challenge of not being able to row himself by staying in the sport and adding a huge amount of value through coaching.
His commitment and dedication is amazing, at three different locations – his University, Leeds Rowing Club and Bedford Rowing Club/ This is even more impressive given he is still at university studying,
The quote from Alex's Region sums it up "It takes a lot to realise you can't do the sport you love anymore and to still be able to come down almost every day and give others the opportunity you no longer have is inspirational and admirable."
Many congratulations for what you have achieved and will continue to do for the sport; the panel were very impressed.
Commended
The competition was tough this year but the Panel felt it was important to commend two other nominees, Katie Jugg of Isle of Ely RC and Matthew Holland of London RC. Katie for her achievements in coaching, and Matthew for his contribution to umpiring as the youngest multi lane umpire in the country. The time, expertise and efforts are all very valuable to make rowing happen.
2022 Coach of the Year: Mark Wilkinson of Windsor Boys' School BC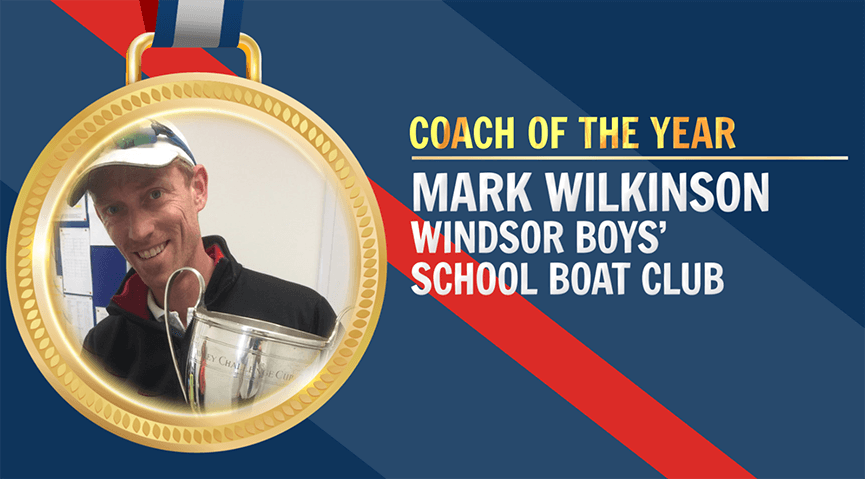 This award is in addition to being the coach of the Junior Crew of the Year announced earlier.
2022 was a year of huge achievement for the rowers of Windsor Boys' and Mark that included medal successes at the National Schools Regatta, the British Rowing Junior Championships, the European Rowing Junior Championships and, incredibly, the winners and runners up in the Fawley Challenge Cup at Henley Royal Regatta.
Mark received a significant number of nominations with comments including;  "Mark has been an inspiration for a generation of junior rowers"  and "They trained as a team and won as a team and mark was the cornerstone"
Commended
The panel also wished to give special commendation to Club Development Coach of the Year, Graham Miller of Royal Chester RC, who has had an amazing year and made a huge impact on the retention of participants in the learn to row scheme.
2022 Lifetime Achievement Award: Phil Jones of York City RC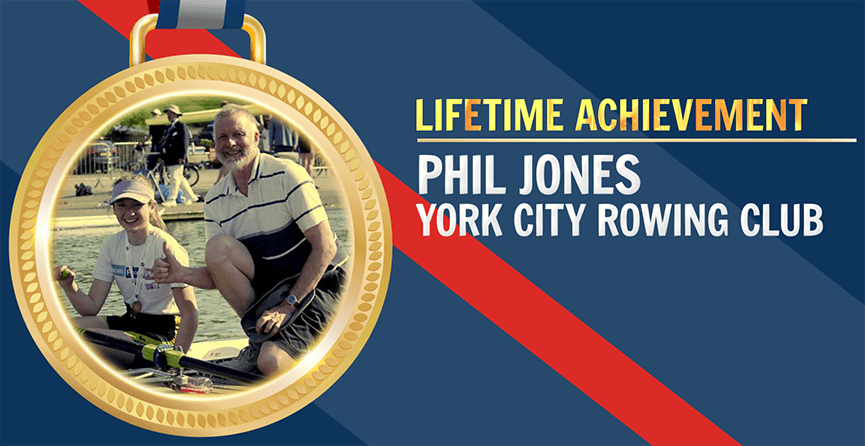 Phil served rowing and his club in many roles, but his most significant contribution has been as Junior Coordinator for his club for twenty years. He's been responsible for literally hundreds of juniors learning to row and to love rowing.
As well as competing at local regattas, his athletes have enjoyed success at the highest level, and some have become medallists at BUCS, Henley Royal Regatta and the World RowingU23 Championships, whilst others have become coaches – both volunteer and professional.
As well as coaching, he was the Club secretary for over 20 years and he was also the secretary of the club's Small Boats Head for over 30 years. Any one of these activities would be considered a major accomplishment but having done them all it is simply extraordinary.
2022 Rowing Project of the Year: Greater Manchester Youth Rowing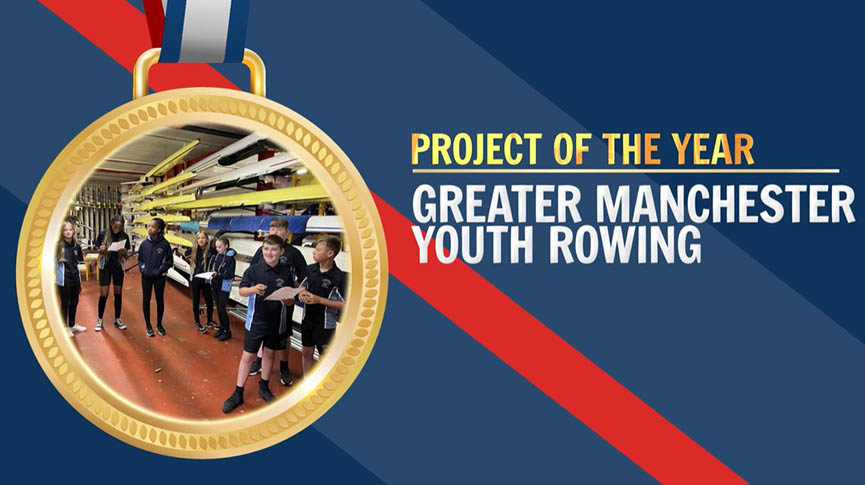 Greater Manchester Youth Rowing is a new part of the Warrington Youth Rowing Programme, based at Agecroft Rowing Club aimed at providing rowing access to inner city schools in Greater Manchester.
The programme now has five local inner city schools rowing from Agecroft and has space for two more schools that are anticipated to join in 2023. The schools are coached by Agecroft RC and Salford University BC members, supported by the Henley Royal Regatta Charitable Trust.
Feedback from schools has been outstanding, and two girls both on the cusp of complete exclusion have already seen the benefit. Both now attend school more regularly just so they can go rowing.
All of this has been done in a very short timescale, by volunteers to the sport, and off the back of Covid disruption. A huge achievement by all.
Medal of Honour: Chris Dodd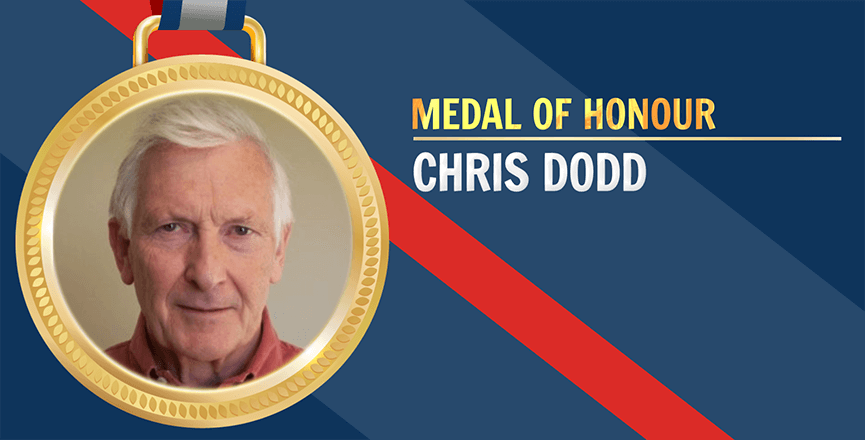 Chris has had a distinguished career as a rowing journalist and historian, having written about rowing in newspapers, magazines and books for over 40 years. Having entered the sport as a schoolbox cox in Bristol, he stopped rowing whilst at university in Nottingham to edit the student newspaper. This led to a career on The Guardian in 1965
He began writing about rowing at weekends in 1970. In 1994, he turned freelance when his mad scheme to set up the River and Rowing Museum in Henley-on-Thames attracted a sponsor. He was responsible for creating the rowing collection and library and curating special exhibitions, and the museum opened its doors in 1998.
He was the founding editor of Britain's Regatta magazine and FISA's World Rowing magazine. He edited Regatta from 1987 to 2002 and sat on FISA's media commission between 1990 and 2002.
He has published nine books to date, including histories of Henley Royal Regatta, the Oxford and Cambridge Boat Race, World Rowing and London Rowing Club. Away from writing, he has served as press chief at the World Rowing Championships in 1986 and 1994, and editor of the Olympic News Service at the 1996 Olympic Games in Atlanta. He was also media chief at the 2002 Commonwealth and World Student Games regattas in Nottingham.
2022 Club of the Year: Lea RC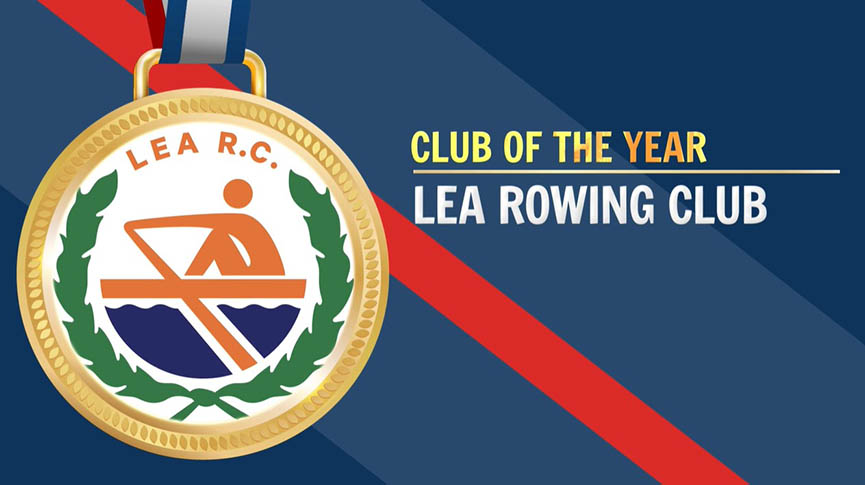 The Panel were particularly impressed by the extent of the Club's outreach into the community. Examples were the offerings for young people, including providing rowing as a PE option for local schools, for migrants through the 'I Belong' project and the 'I am a Rower' campaign and providing opportunities for women in the local Hasidic Jewish community and those with disabilities. This was combined with performance success at Henley Royal Regatta and with members and alumni competing internationally and at the Boat Race. This is a truly outstanding club.
Commended
Also commended by the panel in this award was Derby RC. The panel was particularly impressed by the combination of Derby's growth, the way it welcomed members with a disability, and the level of the club's success at competitions.
---
Finally, please help us to make next year's British Rowing Awards even better by filling in this short survey: