Masters crews enjoy great racing at renamed Head
215 open, women's and mixed eights and quads competed across 22 categories at the 41st Vesta International Masters Head of the River Race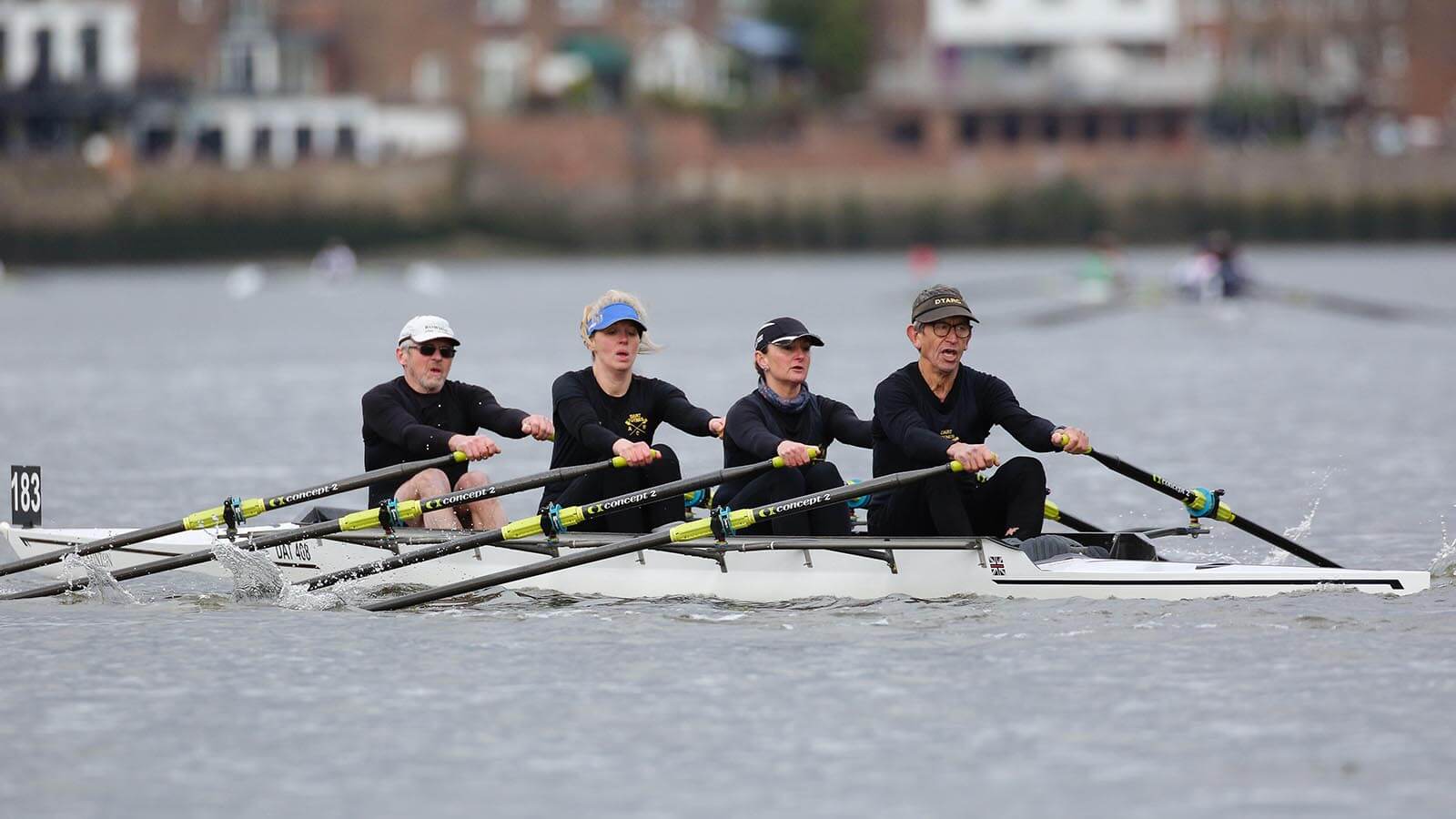 The race, previously known as the – pleasingly alliterative – Vesta Veterans International Head of the River Race, has been renamed for 2023 to use the term 'Masters', the designation for rowers in the year of their 27th birthday or older, which has been used internationally since 1990 and by British Rowing since 2010.
In another innovation, this year's start order saw the Women's entries set off first, followed by the Mixed and then the Open crews in both the eights and quads categories. At large head races like this, some crews are always going to have to spend more time marshalling than others; alternating who that is between women's and open crews is a fair and welcome approach to spreading the pain.
That said, conditions were so benign with very little wind, mild temperatures and a quick stream, that even those in the lower divisions didn't suffer much from cold while waiting to start.
Nottingham RC (MasA) were the fastest women's eight, winning the A/B category by 0.78sec, finishing an extremely creditable 45th overall. The Cambridge University BC alumni from Crabtree BC (Mas A) won the open race, by a barely-less-close 2.47sec. Thames RC (MasA) romped home to win the handicapped Mixed Eights event.
Both Cantabrigian RC (MasA), who won the Women's Quads and Peterborough RC/Leicester RC (MasC), winners of the Open Quads, enjoyed comfortable margins of victory. Dart Totnes ARC (MasF) won the handicapped Mixed Quads, impressively recording the fastest absolute time against younger opposition in the process.
The fastest crews in the Novice Eights were Eton Excelsior RC (MasD) in the Open category and Thames Tradesmen's RC (MasD) in the Women's. Times were quite spread out in these events, which attracted few entries, perhaps reflecting that the Tideway is not the best place for inexperienced crews to get to grips with racing.
Eagle-eyed coxes and steers found knowing when they were exactly half way – thanks to the new St Paul's Post – a useful gauge of how long the whole race was likely to take.
Full results are available on the Vesta website.