Championship Course halfway post unveiled
For the first time, crews racing on the Championship Course – at any of the major Tideway heads or the Boat Race – will know when they're exactly half way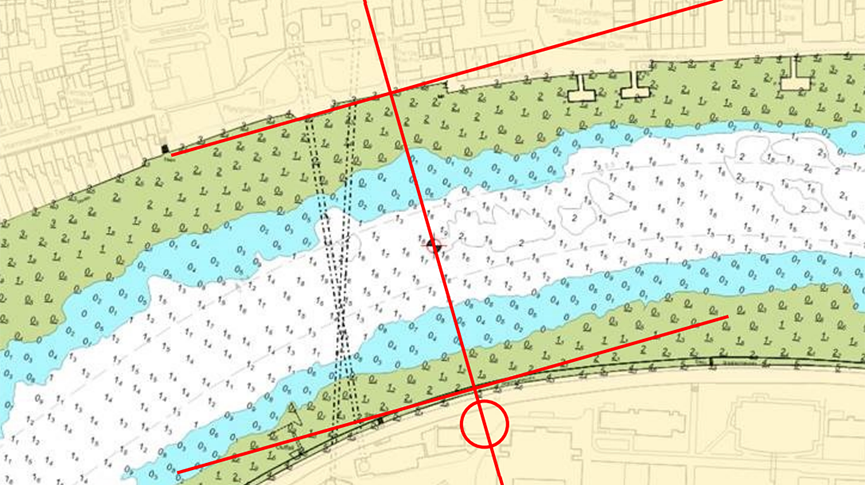 Ever since the 4 mile, 374 yard Championship Course between Putney and Mortlake was first used for the men's Boat Race in 1854, followed by the Head of the River race in 1926, rowers must have welcomed knowing when they had less than half of the gruelling course to go. But they could never be sure precisely where this was.
From today, everyone racing on the famous course will be able to use a new landmark – the St Paul's Post – to tell them when they've reached half way.
The project was initiated by renowned Tideway rower Chris Harris, who was a pupil at St Paul's School in the 1950s. "As an oarsman, I'd long thought it would be useful if there was a definitive half way marker point rather than the vague 'it's about where the blue doors/windows are', so I decided to do something about it. Darren Knight, Deputy Harbour Master at the Port of London Authority was extremely helpful in plotting the exact line on a chart (see above). This showed that the Surrey end falls within St Paul's School's grounds. The school's new High Master, Sally-Anne Huang, and President of the Boat Club Dr Matt Smith embraced the idea wholeheartedly and agreed to fund the post and its installation."
The post is made of green English oak and stands 4.24m high with a taller flagpole next to it. It's painted in distinctive black and white bands – the school's colours.
It was unveiled by Alan Campbell in time for the upcoming Head of the River Race, Vesta International Masters Head of the River Race and Boat Race. Campbell has notched up multiple wins at the Scullers' Head, Wingfield Sculls, Fours Head and Head of the River Race over the Championship Course, which he said "doesn't just require character but demands character" from all those who race there.
The St Paul's Post joins the 'university stones' at the start and finish of the course, and the 'Mile Post' obelisk – a monument to Steve Fairbairn, the founder of the Head of the River Race – as a permanent marker for all those who race on the Championship Course.