Join the online Festival of Indoor Rowing in December
British Rowing's inaugural online Festival of Indoor Rowing takes place from 5-10 December 2022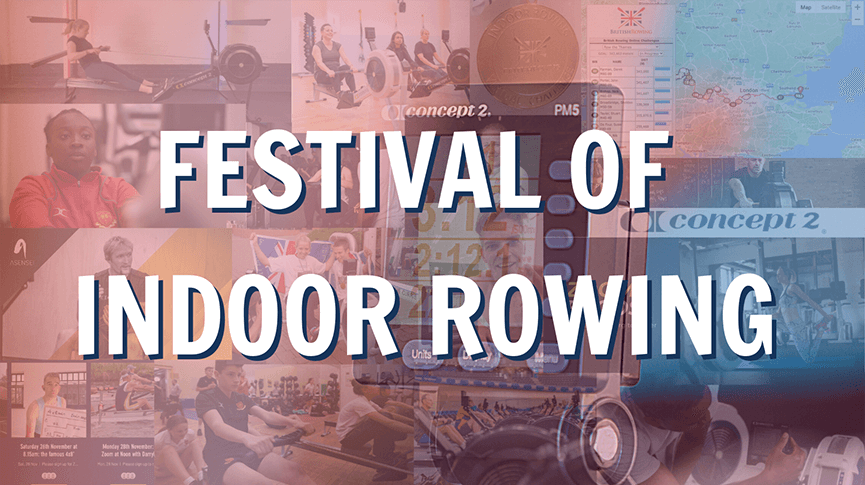 Following the cancellation of the British Rowing Indoor Championships (BRIC), originally scheduled for 10 December, indoor rowers have told us that they're keen to participate in an indoor rowing event around that time. In particular, they asked for an event that provides:
Ways for people to race together on and around 10 December.
An online indoor rowing league with chances to win prizes/medals by taking part and submitting times over a period of time.
An indoor rowing format that would encourage them to take part in a wider competition.
As a result, we're delighted to announce we've created the inaugural Festival of Indoor Rowing, which will take place online from 5-10 December 2022.
What is the Festival of Indoor Rowing?
An exciting new online indoor rowing festival, for both indoor enthusiasts (and those who were going to enter BRIC) to engage in a form of an indoor rowing competition working closely with our fantastic indoor rowing partners. The Festival is open to anyone who enjoys indoor rowing, from competitive indoor rowers to fitness enthusiasts or complete beginners.
What's going to happen at the Festival?
Central to the Festival is an online LEAGUE, which we're delivering with partner ReSport, through which indoor rowers can compete in events across the traditional BRIC racing distances. They'll be able to register, submit a time, and win medals.
Alongside this there will be scheduled indoor rowing activities throughout the day on 10 December. These will include online group workouts to encourage people to get on a machine and join in.
We've designed the various activities in the Festival to provide a suite of options to cater for all types of indoor rowers and rowing groups with their differing motivations and access needs.
Festival schedule
Open Festival (5-10 December)
On 5 December we will open the Festival of Indoor Rowing LEAGUE to kick start the week. The LEAGUE is accessible to everyone, whatever machine you use.
Indoor Festival (10 December: 9am to 5pm)
The LEAGUE continues to be open alongside a packed schedule of different activities throughout the day on 10 December. We're grateful to our partners Concept2, Zoom Ergos, asensei, Love Rowing and more for their help in delivering these.
The aim is to give people different ways to get on indoor rowing machines together. You don't have to do this on your own. The Festival is about creating and growing the indoor rowing community.
Post-Festival (11 December)
Results from the LEAGUE announced and close of the Festival of Indoor Rowing 2022.