Lyme Regis Indoor Rowing Centre hosts instructor workshop
Less than nine months since it opened, the Indoor Rowing Centre (IRC), based inside the Jubilee Pavilion, has hosted its first Indoor Rowing Instructor workshop, with 12 participants gaining the qualification.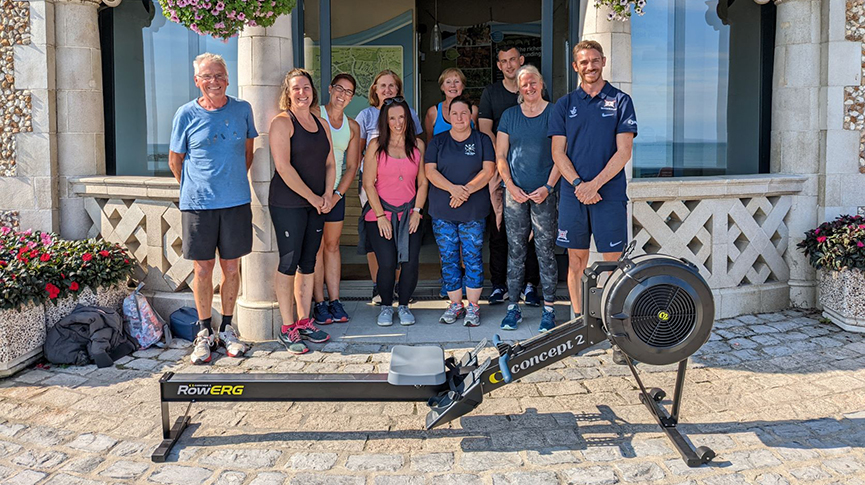 Delivered by British Rowing Master Trainer Matt Gleed, the workshop included a mix of practical and theory lessons covering correct British Rowing technique, class tuition and equipment maintenance. The students came from Lyme Regis Gig Club, The Woodroffe School and IRC members.
Chris Farrell, British Rowing Project Manager for Indoor Rowing, says, "I'm so pleased to be supporting Lyme Regis Gig Club to become an official Go Row Indoor club and to launch its classes, which make indoor rowing more accessible to everyone in the local community. With their highly motivated and newly trained Go Row Indoor instructors, the club has some great rowing programmes and motivating indoor activities ready to access, and I believe the club is going to be a huge success."
Every stroke uses 85% of your muscles!
"Indoor rowing is a as import a part of the wider sport of rowing as on-water rowing. That's why we're working nationally with clubs – like Lyme Regis Gig Club – to get more people on the machine. We just want people to give it a go. Indoor rowing is a low-impact, total body workout that's particularly fun as part of a class or group. It's also brilliant for improving core strength; every stroke uses 85% of your muscles! These cover nine major muscle groups so you get a lot of benefit from even just a short session."
Garry Sutherland, Performance Coach at the Indoor Rowing Centre says, "This is an important step on the path to establishing Lyme Regis as regional sea and indoor rowing hub. I feel very proud of what we've achieved in the short time that we've been open."
"As well as regular row-for-fitness classes, over 70 people have taken part in the GoRow7 challenge leagues. These run  from October through to Summer and participants compete over a range of time trials from 100m to 10k. Uplyme and Lyme Regis Cricket Club used indoor rowing as part of their pre-season fitness preparation. Cricket Club Chairman Steve Batey currently holds four of the league records."
Future plans
So, what's next for Lyme Regis Indoor Rowing Centre?
"We are currently working closely with The Woodroffe School to service and maintain the schools rowing ergs," Sutherland explains. "The school will used these to select and prepare a team for the British Indoor Rowing Championships at the Lee Valley VeloPark Olympic velodrome on 10th December. This is where rowers of all abilities compete alongside Olympic and World medallists."
Find out more
For further details on how to join the Lyme Regis Indoor Rowing Centre, email [email protected]
Find out more about British Rowing's CIMSPA-accredited Go Row Indoor Instructor workshop for fitness professionals here.
Send us #YourStories
We want to hear from you!
Use this form to send us a news story about your crew, club or competition.