The Vegan's Athlete Cookbook recipe 1# – the chickpea omelette
The Vegan Athlete's Cookbook by Anita Bean offers nutritious meals to help you perform at your best. Thanks to Bloomsbury Publishing, we are able to share three recipes from the book – the first is a delicious chickpea omelette, introduced by Anita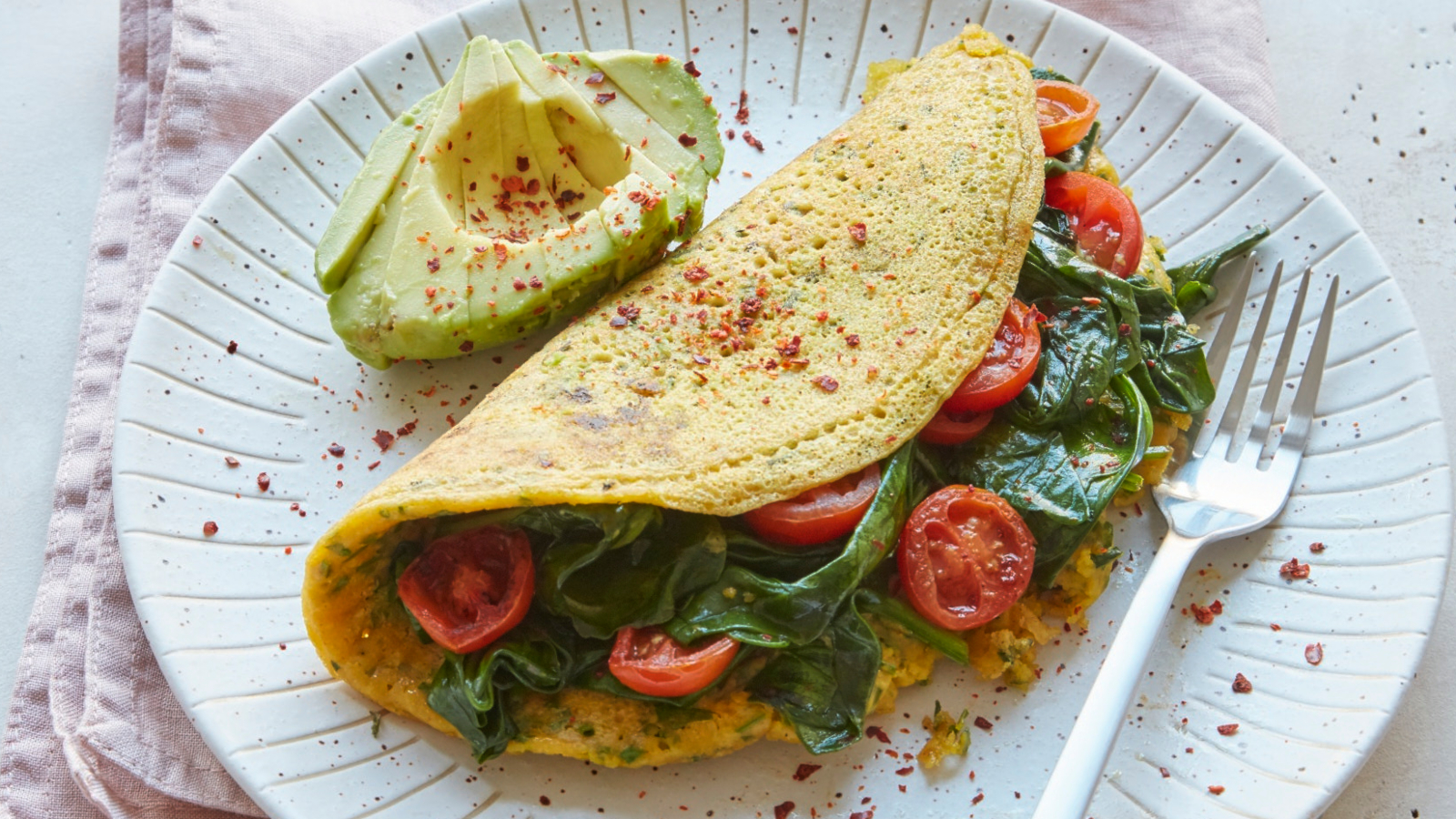 If you thought that egg-based dishes like omelettes were off the menu on a vegan diet, then think again! With a few adjustments, it is perfectly possible to recreate your favourite breakfast dish. This omelette is made with chickpea (gram) flour, which is widely available from supermarkets. It's a brilliant egg substitute for vegans as it is rich in protein,  fibre and iron. I have filled the omelette with tomatoes and spinach, but you could add chopped red onions, mushrooms, red peppers or peas.
Recipe – serves one
60g chickpea flour
¼ tsp salt
1/8 tsp baking powder
A pinch of turmeric, paprika and nutritional yeast flakes
125ml plant milk alternative (any type)
A small handful of chopped fresh herbs (eg parsley, chives or basil) or 1tsp dried mixed herbs
For the filling
2tsp olive oil
6 cherry tomatoes, halved
A handful of baby spinach
To serve
½ small avocado, peeled, pitted and sliced
Pinch of chilli flakes
How to make it
Whisk together in a bowl the chickpea (gram) flour, salt, baking powder, turmeric, paprika and yeast flakes, and milk alternative until smooth. Add the herbs, stir to combine, then leave to stand for a few minutes.
Meanwhile, make the filling: heat 1 teaspoon of the olive oil in a non-stick frying pan over a medium heat, add the tomatoes and cook for a few minutes. Add the spinach, then remove from the heat and set aside.
Wipe out the frying pan and heat the remaining 1 teaspoon oil over a medium heat. When hot, pour in the batter and tip the pan so it spreads out thinly over the base. Cook gently until the top sets and bubbles appear on the surface. Spoon the filling onto one half of the omelette, then fold the other half over using a spatula. Press down with the spatula to seal it and allow to cook for another minute.
Slide the omelette onto a plate and serve with avocado slices and a sprinkle of chilli flakes.
Nutritional value per serving
463 calories
20g protein
22g fat (4g saturates)
40g carbs (8g total sugars)
11g fibre
More recipes
Check out recipes for Anita's seed bars and black bean burger below:
Buy The Vegan Athlete's Cookbook
Recipes are from new book The Vegan Athlete's Cookbook by Anita Bean (Bloomsbury, £16.99). Available to buy now here.