Pritchard makes it three out of three for ParalympicsGB
Benjamin Pritchard secured his A-Final spot by winning his repechage meaning that all three GB crews will be in the hunt for medals on Finals Day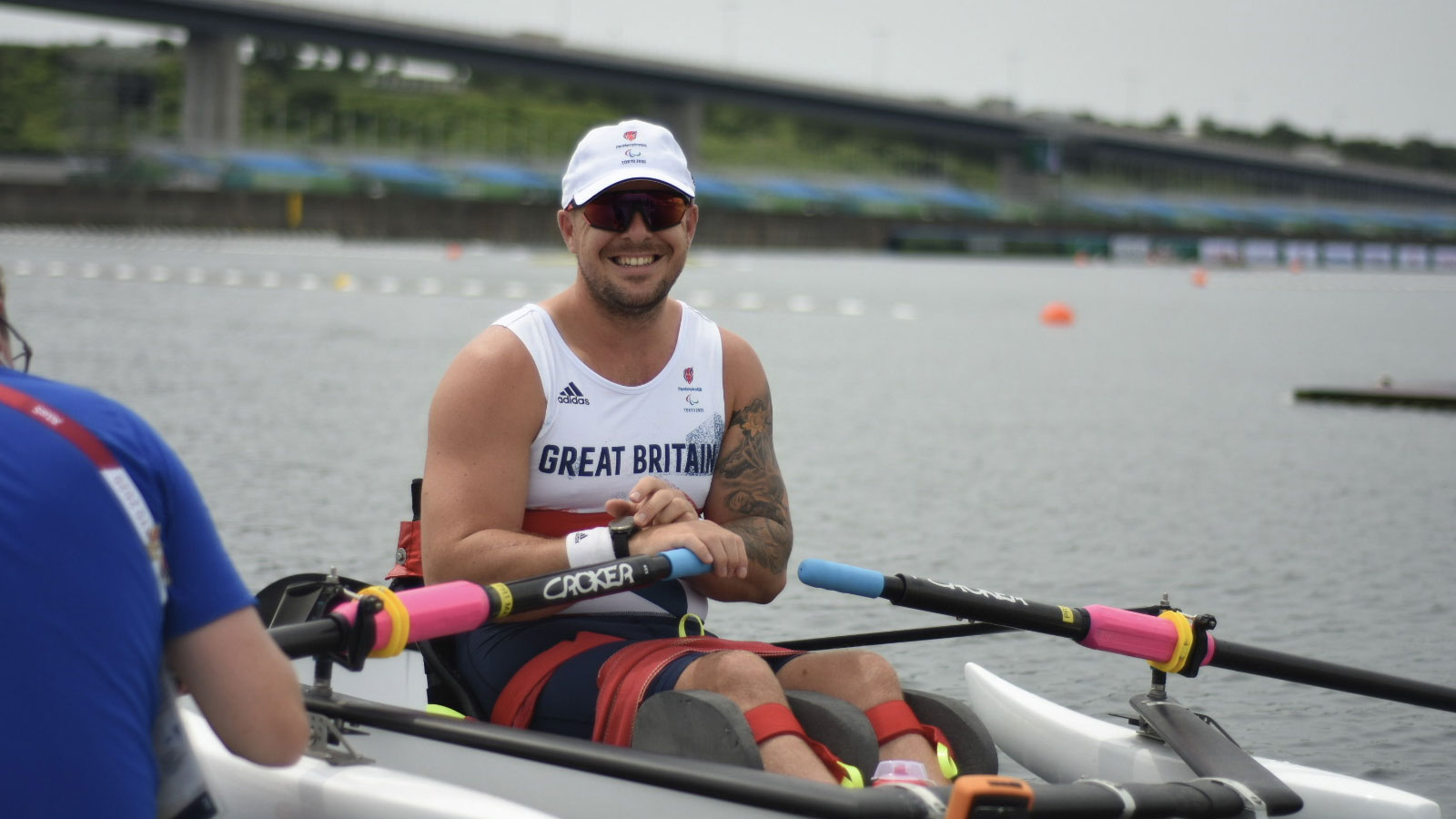 Benjamin Pritchard became Great Britain's third qualifier for Sunday's finals, and gave his family good reason to take to the streets of Swansea in celebration, winning his repechage in a new Paralympic best time in Tokyo.
The Welsh single sculler, who was second in his heat on Saturday, needed to finish in the first two of his second race at the regatta in order to make the A-final but his performance showed that he is in the frame for a medal at his first Games.
He trailed Javier Reja Munoz briefly early on but moved through the Spaniard just before the half-way mark and maintained his intensity, rowing at 38 strokes per minute, to win by 19 seconds in a time of nine minutes 14.61 seconds.
"My mum and dad are having a street party today and I'm sure it will be a long one until tomorrow morning," said Pritchard, 29.
"It was a lot harder than I expected. The Spanish guy came out and really sent it to me. He pushed me hard the whole way. I was hoping for an easier ride than that but hopefully I'll have saved some beans for tomorrow.
"Yesterday I felt I didn't row to my best standard. I caught a couple of crabs and didn't row particularly well. Today was about trying to loosen off and get back to rowing as I like to.
"I'm looking forward tomorrow to going down the course and seeing what I can do, and hopefully we'll have a bit of shiny metal at the end of it."
Pritchard joins Great Britain's mixed double scull of Lauren Rowles and Laurence Whiteley and the mixed coxed four – both of whom won their heats on Friday – in Sunday's finals day.
His time was six seconds faster than Australian Erik Horrie, the five-time world champion and twice Olympic silver medallist, who won the opening repechage from Israeli Shmuel Daniel.
The cross-headwind was considerably lighter on day two of the regatta and Paralympic best times continued to fall in the first such regatta to be held on a 2000m course but Pritchard's mark was also just two seconds outside the world best mark held by Ukrainian Roman Polianskyi.
Polianskyi will be favourite to defend his Paralympic title on Sunday, with Brazil's Rene Campos Pereira also expected to take a medal after upsetting Horrie in the heats.
"We are all fierce competitors and like to push each other as hard as we can but off the field we're good mates," Pritchard revealed.
"Erik was the first to come over and congratulate me just now and Roman said well done as well. That makes the event even more interesting; you're racing your mates tooth and nail."
Russian Aleksey Chuvashev, who won a Paralympic silver medal at London 2012 and world silver in 2019, was third behind Pritchard. And British-based Kingsley Ijomah of Nigeria was unable to achieve his aim of becoming the first African to reach a Paralympic rowing final, finishing fifth in his repechage.
Great Britain's Paralympic best times set on Friday in the mixed double scull and the coxed four both lasted just 24 hours.
Netherlands double Annika van der Meer and Corne de Koning secured their final place with a mark of 8 mins 10.35 secs, four seconds outside their own world best time. The Dutch were world champions in the absence of Rowles and Whiteley in 2017 and '18 but were beaten by China on Friday.
Svitlana Bohuslavska and Iaroslav Koiuda of Ukraine won the second repechage to join the fray in Sunday's A-final.
Australia overhauled 2019 world bronze medallists Italy in the last few hundred metres to win the first repechage in the coxed fours in a new Paralympic best of 7 mins 6.98 secs, then France beat fast-finishing Israel with a mark of 7 mins 6.02.
Both were still 17 seconds short of the world best time, set by Great Britain at the 2019 World Championships in Austria, in the third year of the new 2000m format.
In the women's singles, Israel's Moran Samuel won her second race of the regatta to reach the w final, setting a new Paralympic best time of 10 mins 33.34 secs in the process. Samuel was relegated after winning her heat on Friday for having a seat that moved.
Nathalie Benoit of France – a silver medallist at London 2012 before she took a break from the sport – won the opening repechage of the day.