How to follow the Tokyo Paralympic 2020 Regatta
The Tokyo 2020 Paralympic rowing starts on Friday 27 August. Read on to find out how you can cheer on our GB rowers as they compete on the Sea Forest Waterway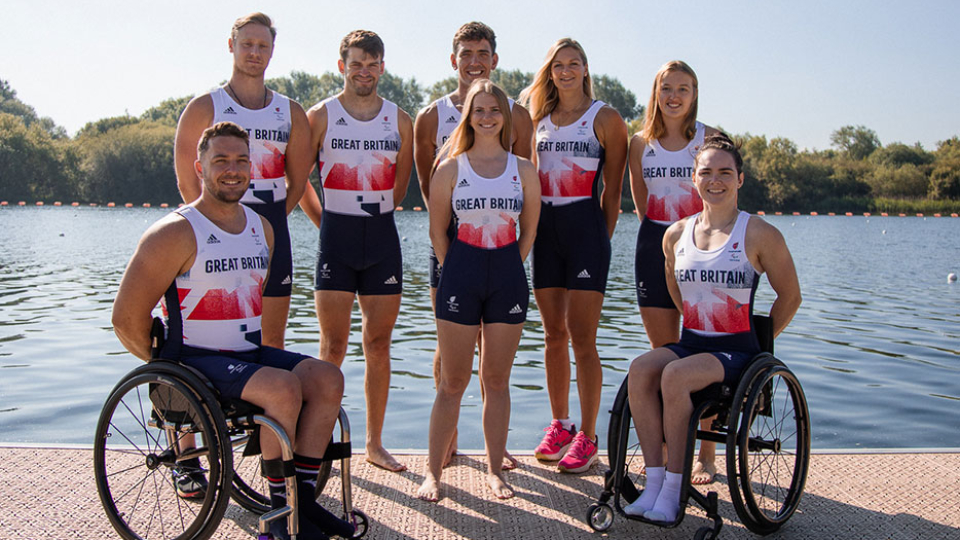 Get ready to cheer GB crews again as they take to the water on Friday when the Tokyo2020 Paralympic regatta begins. With three GB boats competing – two are defending Paralympic champions no less – there's the prospect of more fantastic racing to come from the Tokyo course.
Held over three days, the Paralympic rowing showcases four boat classes – the PR1 men's and women's arms and shoulders only single scull, the PR2 trunk and arms mixed double scull and the PR3 legs, trunk and arms mixed coxed four.
The GB team consists of eight rowers, including three reigning Paralympic champions and five Paralympic debutants, who have been selected to compete for ParalympicsGB at Tokyo2020.
In the men's PR1 M1x, Benjamin Pritchard will be representing Great Britain after making his international debut only two years ago. Last April he won a fantastic silver medal at the European Championships and was named 2021 Disability Sport Wales Athlete of the Year over the same weekend. You can read more here.
Five years ago, Lauren Rowles and Laurence Whiteley won gold at the Rio Games and they are looking to defend their title in the mixed double sculls (PR2 Mix 2x). Despite not having much race experience due to the COVID pandemic, the pair still brought home a gold at the European Championships back in April.
Since 2009, GB rowers have delivered gold medals in the mixed coxed four boat class at every international competition including Paralympic gold at London 2012 and Rio 2016, creating a formidable legacy.
James Fox was part of the crew that won at Rio five years ago. This time he will race alongside Paralympic debutants Ellen Buttrick, Giedre Rakauskaite, Ollie Stanhope and Erin Kennedy (cox). They have put down impressive markers and are currently world champions from 2019 and 2021 European champions.
The racing begins with the first heat of the women's single sculls this Friday 27 August at 9.30am, followed by heats in all the other three boat classes. The repechages will be on Saturday, with the B finals on Sunday morning followed by the A finals in the afternoon.
Tokyo is eight hours ahead of BST so unfortunately racing starts every day at 1.30am in the UK, but don't worry if you can't stay up to watch the live action – here are five great ways to keep updated!
1 – The Paralympic Debrief
Published at breakfast time, our special Paralympic Debrief video will be available on British Rowing's social channels, British Rowing Plus and as an audio via all good podcast platforms on day one and then day three of the Tokyo 2020 regatta. Here you will find all the overnight rowing news from Tokyo, with key highlights and analysis from our guest panel of Paralympians and rowing experts.
You can also sign up here to receive our daily Paralympic Debrief email which will be sent direct to your inbox.
2 – British Rowing live social media feed
The Paralympic finals are scheduled across three days at Tokyo 2020 from Friday 27 August through to Sunday 29 August. Follow @BritishRowing on Twitter or Instagram to keep updated.
3 – Racing schedule alerts
We'll be sharing reminders of the next day's schedule with the latest changes on the evening before racing across our social channels.
4 – Live racing coverage
Channel 4 will host over 300 hours of the action from Tokyo, covering all 22 sports including rowing. A Paralympics microsite will feature 16 live streams.
Find out more here.
5 – Club social media
While we can't cheer on the GB rowers in person, there are other ways of getting involved. Keep an eye out for GB rower mentions on their rowing club social channels. Check the Paralympic Team Announcement for each rower's club here.
6 – The Road to Tokyo documentary
What does it take to be selected for an Olympic or Paralympic Games? Find out by watching The Road to Tokyo, a three-part documentary giving the inside track on the GB Rowing Team. Get into the Tokyo spirit by watching The Road to Tokyo here for free!
The film was written, filmed and edited by Adam Heayberd of Truly Sweet Visuals.