Heatwave continues for juniors at the British Rowing Junior Championships
Nottingham had scorching conditions as the J16s took to the water on day two of the national junior championships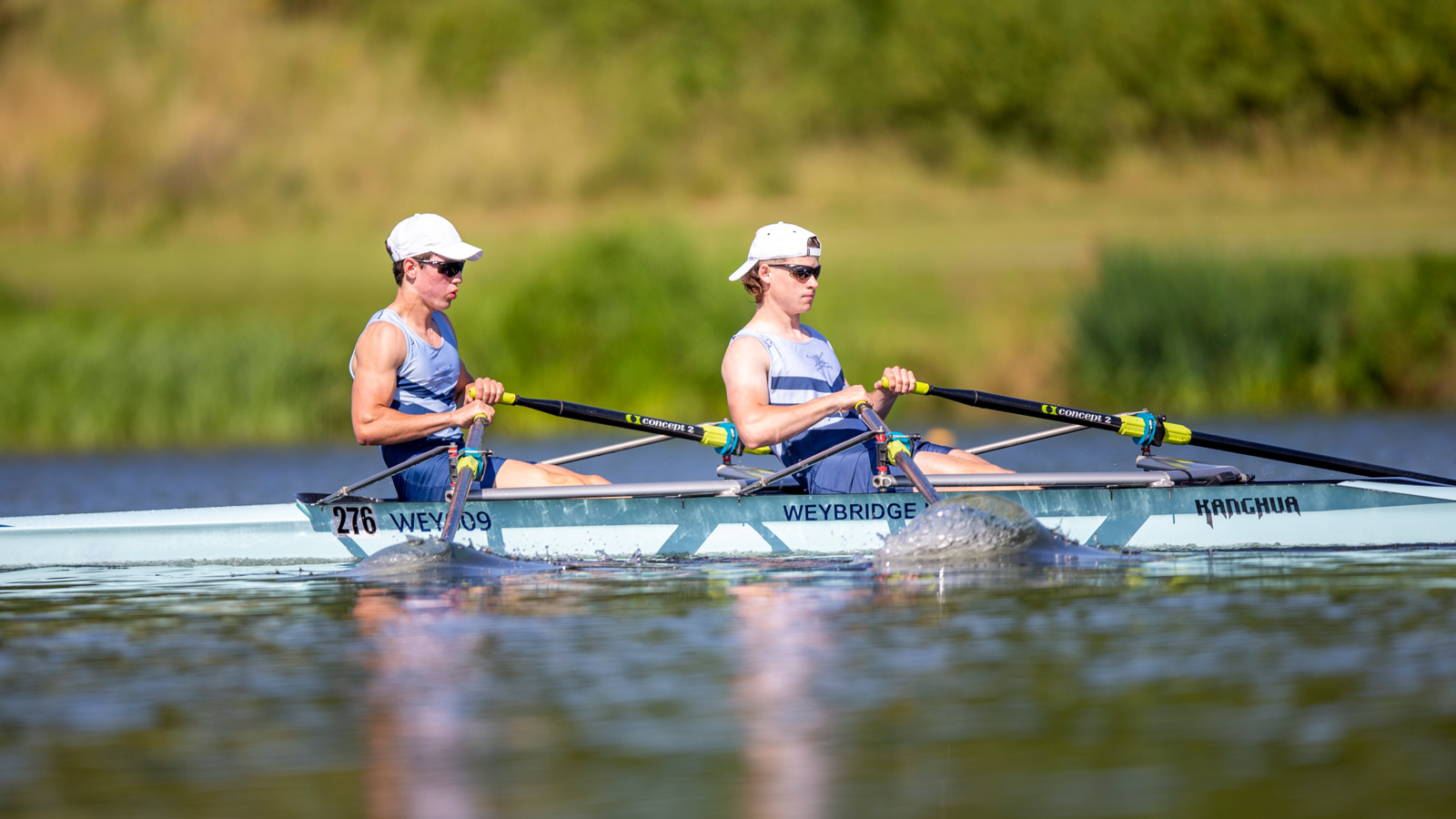 It was the turn of the J16s to put all their training to the test on the mirror flat water in the British Rowing Junior Championships at Nottingham today. The morning started with time-trials, followed by semi-finals and then finals, providing plenty of thrilling racing in this age group.
There were tight finishes in the A final of the women's J16 double sculls, with Gloucester RC taking the win and Hinksey Sculling School just edging out Trentham BC for second place. The open J16 coxed fours saw Hampton place first and second, with Mossbourne finishing a close third in another tight contest.
Other A final honours went to Wallingford RC in the open single sculls who just nudged ahead of Maidstone Invicta, while Wycliffe Junior RC secured the women's single sculls. In the open and women's pairs it was Westminster School and Weybridge RC who were the respective winners. St Andrews BC chalked up a win in the open double sculls, while Henley won the women's coxed fours.
In the quad categories, Hereford Cathedral School took the open event with Kingston Grammar School claiming the win in the women's equivalent, while Henley A and B finished in second and third positions.
On a day when the mercury rose to 30 degrees, juniors and coaches sought welcome shade in between the racing and the topic of conversation was how to best keep well hydrated.
One junior from Becket Rowing Club, based at Holme Pierrepoint, joked that his coach had been throwing buckets of water on him in an attempt to keep cool.
After only taking up rowing a year ago, Daniel added: "It's been really good this year. I surprised myself with a 13th place in the time trial and either a second or third place in the final – I was quite far behind at the start, so I just closed my eyes and went for it."
His daily training on the course made a huge difference, he said, and helped him to be aware of where the markers were. However, this weekend Daniel has also enjoyed sharing his home water with other clubs and schools.
"It's been great to see all the other rowers who've been rowing as long as me – and feeling that we're all in the same boat. Everyone's been very friendly and supportive and we're all helping each other."
"I like the championships because it's the last regatta of the summer and it's always fun to race together"
Rowers from Aberdeen Schools Rowing Association (ASRA) had a long journey to Nottingham, travelling over 400 miles with their trip on the minibus taking almost ten hours.
Maisie, girls' captain, and Matthew, boys' captain, both agreed that the journey was worth it just to race on the water.
"The Brit Champs is quite an inclusive event," said Maisie. "It's a really friendly atmosphere and there's lots of different clubs here."
Matthew added: "There's more of a competitiveness and there's more crews – you get good racing and there's a lot of people at the same level as you."
Rowers from Henley RC spent most of the day hiding in the shade under their gazebo, which was pitched just outside the rowing course. There was a strong showing from Henley on the water with juniors Lucy, Eyla and Ava all earning medals, in addition to their fellow teammates. Eyla's crew came first in the women's coxed fours, while Lucy and Ava placed second and third respectively in the women's quad A final.
Lucy said: "I like the Championships because it's the last regatta of the summer and it's always fun to race together."
The best thing is the atmosphere, agreed Eyla, adding: "Side-by-side racing is always the best. It's the last big event for juniors and you can't really have any expectations because you might not have raced some crews, so it's just fun. However, if you place well, then that's good."
"And when the weather's nice, it's even better," said Ava. "No matter where you place in a race you've still done your best and that's what matters."
"Thanks to everyone for creating such a fun atmosphere around the course at Nottingham"
Despite the heat, the rowers produced some top-quality racing across the competition.
Becket coach Martin Kay said: "I feel that this year's championships is even more of a test than in previous years, because some of the internationals that might have gone to the Coupe or the Junior Worlds will be here."
Talking about his club's performance, he added: "One of the highlights was having a youngster at 15 coming ninth overall yesterday and she continued to perform on a day that is full of stress when you have three hard races. And the same today…"
Behind the scenes was Fiona Rennie, Volunteer Welfare Manager, helping to keep the volunteering team hydrated. A familiar face at many British Rowing and BUCS competitions, Fiona loves being part of the events team and helping other volunteers to have a great time. However, this weekend, it's the juniors who are taking centre stage, she said.
"I spoke to a mum and a daughter yesterday, and the daughter had come second in the D final – and she was so excited! At this age they just love taking part and I think that sort of vibe spreads across the event, so yes that's definitely the best bit."
Reflecting on day two of the competition, Nick Hubble, Regatta Controller and Chair of the Sport Committee, said: "I've been impressed by the standard of racing from all the juniors today, as well as their conduct on and off the water. It's not been easy racing in such hot conditions, but competitors have taken it in their stride.
"Thanks to everyone for creating such a fun atmosphere around the course at Nottingham. It's been great to be a part of and I can't wait for our final day with the J18s tomorrow."
In a message to competitors, Nick said: "It's looking like being another hot day tomorrow, so once again remember to bring hats, sunscreen and water."
Full the day's results, please click here.