Three boats still in contention for Great Britain after day one at Final Olympic Qualification Regatta
It was a day of mixed results for Great Britain at the Final Olympic Qualifying Regatta in Lucerne, after a tense day of racing, three of the four boats have progressed to the final day of competition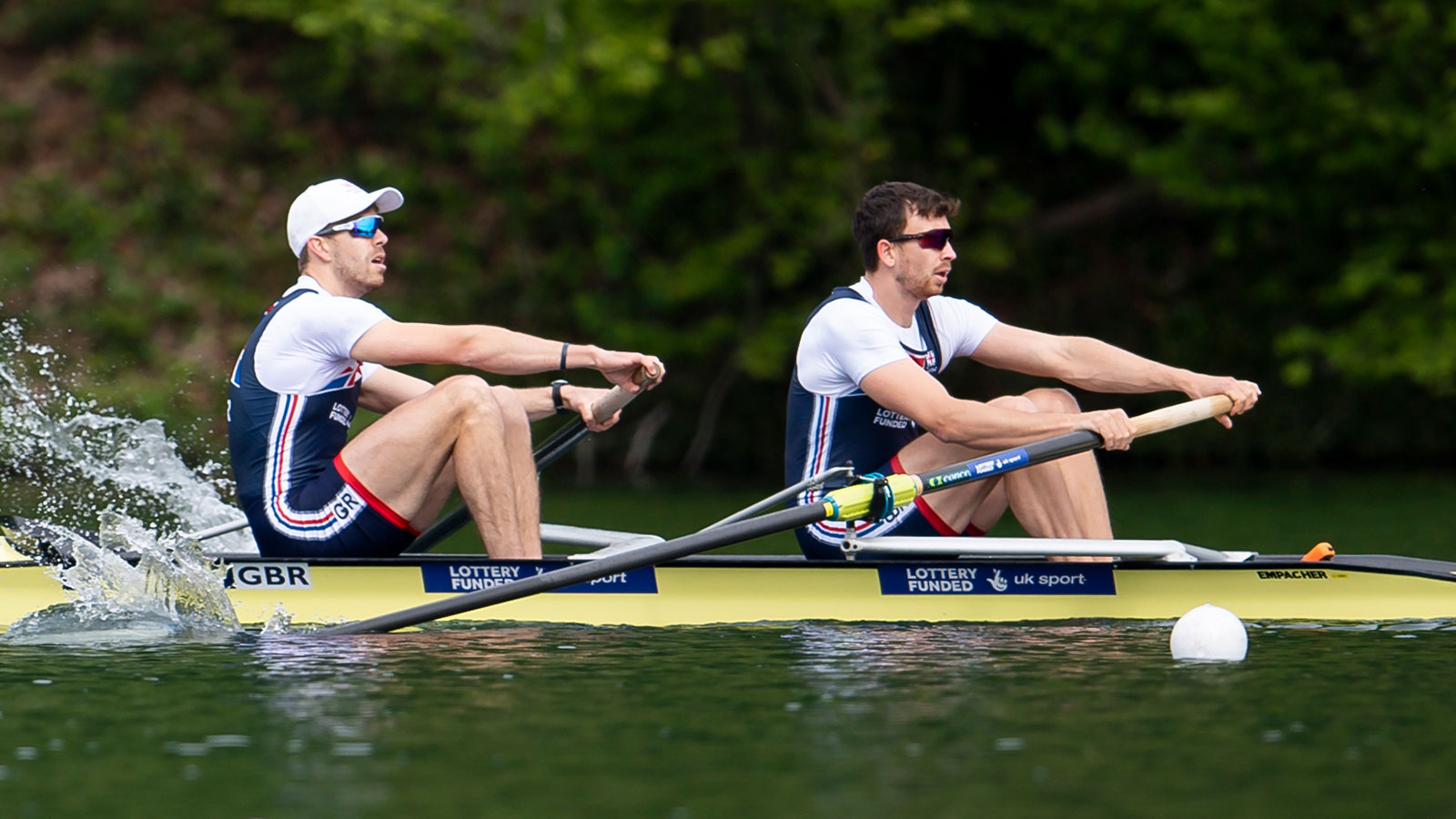 It was a day of mixed results for Great Britain at the Final Olympic Qualification Regatta in Lucerne as the team set about adding four additional boats to the ten already secured for the Olympic Games this summer. After a tense day of racing, three of the four boats have progressed to the final day of competition.
The men's pair (M2-) of Harry Glenister and Morgan Bolding finished in first place having led their heat throughout, comfortably booking their place in the semi-final on Sunday morning. Reflecting on the race Harry said: "We are both feeling really good after that. It was a confident performance, we controlled the race with about a km to go and tried to conserve energy for the semi and hopefully the final.  We're really looking forward to getting back out there for the semi-final tomorrow."
The lightweight men's double (LM2x) of Jamie Copus and Samuel Mottram finished fourth in the heat and third in the repechage after a tense photo finish which saw them narrowly beat the USA and secure a spot in Sunday's semi-final. After the repechage,  Jamie said: "It took some real grit and effort to get through the repechage and we're absolutely thrilled to have progressed to the semi-final. We will now rest, recover, reset and get ready to go again tomorrow."
Holly Nixon and Saskia Budgett returned to the water in the women's double (W2x) and finished in second place behind Russia in the race for lanes, making a strong statement of intent ahead of the final on Sunday.
Racing in the men's single sculls (M1x) in only his second senior regatta, Matthew Haywood finished fifth in the morning heat and fourth in his afternoon repechage race, missing the vital third place to move into tomorrow's semi-final and putting an end to his regatta. After the repechage, his coach, Nicola Benavente said: "The men's single sculls is a hot category and the biggest event at the regatta. It's a tough event and Matt had a good go at it, getting some really great experience. There will be some learnings from the past few weeks but he's got so much potential and I'm sure there is a lot more to come from Matt as we look ahead to the Paris games."
Reflecting on the full day of racing, Brendan Purcell, Director of Performance at British Rowing said: "We've got two boats in semi-finals tomorrow with Harry and Morgan in the men's pair (M2-) who did a great job controlling their race today and the lightweight men's double (LM2x) of Jamie and Sam who fought really hard today in an event with incredibly fine margins.
"There is also one boat already in the final with Holly and Saskia in the women's double (W2x). With two qualification spots up for grabs, they need to go out there and execute their race and give themselves every opportunity to claim one of those spots.
"We now have to adapt to the changes of the schedule, with the weather meaning the three day regatta is being compressed into two days, so the team and the support team are working hard to maximise the athletes recovery, discuss areas for improvement and give them every opportunity to succeed out on the water tomorrow."
Crews and times
| Event | Crew | Round | Position | Time |
| --- | --- | --- | --- | --- |
| Men's Pair (M2-) | Harry Glenister (Leander Club / Princes Risborough), Morgan Bolding (Oxford Brookes University /Withiel) | Heat | 1st | 6:41.28 |
| Men's Single (M1x) | Matthew Haywood (Nottingham RC / Nottingham) | Heat | 5th | 7:13.07 |
| | | Repechage | 4th | 7:15.20 |
| Lightweight Men's Double (LM2x) | Jamie Copus (Oxford Brookes Univ BC / Oxford), Samuel Mottram (Leander Club / Stoke Mandeville) | Heat | 4th | 7:10.64 |
| | | Repechage | 3rd | 6:34.37 |
| Women's Double (W2x) | Holly Nixon (Leander Club / Enniskillen), Saskia Budgett (Tideway Scullers' School / Acton) | Race for Lanes | 2nd | 7:01.65 |
Event:

Men's Pair (M2-)

Crew:

Harry Glenister (Leander Club / Princes Risborough), Morgan Bolding (Oxford Brookes University /Withiel)

Round:

Heat

Position:

1st

Time:

6:41.28
Event:

Men's Single (M1x)

Crew:

Matthew Haywood (Nottingham RC / Nottingham)

Round:

Heat

Position:

5th

Time:

7:13.07
Event:

--

Crew:

--

Round:

Repechage

Position:

4th

Time:

7:15.20
Event:

--

Crew:

--

Round:

Repechage

Position:

3rd

Time:

6:34.37
Event:

Women's Double (W2x)

Crew:

Holly Nixon (Leander Club / Enniskillen), Saskia Budgett (Tideway Scullers' School / Acton)

Round:

Race for Lanes

Position:

2nd

Time:

7:01.65