Rod Chinn sets new World Record for 100km in Mens 60-69 Lightweight category
On the day of his 63rd birthday, Rod Chinn covered 100km on the rowing machine to set a new lightweight world record for his age group!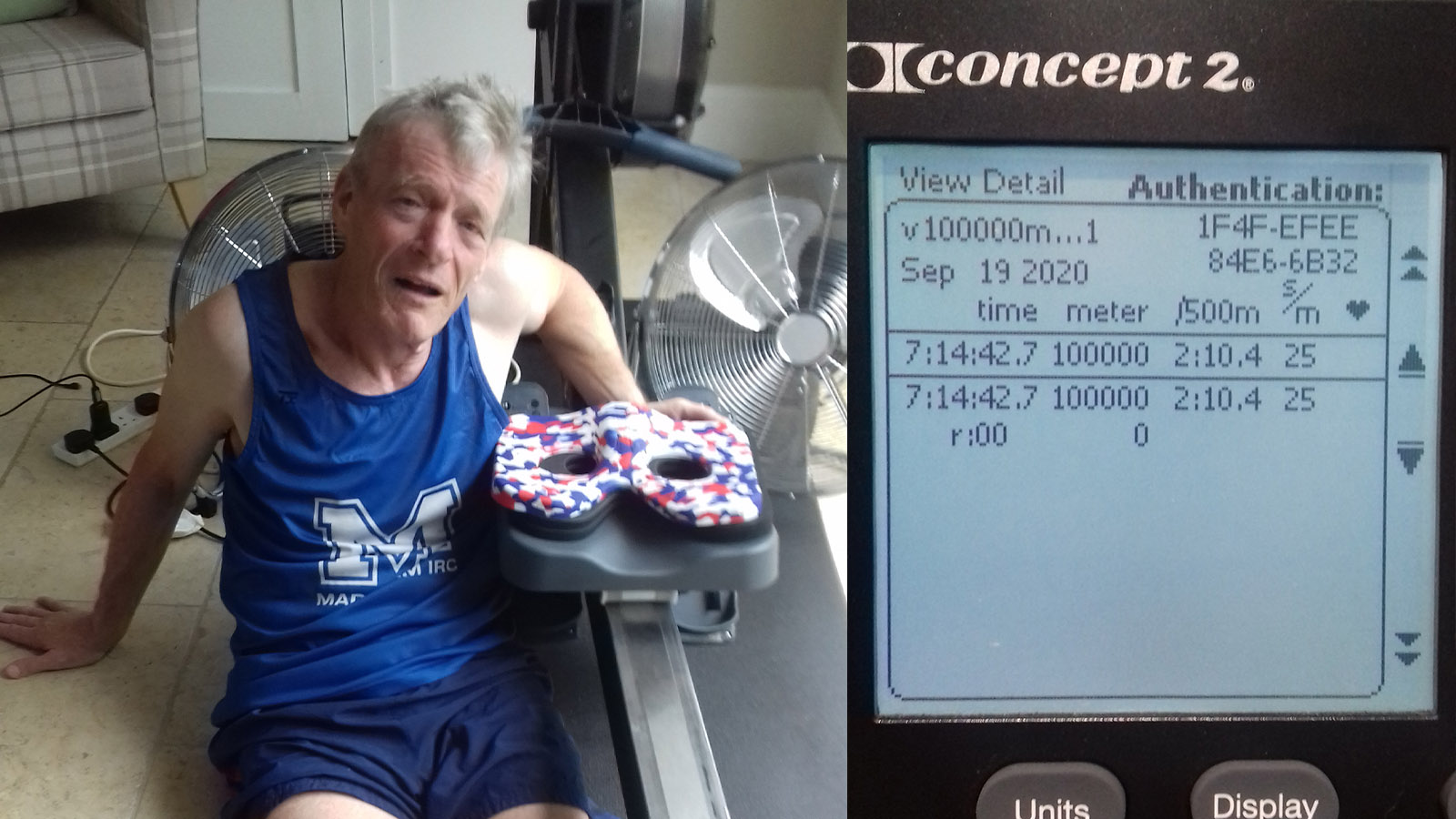 Rod takes us through the mammoth challenge in his own words:
"It was 'steady' but reasonably hard work up to around the three-quarters distance mark, but then it got very tough in the last quarter. I had to take a risk by raising the stroke rate from 21-22spm to 27-28spm in order to maintain the required average pace of 2:10.4, which worked out okay in the end – even if the last 20km was sheer hell!
At the end my legs were just too shattered to allow me to stand up, so my wife Carol Woodward (a well known Indoor Rower) had to help me to roll off the machine and lie on the floor for 15 minutes. After that I just about managed, again with her assistance, to stagger to my feet and move around a little."
Speaking of his preparation for the challenge, Rod said: "I'm coached by Eddie Fletcher, whose excellent 3-month training schedule enabled me to be in the kind of shape needed to even attempt such an extreme test of endurance – and having recently set a new British Record for the Marathon, I knew we were getting into the right area to try it.
During the row, Carol fed me bananas, honey sandwiches (cut up very small), jelly babies and an electrolyte drink which I drank through a flexible plastic tube in a milk carton which she held as I went up and down the rail – so my hydration and energy replenishment worked very well.
I also moved my erg from my home gym in a garden building into the kitchen in order to keep out of the sun, and had two fans on the front of me and one at the rear. Starting at 07:00 also helped hugely as I was able to stay at a cool temperature."
"I had great support from the indoor rowing community and my club MAD Team IRC, which really helped as I knew so many were cheering me on. It was my 63rd birthday too, so (if you include the warm up!) I covered 63 miles on my 63rd! I think after that lot I deserved the birthday cake!"
Rod's next target is to try and improve his British Record for the Marathon of 2:47:22.5 (1:59.0 pace), which is only just over a second per 500m behind the world record. In Rod's words: "It's definitely worth having a go, but I certainly need to get over this effort first, so it won't be for a couple of months yet!"