Beef noodles
This recipe is super-quick to cook and super-effective for fast refuelling after a training session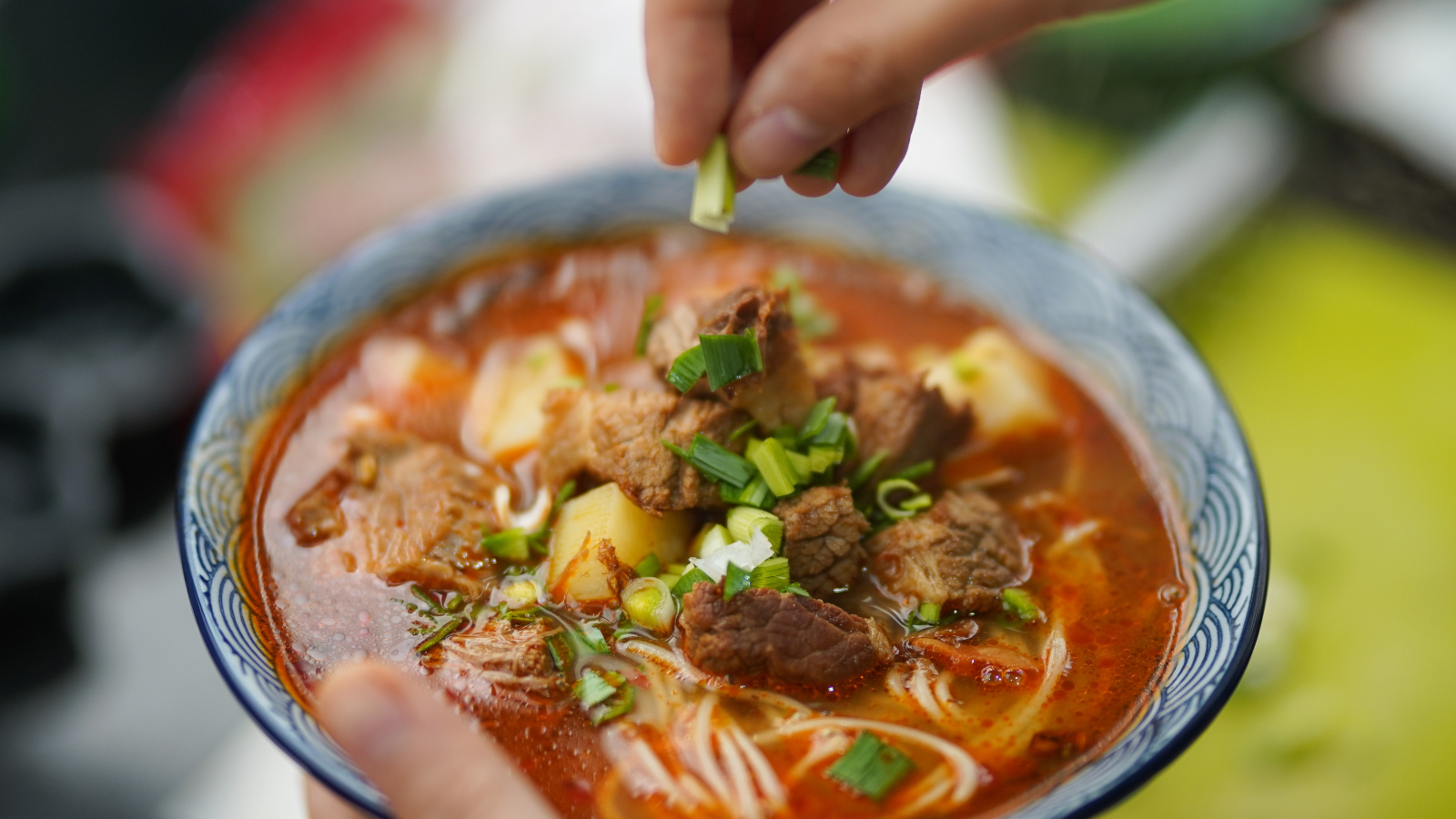 Beef noodles are a tasty way of topping up your carbohydrate and protein supplies. This is a particularly good choice for growing teenagers!
Ingredients
(serves two)
75g dried egg noodles
150g beef fillet steak
½ red pepper
2 spring onions
1 carrot
30g edamame beans
1cm piece of ginger
1 clove garlic
½ red chilli
1 small bunch coriander
6 mint leaves
1 handful beansprouts
2 tbsp soy sauce
200ml beef stock
1 tbsp olive oil
How to make it
1.  Place the noodles into a bowl and cover with boiling water, leaving to soak for 10 minutes. Once they are soft, drain and run under cold water.
2.  Slice the beef fillet into 1cm thick slices.
3.  Then cut up the red pepper and spring onions. Peel and chop the carrot into fine batons. Grate the ginger.
4.  Over a medium heat, prepare the wok with 1 tablespoon of olive oil. Add the beef to the wok and cook for a minute.
5.  Then add the red pepper, edamame beans, ginger, garlic and chilli and cook for 2 minutes,  stirring continuously.
6.  Next add the beansprouts and noodles. Once mixed in, add the soy sauce and beef stock and bring to the boil.
7.  Then remove from the heat, add the chopped mint and coriander to the wok and serve.
Melon and grape smoothie
Great for a hot summer's day, this low-fat smoothie is refreshing and nutritious!
Nutritional content per serving
611 kcal
69g carbohydrate
42g protein
13g fat
Why's this recipe good for rowers?
Nutritionist Jacqueline Birtwisle says: "It's high in carbohydrate and very high in protein per serving – about 30g from the beef, 9g from the noodles and 3g from the edamame beans. Also high in iron – so a boost for growing teenage rowers – and high in vitamin B3 or niacin which is involved in the metabolism of carbohydrate fat and protein. Niacin converts these nutrients into the smaller 'building blocks' such as amino acids, for your body to use in exercise."