Great Britain claim two medals at World Junior Rowing Championships
Great Britain's juniors claimed two medals on the final day of racing at the World Junior Rowing Championships (Tokyo, Japan), which took place at the new Tokyo 2020 Olympic and Paralympic regatta course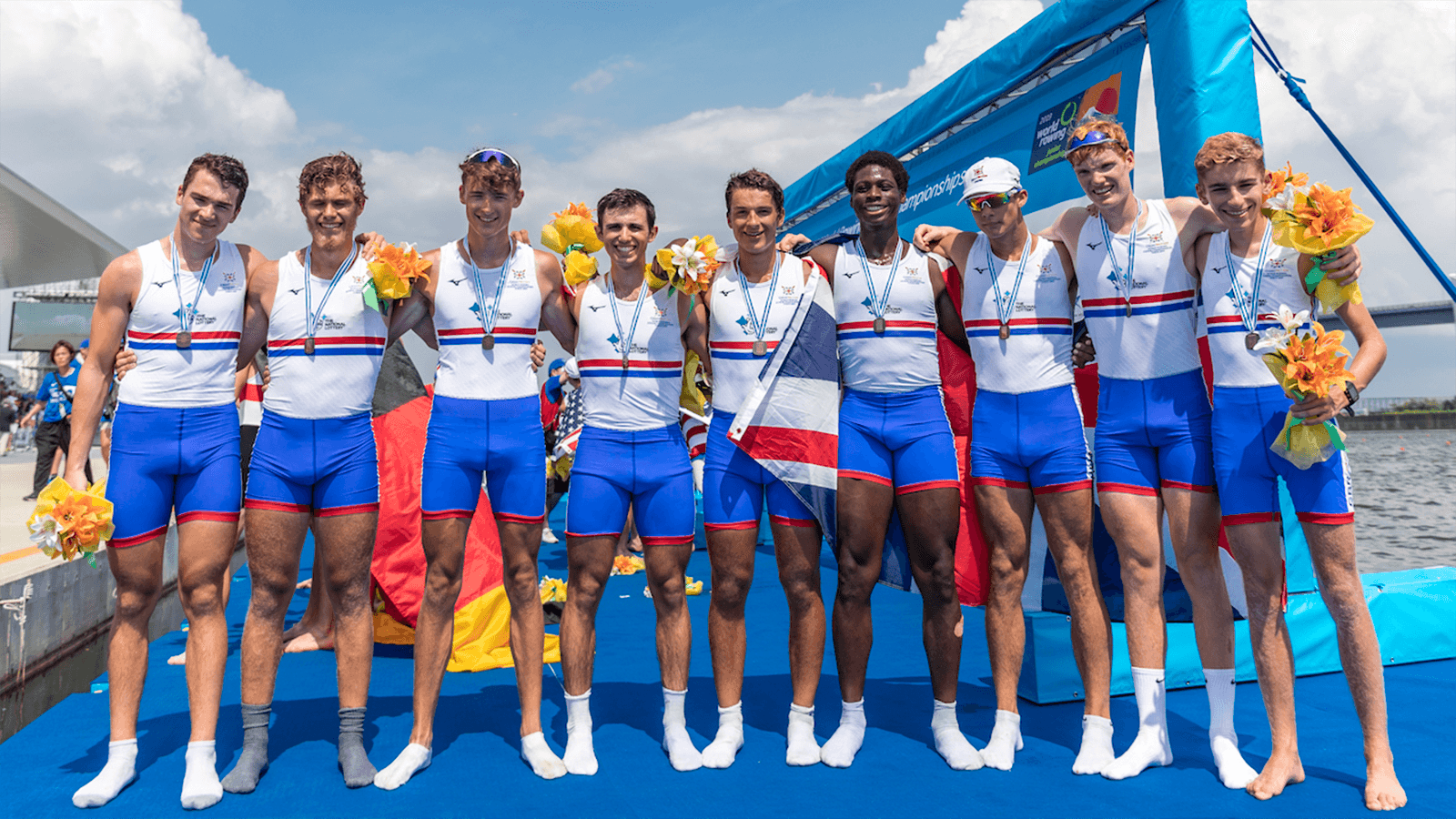 The junior men's four of Oliver Parish, Joseph Middleton, Miles Beeson and Felix Rawlinson, coached by Dave Currie came away with a silver medal after a fantastic performance which saw them move from fourth at the 500m mark to second in the final stretch, coming away with a silver medal.
The junior men's eight of Dominic Brown, Cameron Spiers, James Watson-Gandy, Henry Pearson, Maximillian Beekenkamp, Simon Nunayon, Connor Brown, Iwan Hadfield and Benjamin Ray, coached by Patrick Duggan, moved into third place at the 1,000m mark and held on to take the bronze medal.
Director of Performance Brendan Purcell paid tribute to the team, saying: "The GB Junior Rowing Team have had a great week challenging themselves against the best in the world, achieving two outstanding medals and many personal best performances.
"The coaching team has helped the athletes deliver their best and our huge thanks go to lead coach Ade Roberts and team manager John Layng for pulling together a complex campaign of training and competition.
"The athletes will leave here today with the knowledge that they are the first people to race on the Tokyo 2020 Olympic and Paralympic course."
The Championships cap off a busy fortnight for GB's juniors; last weekend, the Coupe de la Jeunesse team finished second overall in Corgeno, Italy (2-4 August). Great Britain came away with eleven medals overall, with golds for the junior men's coxed four, junior women's pair, junior men's eight and junior men's four. You can view all the Coupe de la Jeunesse results from the weekend at https://coupecorgeno2019.com.
World Junior Rowing Championships Results
GB results from finals across the Saturday and Sunday
Junior men's four (A final)
Germany 06:18.25
Great Britain (Oliver Parish, Joseph Middleton, Miles Beeson and Felix Rawlinson) 06:19.75
Italy 06:21.08
Junior men's eight (A final)
Germany 06:12.10
USA 06:16.50
Great Britain (Dominic Brown, Cameron Spiers, James Watson-Gandy, Henry Pearson, Maximillian Beekenkamp, Simon Nunayon, Connor Brown, Iwan Hadfield and Benjamin Ray) 06:19.82
Junior men's quadruple sculls (B final)
Great Britain (Balthasar Issa, Edward Roy, Julian van Gelderen and Miles Devereux) 06:12.99
Romania 06:13.44
Netherlands 06:17.29
Junior women's pair (B final)
Megan Hewison and Abigail Topp (GBR) 07:34.98
Raminta Morkunaite and Martyna Kazlauskaite (LTU) 07:38.83
Heidi Jacobson and Kylie Oakes (USA) 07:41.00
Junior women's double sculls (B final)
Anna Benazzo and Giulia Bosio (ITA) 07:33.27
Caitlin Govaert and Jeanne Lenom (BEL) 07:37.19
Delaney Evans and Taylor English (USA) 07:40.72
Lauren Henry and Olivia Morgan (GBR) 07:41.12
Junior women's four (B final)
Great Britain (Alexandra Riddell-Webster, Amber Harwood, Phoebe Snowden and Hannah Medcalf) 07:02.60
Denmark 07:03.16
India 07:40.72
Junior women's quadruple sculls (B final)
Czech Republic 06:58.41
France 07:01.29
Netherlands 07:02.02
Great Britain (Emma Dabinett, Jessica Read, Angharad Broughton and Ella Stanhope) 07:03.93
Junior men's single scull (C final)
Seth O'Connor (GBR) 07:12.35
Mekhrojbek Mamatkulov (UZB) 07:14.87
Siripong Chaiwichitchonkul (THA) 07:22.41
Junior men's pair (C final)
Henry Pooley and James Stevenson (GBR) 07:04.46
Ignacio Medina and Gonalo Morante (PER) 07:11.37
Xiuli Zhang and Chongyuan Hong (CHN) 07:16.21