GB U23 Rowing Team get their World Championships campaign underway
Ten GB crews contested the heats on the first day of the U23 World Championships in Sarasota, Florida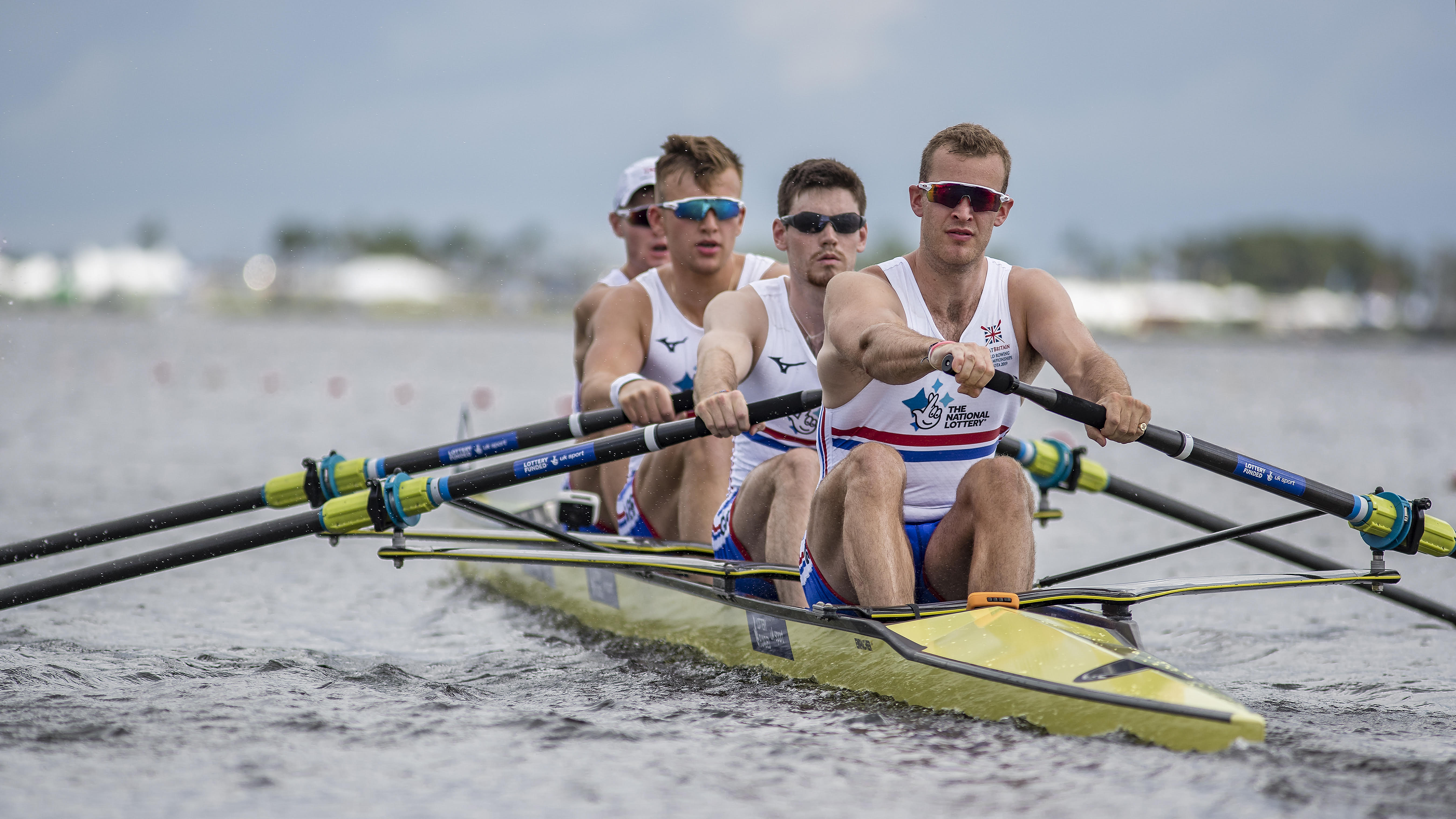 The men's four became GB's first A finalists of the competition, winning their heat to take the sole automatic qualification spot. The crew, of David Ambler, Thomas Digby, Freddie Davidson and Charles Elwes, were the fastest finishers overall across both heats and will line up again on Sunday to challenge for a spot on the podium.
In the first race of the day, the women's pair of Emily Lindberg and Esme Booth won their heat by a length to see themselves through to Friday's A/B semi-final, as did lightweight single sculler Susannah Duncan, who won her heat by almost 10 seconds ahead of Hong Kong's Wing Yan Winne Hung.
George Bourne, Matthew Haywood, Josh Armstrong and Samuel Meijer were the fastest finishers across all three heats of the men's quadruple sculls, winning theirs by a length to see themselves safely through to Friday's A/B semi-final.
The action will kick off again at 2pm UK time tomorrow with four GB crews lining up for their heats and five contesting the repechages. You can follow all the action live at www.worldrowing.com.
Day One results
Women's pair (BW2-)
1. Emily Lindberg and Esme Booth (GBR) 7:24.05
2. Grace Holland and Ruby Willis (NZL) 7:27.26
3. Emma Cornelis and Maya Cornut (FRA) 7:32.40
Men's pair (BM2-)
1. Florin-Sorin Lehaci and Dumitru-Alexandru Ciobica (ROU) 6:30.48
2. Ioannis Kalandaridis and Athanasios Palaiopanos (GRE) 6:37.95
3. James Snowball and Rufus Biggs (GBR) 6:39.64
Men's coxed four (BM4+)
1. Australia 6:11.99
2. Great Britain (Henry Jones, Oscar Lindsay, Casper Woods, Cormac Molloy and Scott Cockle) 6:16.26
3. Germany 6:16.52
Women's quadruple sculls (BW4x)
1. Netherlands 6:22.55
2. Great Britain (Lola Anderson, Ella Toa, Molly Harding and Lucy Glover) 6:24.83
3. Romania 6:30.05
Men's quadruple sculls (BM4x)
1. Great Britain (George Bourne, Matthew Haywood, Josh Armstrong and Samuel Meijer) 5:50.43
2. Italy 5:53.57
3. Germany 5:55.51
Women's four (BW4-)
1. USA 6:32.15
2. Great Britain (Lydia Currie, Hope Cessford, Lauren Irwin and Alex Rankin) 6:32.96
3. Ireland 6:33.10
Men's four (BM4-)
1. Great Britain (David Ambler, Thomas Digby, Freddie Davidson and Charles Elwes) 5:53.43
2. Germany 5:57.49
3. Italy 5:59.42
Lightweight women's single scull (BLW1x)
1. Susannah Duncan (GBR) 7:50.00
2. Wing Yan Winne Hung (HKG) 7:59.58
3. Amalie Brems (DEN) 8:05.75
Lightweight men's single scull (BLM1x)
1. Obbe Durk Tibben (NED) 07:02.71
2. Spencer Kielar (CAN) 07:07.83
3. Gavin Horsburgh (GBR) 07:18.71
Women's single scull (BW1x)
1. Ria Thompson (AUS) 07:36.27
2. Alicia Bohn (GER) 07:42.69
3. Georgie Robinson-Ranger (GBR) 07:43.11