Strong performance from Great Britain Rowing Team on third day of U23 World Championships
Nine GB crews will line up for the weekend's A finals, with two A/B semi-finals still to come tomorrow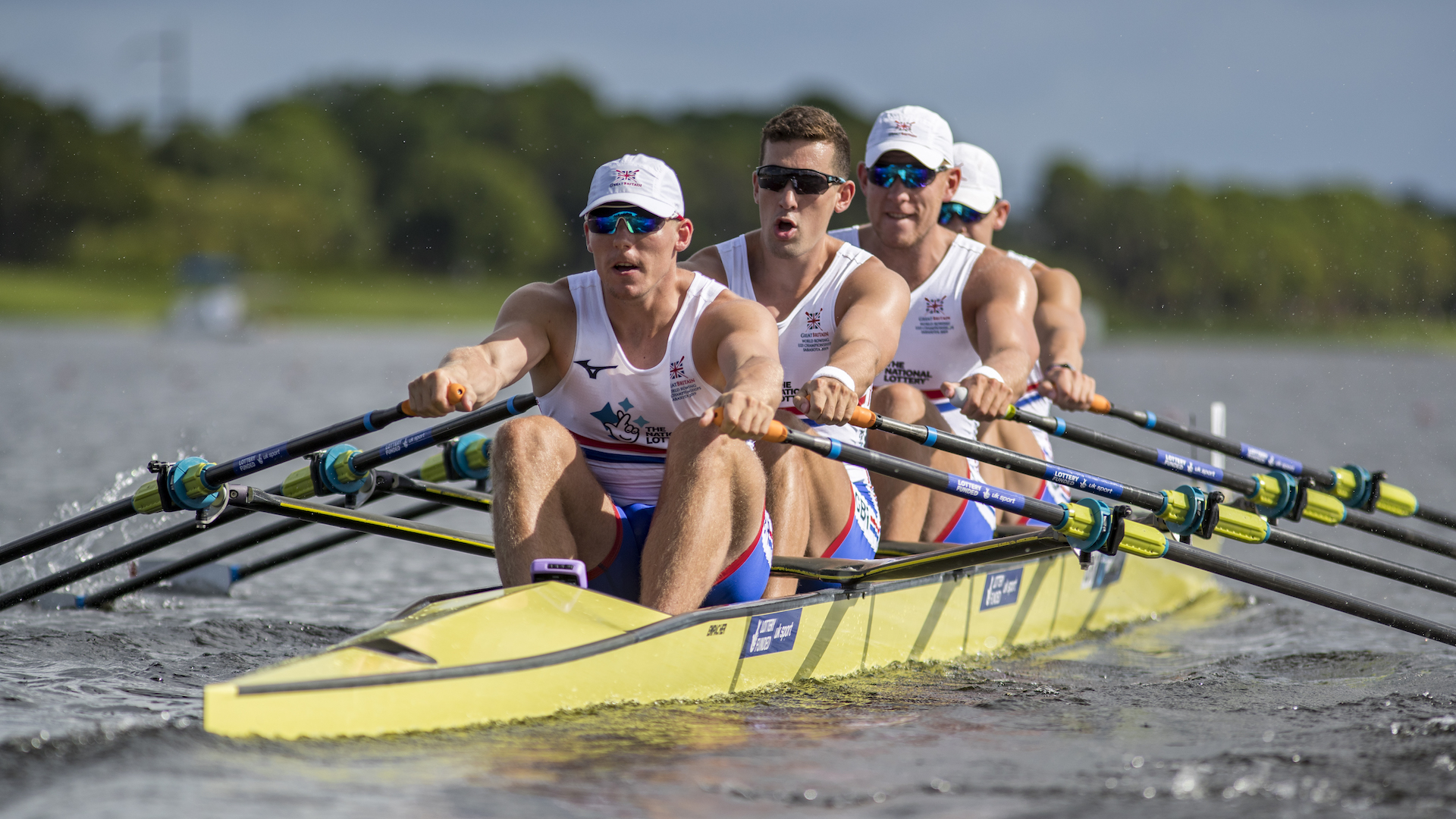 In the final GB race of the day, the men's quad of George Bourne, Matthew Haywood, Josh Armstrong and Samuel Meijer put in a dominant performance to win their A/B semi-final by almost six seconds. The crew, which features three of last year's U23 World Champions, head through to the A final as the fastest qualifiers with a time just over one second away from the Championships best time of 5:39.62.
Susannah Duncan also progressed through to the A final of the lightweight women's single sculls after a perfectly timed semi-final, which saw her move from third to second place at the 1km mark and take the lead in the final 100m.
In the exhibition race for the women's eight, a fierce battle for first place saw the Dutch crew finish a canvas ahead of Great Britain. Both crews will line up again on Sunday in the A final.
In their A/B semi-final, the women's pair of Emily Lindberg and Esme Booth were locked in a three-way sprint finish to the line and just missed out on a spot in the A final by an agonising two hundredths of a second. Fiona Chestnutt and Chloe Knight will contest the B final for the lightweight women's double sculls after missing out on the two qualifying spots by a second, while Georgie Robinson Ranger took third place in the women's single sculls to also progress to the B final.
Tomorrow's racing will start at 2pm; you can watch all the action live at www.worldrowing.com.
Results
Lightweight women's double sculls (Repechage)
1. Aoife Casey and Cliodhna Nolan (IRL) 6:54.54
2. Iris Hochstenbach and Femke van de Vliet (NED) 6:54.76
3. Fiona Chestnutt and Chloe Knight (GBR) 6:55.86
Women's eight (Exhibition race)
1. Netherlands 6:04.63
2. Great Britain (Megan Slabbert, Sophie Paine, Hannah Scott, Holly Dunford, Lucy Edmunds, Alexandra Watson, Margaret Saunders, Johanna Gannon and Autumn Mackay) 6:05.38
3. Romania 6:09.90
Women's single sculls (Repechage)
1. Clara Guerra (ITA) 07:27.78
2. Louise Munro (CAN) 07:32.04
3. Georgie Robinson Ranger (GBR) 07:39.00
Lightweight women's single sculls (Semifinal)
1. Susannah Duncan (GBR) 07:34.25
2. Johanna Reichardt (GER) 07:37.08
3. Lara Tiefenthaler (AUT) 07:38.96
Women's pair (Semifinal)
1. Tayla-May Bentley and Jessica Schoonbee (RSA) 07:05.19
2. Elena Daniliuk and Ekaterina Glazkova (RUS) 07:07.18
3. Eve Stewart and Jessy Vermeer (NED) 07:07.42
4. Emily Lindberg and Esme Booth (GBR) 07:07.44
Men's quadruple sculls (Semifinal)
1. Great Britain (George Bourne, Matthew Haywood, Josh Armstrong and Samuel Meijer) 05:40.94
2. Czech Republic 05:46.89
3. New Zealand 05:49.55