Ten indoor rowing marathons in ten days
Andy Webb is indoor rowing ten marathons in ten days later this year. Find out about his motivations and planning around this momentous challenge.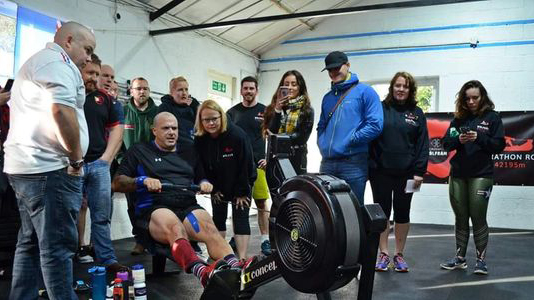 Andy Webb, ex Royal Air Force, member of the Royal British Legion and Crossfit Wolfram, is no stranger to indoor rowing marathons. With plenty of miles under his belt and many more to come, Andy told us all about the challenge he has set himself in 2019 and his motivations behind it:
"On 10 November, 2018, I rowed an indoor marathon in aid of the Royal British Legion Poppy Appeal. I did it to start a new chapter in my life after a few medical issues that resulted from gaining weight to 127kg. I completed the row in 3 hours, 17 minutes and 17 seconds, with Kev Messom and Olly Minshall joining me as individual rowers alongside two additional teams of 7 relaying beside us. In doing so, we raised over £1100 for the Poppy Appeal.
This year I needed a bigger challenge, and as 2019 is the 75th Anniversary of the D-Day Landings I decided to commemorate this historic event by indoor rowing a total of 262 miles – the equivalent distance of rowing from Portland in Dorset to Sword Beach in Normandy and back again. To achieve this, I will be rowing a ten marathons in ten days.  The final marathon row will take place at the Guild Hall, Chard, on 9th November, where I'll be joined by 24 teams of between 4 and 6 rowers, each rowing 100k between them. These teams will be made up by the Royal Navy, Royal Marines, Army and the Royal Air Force, plus teams from local Crossfit gyms and local businesses. All funds raised will be donated to the Poppy Appeal.
This year, since starting my training in January, I have rowed over 580,000 meters. I am now rowing 90km a week, and my plan is to complete a marathon row every month leading up to June."
To follow Andy's progress and for more information on the event, visit www.overlordchallenge.co.uk.