Newcastle race Durham in student Boat Race of the North
BUCS Regatta champions Newcastle University BC face Durham University BC in the Siemens Boat Race of the North on Saturday 11 May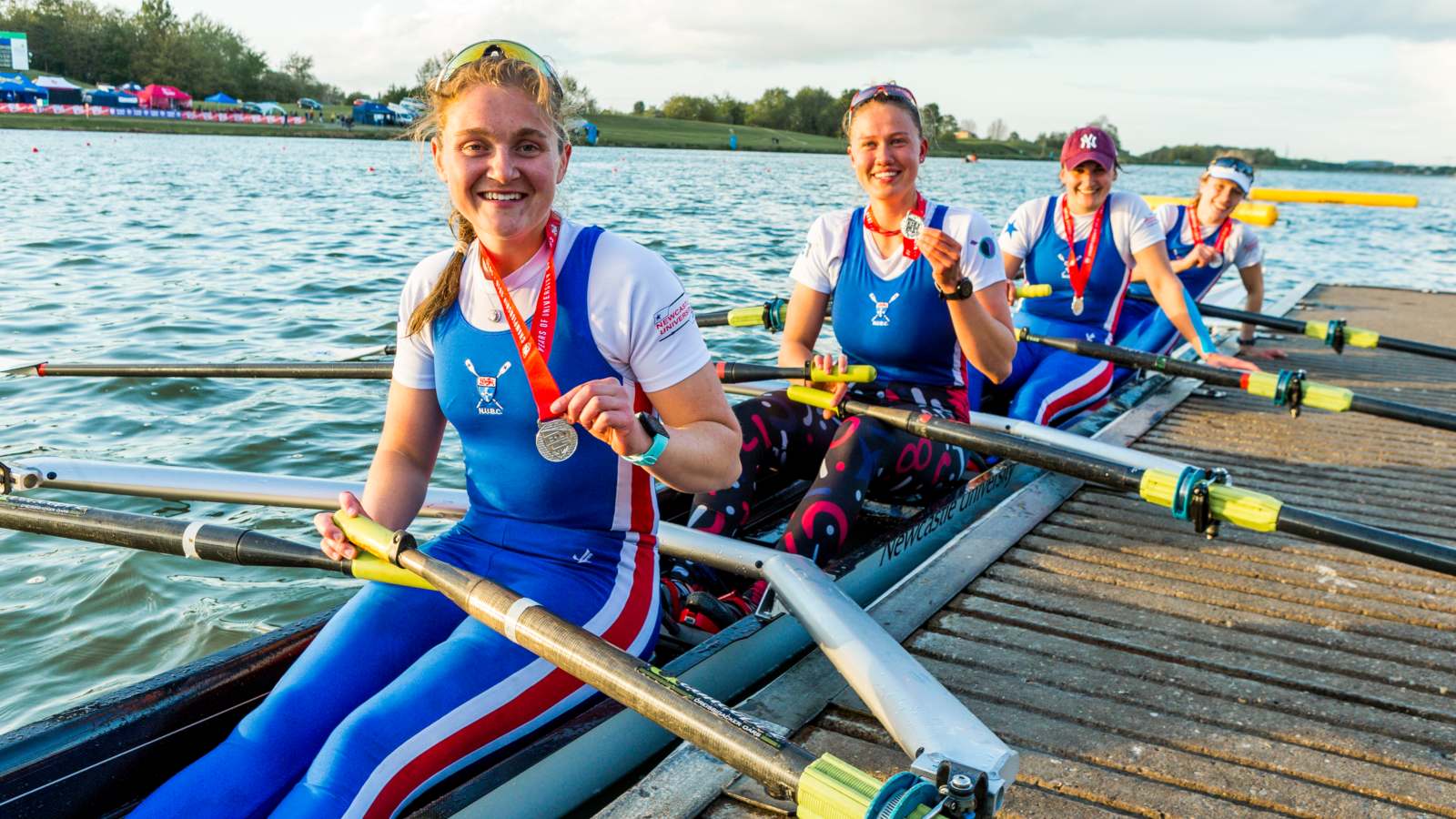 A week after retaining the Victor Ludorum title at BUCS Regatta, Newcastle University BC are taking on local rivals Durham University BC in the Siemens Boat Race of the North on Saturday 11 May.
While Newcastle have had the upper hand in recent boat races, with the competition comprising seven 1,500m races between men's and women's first, second and novice eights, there is plenty of opportunity for Durham to make their mark on the River Tyne.
We spoke to Newcastle University BC President Kat Bulmer and Frances Russell, Women's Captain – pictured above at stroke – about the competition.
What do you like most about the event?
Kat Bulmer: Racing Durham. We have a long-standing rivalry on the water that lends itself to some exciting racing, but afterwards we have the opportunity to celebrate together and put all of that to one side. It is a very unique event in that sense.
How important a fixture is it for the Blue Star squad?
Frances Russell:  The Boat Race of the North is an exciting event as we get to race on our home turf and through the centre of town, under the bridges. This is always a great experience, especially with the public and supporters being so close to the racing; you can really feel the energy coming from the crowds.
What do you know about the Durham squad?
Kat: I've had the chance to work alongside Oscar (Durham University BC's President) in organising this year's event and we've got to know each other's squads quite well. He assures me that they are going to bring the fight on the water, just like they did at BUCS.
How do you stay motivated after last weekend's BUCS Regatta?
Frances: Durham are one of our biggest rivals so motivation to win is already quite high even after a tough weekend of racing at BUCS.
Finally, what can spectators expect on the day?
Kat: It is going to be a fantastic weekend of sport and anybody heading down to the Boat Race will be able to get involved with a number of events taking place on the Quayside.
The racing is due to be broadcast on big screens within the fan zone and there is a rugby village where we'll be holding our Siemens Energy Rowing Machine Challenge.
We are also supporting Rowing Together for Healthy Minds (RTHM) this year and you'll be able to find out more about their initiative during the day if you head along to their stand in the fan zone.
The Boat Race of the North starts at 1.30 by Newcastle Quayside. Find out more here.