Goal setting and how to stay motivated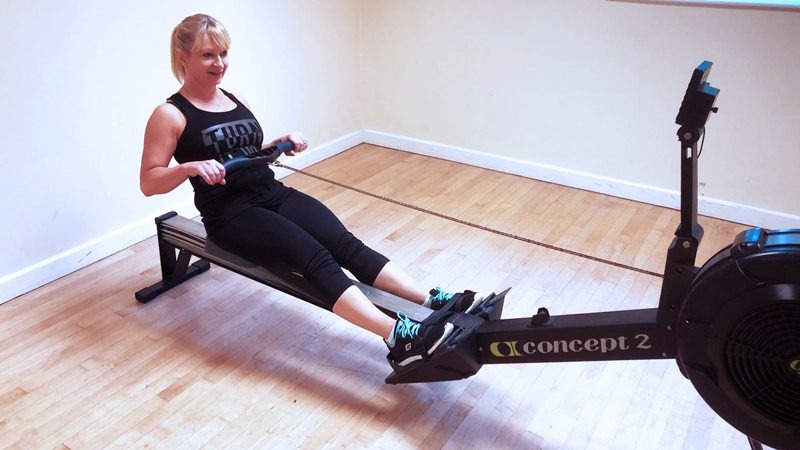 Lyn took up rowing in June 2017 and, in May 2018, rowed a marathon on the rowing machine in 3 hours, 26 minutes and 49 seconds. Here's Lyn's top tips on goal setting, training and staying motivated.
Goals
What made you take up indoor rowing?
I took up indoor rowing when our leisure centre manager suggested we invest in six new rowing machines and start to develop our own classes. As a complete novice who had previously only rowed a handful of times, I thought I had better learn how to row properly.  A rowing workshop was held at our centre and surprisingly I found that I quite enjoyed it.
What sort of goals did you set yourself initially?
My initial goals were to build up time on the rowing machine and get to understand the monitor. We started off rowing for around 20 minutes without stopping, trying to keep the stroke rate between 18-24 and focusing on technique.
To begin with, a good idea is to row for say 10 minutes, and each session build up the time, until you can row comfortably for around 30 minutes.  You can then use the monitor to challenge yourself to row further in a specific time, or row for longer before you have to stop. It will then be time to look at more specific and individual programmes as you start to understand the connection between pace, distance, time and stroke rate.
How did you keep track of these goals?
I would always log my time, stroke rate, pace and distance so that I could compare my performance.
Another good idea is to include some test times for 500m, 2000m and 10K and repeat every 6 weeks or so as this helps to maintain motivation and is an easy way to see your fitness improving.
Don't forget you can have this exclusive content before everyone else if you sign up the Go Row Indoor Newsletter here.
What made you choose to row a marathon?
After some persuasion we decided that three of us would aim to compete at the 2017 British Rowing Indoor Championships.  We compiled a training plan, and in December travelled to London where I was thrilled to win a bronze medal for my 2,000m race.
My fitness had improved, my body shape changed, my confidence grew and I liked how rowing made me feel. I knew I would now need a new challenge to maintain my focus, so we decided on rowing a marathon (42,000m!).
Training
You obviously had to be very disciplined with your training, did you have a training plan?
Once we were able to row for about 30 minutes, Phil, my colleague and partner for the marathon row, wrote some more specific training programmes using particular stroke rates and pace times depending on what the training session was that day. We also did sessions that involved varying pace and stroke rate in one session.
All this training was designed to build both stamina and strength ahead of the marathon row.
Did you struggle with anything in particular at the start?
I struggled with time constraints on the longer rows, as I work full time and was also looking after my granddaughters.
Naturally, there are days when you feel tired or don't think there is time to row, but the good thing about our sport is that because you are able to vary the programmes so much, you can usually find 30 mins or so, even in a busy day, and still get a great workout.
How did you get over these struggles?
Sometimes you will hit a flat spot in your training where you struggle to hit paces that you had previously been finding easy which can be demoralising and affect your motivation. Remember, this is normal, just accept it, maybe have a couple of sessions off and do some strength training or cross training and then come back to it and you'll find a new hunger and motivation to row.
It is important to keep focused on your end goal. This will carry you through those difficult sessions. As an ex-county gymnast, I was quite used to the discipline of training but still found it difficult sometimes. It helped me enormously to plan my week's training, factoring in rest days when I was busy at work and scheduling the long sessions on weekends when I had more free time.
There were lots of very early mornings and late night sessions.  Luckily I have a very understanding husband who didn't mind me disappearing upstairs to the spare room for hours or getting his tea late!
Motivation and how to re-focus
Did you ever doubt that you could do it?
I did have doubts as to whether or not I could row a marathon, 3 and a half hours is a long time to sit on a rowing machine. I knew I was strong enough and my training had been spot on, I was rowing with friends who I knew would encourage me all the way, and I also knew that if I stopped I would be letting Phil down and myself.
Mentally I knew that as I had rowed 2 hours 45mins previously, in theory there were only another 45 minutes to add to that. The worst point was when the girls rowing their half marathon finished and we were only half way through!
We decided to row for Cancer Research, a charity close to our hearts, and that became another focus as we didn't want to let our sponsors down. We completed the marathon, and what an amazing feeling it was!
What would you recommend to someone who might be struggling to keep to their training plan/routine?
I would suggest that if you have a goal in mind, plan your workouts and write them down. Try to stick to them but don't beat yourself up if you miss a session, just get back on track as soon as you can and enjoy your training knowing that the end result will make you feel amazing!
If those suggestions aren't quite enough to get you on the indoor rowing machine again, why not check out this article telling you Why Rowing and Exercise is Good for Your Brain.
Lyn Rogers is a gym supervisor and class instructor at Friary Grange Leisure Centre, Lichfield. Check out the class timetable for information on when you can join Lyn for her rowing classes – you don't have to be a member to attend.