Neil Hitt sets new indoor rowing 24-hour world record
Exeter rower Neil Hitt's 24-hour row on 21 June is confirmed as a record for his age group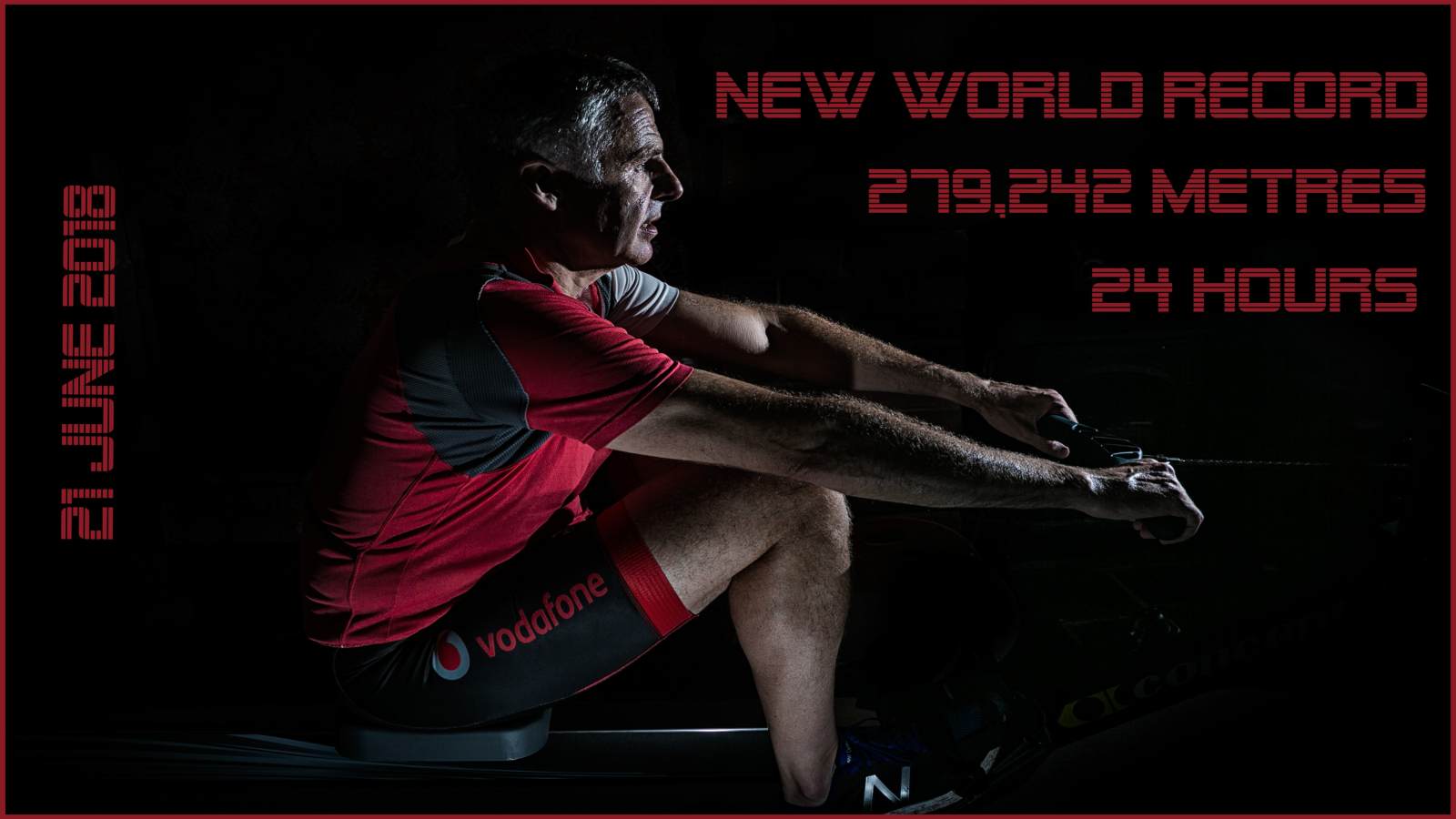 After a gruelling 24 hours of rowing on 21 June, Neil Hitt's row of 279,242m (about 175 miles) is officially confirmed as a new individual 24-hour record in the 50-59 heavyweight age group by Concept2. He broke the previous record by 1,013m.
The row took place on the longest day – the 21 June – a number with a special significance for Hitt. Twenty-one years ago the Exeter RC member rowed the Atlantic Ocean with Peter Hodgen in a boat numbered 21.
After retiring from rowing for 10 years, Hitt was recently drawn back into the sport.
"Finding out that my rowing technique is still there, I started looking for a test," he said. "The world record for a 24-hour ultra-endurance event became the obvious choice.
"I set an ambitious target for fundraising but this was by far the toughest thing I have attempted to date.
"It was nice to come away with a world record but even better to raise a lot of money for Cancer Research UK and Hospiscare and all the great work they do.
"A week later and sitting down is still not easy!"
The indoor row was live-streamed on the internet to a global audience. After a shaky start, the hot temperatures and Hitt's added adrenaline rush, as his challenge began, meant his heart rate was a lot higher than it had been in training efforts. But the first three hours passed and he settled into the task ahead, allowing himself a three-minute break every hour. By 2am, after eight hours of rowing, he was ahead of the previous record by over a mile.
Then at 18 hours – with six hours to go – disaster struck. His left knee started to swell and he had considerable pain straightening his leg. Some emergency repairs with bandages and a knee support ensured that it was stable enough and he continued rowing. He managed to keep his knee steady until he was sure he was going to break the world record, despite the constant threat of cramping in his legs.
Then finally, surrounded by friends and family to a cheering countdown, Hitt finished his row at 18:01 on the 22 June, 24 hours after starting on the 21 June.
It had certainly been the longest day.
If you would like to support Neil Hitt's record row then you can find out more at Cancer Research UK  and Hospiscare.
We would love to hear any stories that you have about your club or community. Why not share them with us via #YourStories.