Success at 2018 Invictus Games for indoor rowing trialists
For the first time four triple amputee athletes competed in an indoor rowing race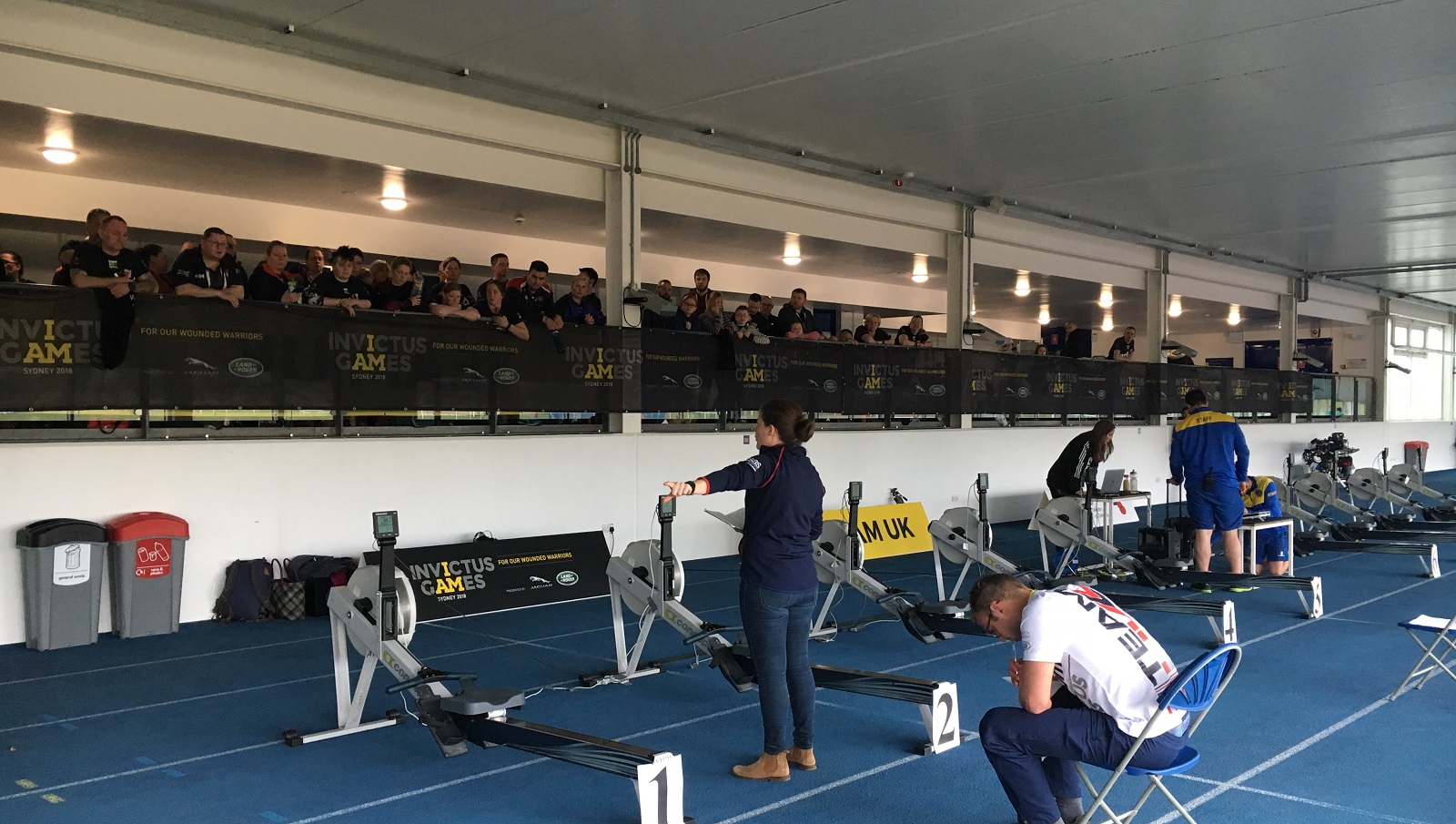 In early April, over 100 athletes took part in indoor rowing trials for the Invictus Games, which will take place this October in Sydney, Australia.
Athletes raced over four-minutes and one-minute, across 6 categories, with the race results and the impact of the Games on their recovery taken into account for squad selection.
Due to the number of competitors, the indoor trials ran all afternoon, with a number of spectacular races. Laura Knowles was the fastest female athlete achieving a huge 302m with a split of 1:39.2 in her one minute race. Martin Tye had a standout performance in the one minute IR4 race rowing 347m with a split of 1:26.4. The intense competition between the athletes meant that competitors went all out and left everything on the race floor, with 124 personal bests being achieved in front of the cheering crowd. Finishing off the indoor rowing trials was an iconic one-minute sprint race, with four triple amputee athletes, Mark Ormrod, David Watson, Lamin Manneh and Josh Boggi, competing alongside each other for the first time, with Josh Boggi winning the race.
The trials attracted a lot of supporters including HRH Prince Harry, Meghan Markle and double Olympic champion Major Heather Stanning.
Major Stanning, who has since returned to the Army after retiring from international rowing said: "The Invictus Games are so important for veterans and injured soldiers because it gives them a chance to challenge themselves and put themselves out there again doing things that soldiers like to do, like competing in sports events. Especially on the rowing machine, because the rowing machine is so painful but also so good for you. I have done many an hour on it and these athletes here today are pushing themselves to the limits, which is brilliant to see."
Stanning added: "A huge good luck to everyone who is selected and well done to everyone who has competed at the trials."
At the trials, Prince Harry met many of the competitors, including indoor rower's Mark Ormrod, Pa Modou Njie and Kelly Ganfield.
Ganfield spoke to British Rowing after meeting Prince Harry and said: "It was pretty special, I have a lot to thank him for. Bringing everyone together through sport actually does work. I have benefited hugely from being part of the Invictus Games. After suffering from a brain injury getting back into sport has helped with my memory. The rapport with the other athletes has been very special, I feel like I'm back at home, in the army."
The Invictus Games uses the power of sport to support and engage injured, wounded and sick military personnel. Since launching in 2014 indoor rowing has been a key event at the games and will be one of the sports taking place at the Sydney games in October. Working with Help for Heroes, British Rowing has been supporting the indoor rowing programme from trials, through to selection, training and at the Games.
As well as athletes returning to take part in the trials, a number also came back to volunteer at the event, including Michelle Partington who competed in indoor rowing at the Toronto games in 2017. Having been through a cycle of the Invictus Games after being medically discharged from the British Army, Michelle has seen a huge improvement in her mental well-being. Partington said "I now have my life back!" when asked how being part of the Invictus Games team had impacted her. Michelle was keen to give back so volunteered at the trials to support other athletes through the process.
In the lead up to the Invictus Games Sydney 2018, British Rowing and Help for Heroes will be hosting a number of training camps for the indoor rowing team. There is an opportunity for anyone who wants to learn more about the Invictus athletes or gain some hands-on experience coaching and supporting adaptive athletes to volunteer at the camps alongside British Rowing staff. No coaching experience or qualifications are necessary.
If you are interested in volunteering complete this expression of interest form.