Helene Raynsford: 'I treated my cancer journey as just another race on a different stretch of water'
Paralympic champion Helene Raynsford was diagnosed with breast cancer in 2013 and she relied on the mental strength she learned through rowing to get her through the treatment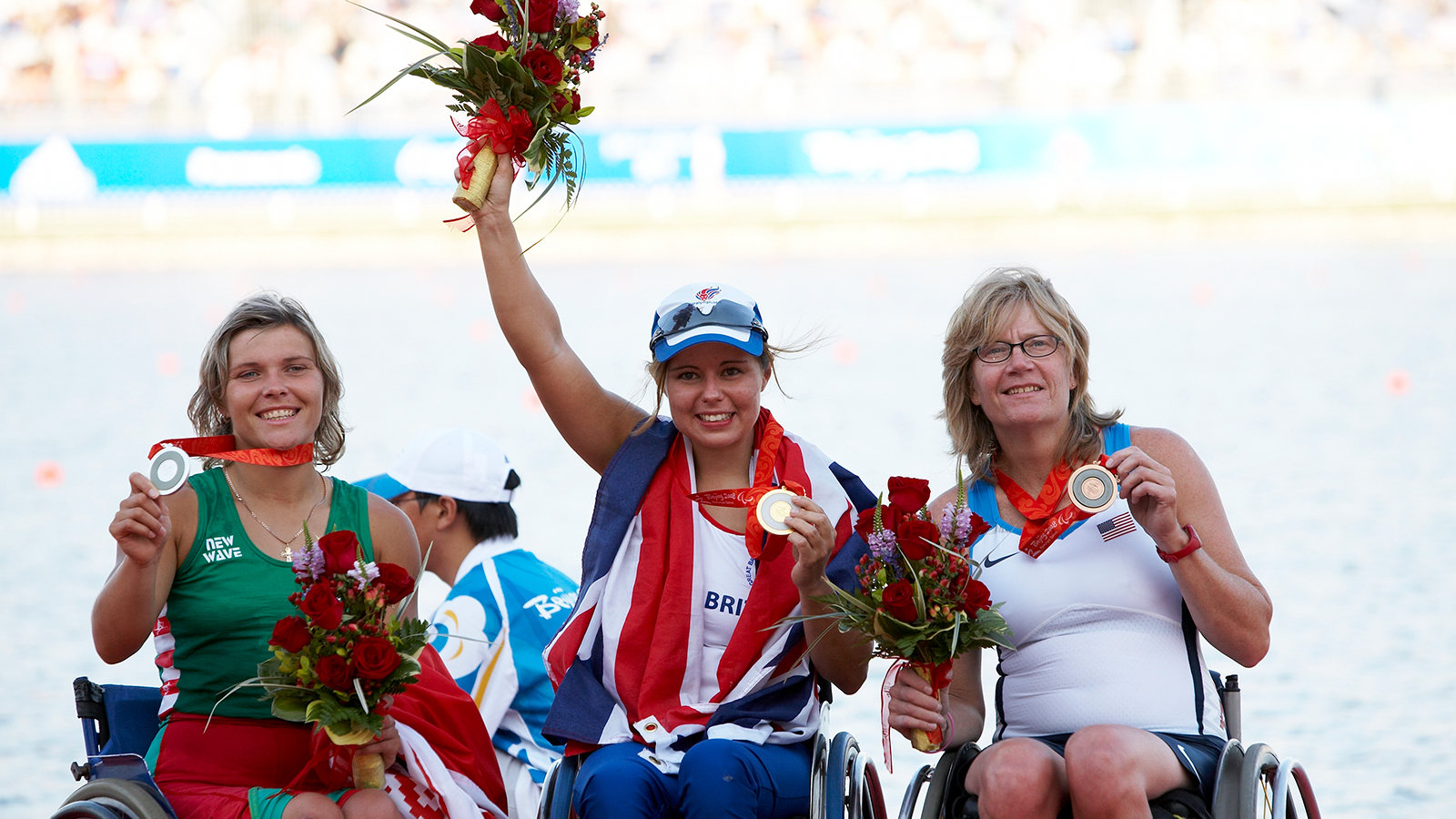 When it comes to beating breast cancer, former rower Helene Raynsford is treating her journey just like any other rowing race.
The first ever Paralympic rowing gold medallist at Beijing 2008 was diagnosed with cancer in 2013, shortly after completing a stint working on the London 2012 Organising Committee.
Although her diagnosis came as a shock, Raynsford was keen to ensure her day-to-day life didn't change too much.
This meant continuing her work as a public health professional and speaking about her experiences as a Paralympic champion. And it was while she was giving a talk to a group of school children shortly after her diagnosis that Raynsford realised she already knew how to deal with the battle that was to come.
British Rowing's Great Row challenge
Six British Rowing staff are teaming up to row a marathon on an indoor rowing machine on 26 January, raising money for Cancer Research UK. Click here to visit the fundraising page and help raise money for the prevention, diagnosis and treatment of cancer.
At the time, Raynsford didn't realise how profound her thoughts would be on shaping her mindset for the coming years of treatment.
"I always got really, really nervous before racing. I would always tell myself that it was just another 1km race on a different stretch of water," she says, explaining how she foresaw her cancer journey after that school assembly.
"I was sat on the start line and cancer was maybe 250m ahead of me. Through my chemotherapy I'd be catching it up all of the time. That would take me through to about halfway, and then between 500-750m is always the hardest part of the race for me – it's the really tough bit where you're absolutely exhausted.
"I thought by that point I'd be absolutely dragged down by the treatment and I'll have to deal with having major surgery. That was going to be the toughest part of my journey.
"The latter part of the race would be the recovery part of my journey, where I'll stay on medication for a very long time to stop the cancer coming back. That's like the last 250m where the crowd will be roaring and cheering you past the finish line."
Raynsford, who has been in remission for three years, adds: "When I left that talk, I went home and thought about it some more and decided that was how I was going to deal with it. I would deal with my cancer journey in the same way I dealt with racing in Beijing. It is just another 1km on a different stretch of water."
"With Cancer Research, you know if you go on their site that it's going to be factual and realistic information"
To support the fight against cancer, British Rowing has partnered with Cancer Research UK to encourage people to raise money through indoor rowing challenge The Great Row. In the week before the CRUK Boat Races on April 2, people are challenged to complete one of four distances on a rowing machine, while being sponsored by friends and family.
And Raynsford, who advocates an active lifestyle as a way to help reduce the risk of cancer, admits the support received from cancer charities like CRUK was vital from the start of her cancer journey.
"The online information [was good] because you know you can trust it," she says. "Quite frankly, you're two clicks from dead if you Google anything. If you go online and look at the forums it can be quite scary, because generally people go to them when they're at a really low point and they need some help.
"Whereas, with Cancer Research, you know if you go on their site that it's going to be factual and realistic information. It's pragmatic, and the information they have on the drugs and how to deal with the various treatments are absolutely vital."
So if you're looking for a really worthwhile cause for you or your club to raise money, while doing something that fits in with your rowing life, this is it. Click here to find out more about raising money for the Cancer Research UK Great Row.