Record-breaking weekend of racing at Senior Champs 2016
Olympic medallist Karen Bennett and a host of potential Tokyo 2020 stars were among the winners during an action-packed weekend of racing at the British Rowing Senior Championships in Nottingham.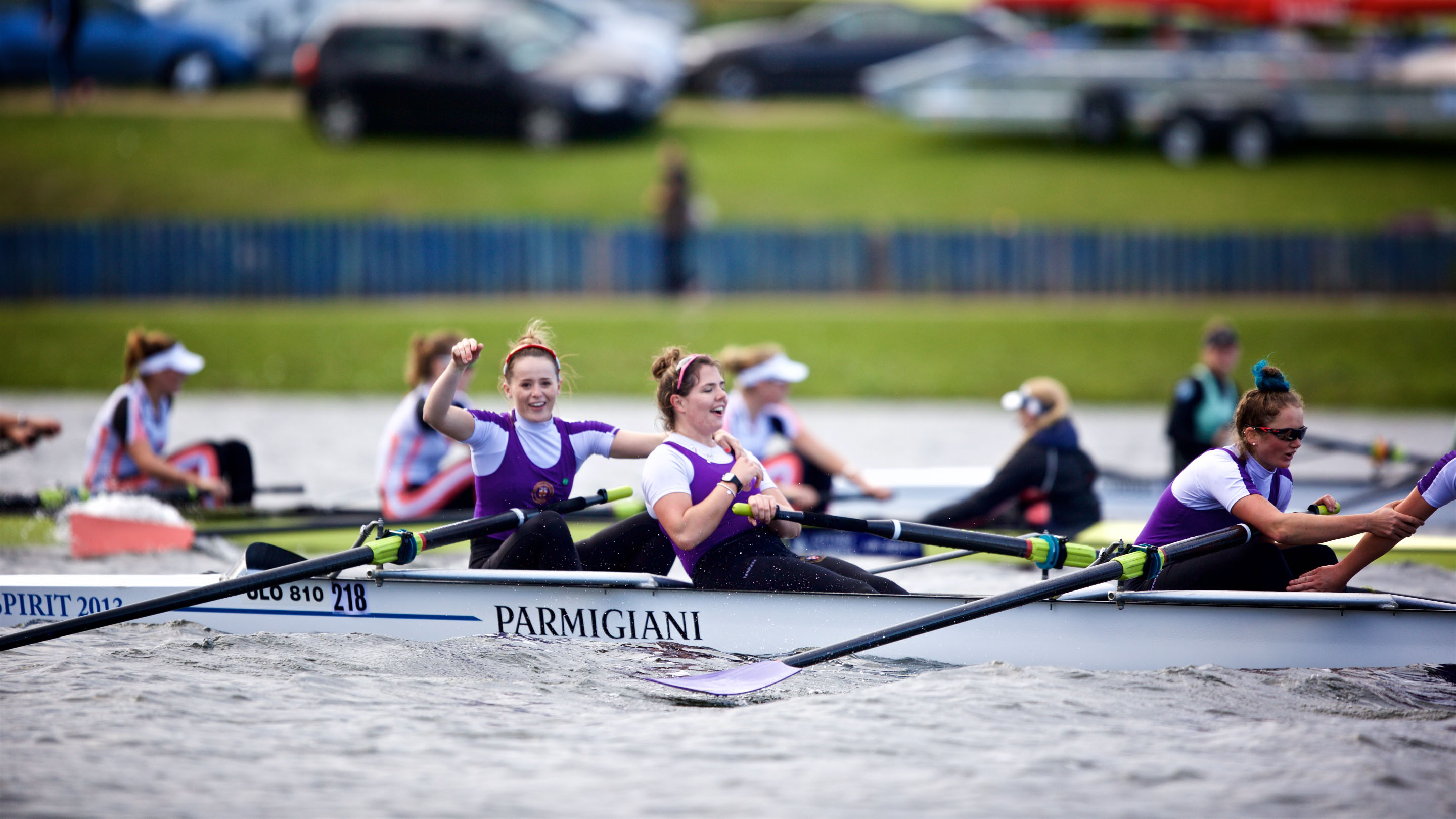 Bennett was part of a Leander Club crew, along with reigning World Champions Fiona Gammond and Holly Norton, that claimed gold in a well-contested women's eight competition on Sunday.
"That was a really nice way to start the season," said Bennett. "It was great fun racing with the girls, they are all up-and-coming rowers and really talented."
Leander also won the men's eight title in a new regatta record as they got the better of an experienced Oxford Brookes University crew featuring Olympic champion Scott Durant and fellow Rio 2016 rowers Peter Chambers and Mat Tarrant.
Holly Nixon and Jess Leyden, World Senior and U23 Champions respectively, teamed up with Lucy Burgess and Emily Carmichael to claim a clear-water victory in the women's quadruple scull.
And their club colleagues at Leander recorded a one-two in the men's competition, with gold going to the lightweight quad of Ed Fisher, Charles Waite-Roberts, Jonathan Jackson and Samuel Mottram.
The first day of competition saw a 26-year-old record fall as an Isis A crew featuring Ollie Cook took full advantage of the weekend's tail-winds to win a cracking men's four final in a new regatta-best time of 6:03.17.
Cook was one of three reigning World Champions to claim gold on Saturday, with Wallingford RC's Brianna Stubbs and Ellie Piggott continuing their successful partnership by dominating the women's double competition.
Leander Club's Nick Middleton and Tom Barras did likewise in the men's double, while Cambridge University Women's BC's A crew of Myriam Goudet, Alice White, Lucy Pike and Melissa Wilson claimed the women's four title in impressive fashion.
Four aspiring GB para-rowers competed in an open arms-trunk single scull, with Scott Jones (Gloucester Hartpury), Sophie Brown (Sudbury RC) and Ekow Otoo (Marlow RC) winning gold in their respective classifications.
Paralympics legend Baroness Tanni Grey-Thompson presented the medals and said: "The inclusive nature of these Championships is really important and great to see. I wish more sports would do it."
This year's Championships – sponsored by Visit Sarasota County, hosts of the 2017 World Senior Championships – were the first to include prizes for non-high performance programme clubs and universities. Tideway Scullers School, Lea RC, Kingston RC and Thames RC were among the clubs to take home shields.
More than 1,000 rowers from 100 clubs – 19 of which were composites – raced during a busy and competitive weekend.
Jim Harlow, Chairman of the Regatta, said: "It has been a hugely successful weekend at the British Rowing Senior Championships. We have seen lots of close racing over the course of the weekend, with crews really pushing each other to bring out their best. It is testament to the dedication and hard work that every rower and coach puts in; it's great to see.
"I would like to personally thank all the outstanding volunteers, without which this event would not be possible. I'm already looking forward to next year!"
Go to http://www.britchamps.org/seniors to see the results in full and click on the expander boxes below for reports and reaction from the weekend, plus a roll of honour.
Open All
Race Report
Karen Bennett's last competitive outing ended with her winning Olympic silver with the GB women's eight in Rio.
She was back on the podium on Sunday as part of a victorious Leander Club eight that also included Fiona Gammond and stroke Holly Norton, both World Champions in the women's four, Emma Spruce, Josephine Wratten, Madeline Badcott, Beth Bryan, Katherine Douglas and cox Erin Wysocki-Jones.
"Obviously it was massively different from Rio in terms of scenery but it was really fun racing with the girls, they are all up-and-coming and really talented," said Bennett.
"It was a bit weird that I'm the experienced one and they were looking up to me! In the final we were ahead after 250m and led for the rest of the race, which was a bit different to being last at halfway in Rio and having to come through."
Leander finished half-a-length clear of an impressive Cambridge University Women's BC A crew of Myriam Goudet, Melissa Wilson, Lucy Pike, Oonagh Cousins, Imogen Grant, Karolina Farr, Patricia Smith and Alice White, all of whom were medallists in the women's four on Saturday. Matthew Holland was the cox.
Bronze went to the University of London B crew of Robyn Hart-Winks, Fionnuala Gannon, Catherine Ador, Emma Reiser, Sara Parfett, Charlotte Hodgkins-Byrne, Georgia Statham, Alessandra French and cox Matilda Horn.
There were nine Oxford Brookes University boats in the men's eight competition, including an A crew that featured Olympic Champion Scott Durant, London 2012 silver-medalist Peter Chambers and former World Champions Mat Tarrant and Joel Cassells.
However, they had to settle for silver behind the impressive young Leander Club A crew of Richard Clarke, Sam Arnot, Jacob Dawson, Adam Neill, Sam Twine, George Rossiter, Tim Clarke, Thomas Ford and cox Samuel Royston who set a new regatta record of 5:36.50.
"Oxford Brookes are always big rivals of ours and we push each other on during the season, so it's nice to get one over on them this time but I am sure they will be back," said Tim Clarke.
"It's been a good day for Leander. It's always good to get down to the start and see your ciub-mates winning their races, it gives you a boost."
Jamie Copus, Rory Gibbs, Matthew Aldridge, Henry Swarbrick and cox Rory Copus were also in the silver-medal Brookes boat, while bronze went to the Leander B crew of Iain Mandale, Callum Johnson, Francis Highton, Finn Stevenson, Thomas Jeffery, Edward Gleadowe, James Scott, George Hallewell and cox Vlad Saigau.
Jess Leyden and Holly Nixon both won gold at this year's combined Senior and U23 World Championships in Rotterdam. They claimed another victory today in the women's quadruple scull, teaming up with Lucy Burgess and Emily Carmichael to win by clear water in the final.
"I always like coming to the British Championships and representing my club, it's really fun," said Leyden. "I love competing and it helps make this time of year a bit more interesting."
Nixon added: "It's a really exciting time for women's rowing in Britain, you could see today from all the crews out there that we're upping the standard. Off the back of Rio, everyone is feeling inspired by seeing how well GB did as a nation. You can see that energy."
Silver went to the Tideway Scullers School's Amelia Carlton, Katy Wilkinson-Feller, Georgina Grandfield and Francesca Rawlins, who also claimed the Club Shield. Edinburgh University's Alex Rankin, Mairi Buchan, Anna Rodahl and Maddie Arlett took bronze.
The men's quadruple scull final came down to a battle between Leander Club's open-weight and lightweight crews, with the latter taking the spoils.
Ed Fisher, Charles Waite-Roberts, Jonathan Jackson and Samuel Mottram have all won medals for GB at the World U23 Championships and they were delighted to get the better of fellow up-and-comers Harry Leask, Frazier Christie, Harry Glenister and Andrew Joel.
"That was a really enjoyable race and it went as we wanted it," said Waite-Roberts. "Tail-wind conditions are always going to be a bit scrappy but I was really pleased with how we composed ourselves.
"We knew our heavyweight counterparts would be our main opposition but that's what makes events like this, the fact we can train and compete as a club."
There was also plenty of Tokyo 2020 potential in the bronze-medal boat of talented U23 lightweights Matthew Curtis, Graham Ord, Josh Armstrong and Gavin Horsburgh from Edinburgh University.
Sunday's racing also included an open trunk-arms single scull competition for para-rowers, raced over 2k.
Gloucester Hartpury's Scott Jones took gold ahead of Kingsley Okoroafor in the arms-shoulders classification, Sophie Brown won the women's trunk-arms title and Ekow Otoo claimed the men's trunk-arms crown.
The medals were presented by Paralympics legend Baroness Tanni-Grey Thompson, who said: "The inclusive nature of these Championships is really important and great to see.
"People who are rowing fans will come here, watch the racing and support it, which is a much smarter way of developing the sport. It's amazing, I wish more sports would do it."
Jones added: "This is only my second 2k in competition – the first was here last year – and I improved my personal best by two minutes. My pacing was much better as well, so I'm happy with that.
"My aim is to push into the GB team. I have to decrease my times a bit but I'm going in the right direction."
Saturday's racing had seen the Oxford University Boat Club Isis A men's four break a 26-year-old record as they held off a strong challenge from Leander Club A to win gold in 6:03.17.
The result meant that Ollie Cook – joined in the winning boat by Michael DiSanto, Olivier Siegelaar and Jorgen Tveit – got the better of Leander's Callum McBrierty, his partner in the World Championship-winning men's coxed pair during the summer.
"We knew the Leander guys and the other Isis crew were really feisty, so we needed to grab it and go for it," said Cook. "We've been training pretty hard now for the past five weeks, so it's nice to get some return out of that.
"There's a lot more to come – the season's only just beginning and it's going to be an incredibly exciting one."
McBrierty – who won silver with Barnaby Stentiford, Cameron Buchan and Matt Rossiter – added: "Ollie has the bragging rights at the moment but we have GB trials in two weeks so I'll try and sort that out."
The Isis B crew of Jacob Cushnie, James White, William Warr and Joshua Bugajski won bronze, with the medals being presented by GB Rowing Team Chief Coach for Open Men Jürgen Grobler.
Two more World Champions took gold in the women's double, with the successful Wallingford RC lightweight partnership of Brianna Stubbs and Ellie Piggott dominating the competition.
"It was really good fun," said Piggott. "We built through each round before dominating the final in the way we wanted to. Brianna and I have been racing together for years and years. There's a danger it could become too comfy but I feel we do a really good job in moving it on whenever we get back together."
Stubbs added: "It's always really fun to come and get a few races under your belt early in the season. It was a good opportunity to show that we have real quality in the lightweight squad."
Emily Craig, who won lightweight women's quad gold with Piggott and Stubbs at the World Championships, took silver with Robyn Hart-Winks for University of London. Defending champion Mathilda Hodgkins-Byrne and Laura Meridew, in a Reading RC/Reading University composite, were the top open-weight crew in third.
The men's double was dominated by Leander Club's Nick Middleton and Tom Barras, who took gold ahead of club colleagues Harry Leask and Andy Joel, the top U23 crew. Edinburgh University B's Graham Ord and Josh Armstrong, the latter a World Junior Champion in 2015, completed the podium.
Middleton, who won the British title in 2015 with Rio 2016 Olympian Alan Sinclair, said: "It was a really good race. We wanted to dominate it from the start, so we went off hard in the first 'k' and then just controlled it from there.
"It was great to row with Tom, he's a new guy into the GB squad but obviously one with great promise for the future."
Barras, an experienced U23 rower, is making the step up to senior level this season and said: "It was brilliant to row with Nick – he's been to World Cups and won this competition before, so he knows what to do.
"Training has been going well so far. Hopefully I'll be able to make some more steps on this year."
Cambridge University Women's Boat Club won gold and bronze in the women's four, with the victorious A crew of Myriam Goudet, Alice White, Lucy Pike and Melissa Wilson in fine form throughout the day.
Wilson, a double World U23 medallist, said: "It was a wonderful day. We've got a really exciting group of girls at Cambridge this year and it's been a really enjoyable start to the season."
Imogen Grant, Karolina Farr, Patricia Smith and Oonagh Cousins won bronze behind University of London's Lottie Bruce, Charlotte Hodgkins-Byrne, Georgia Statham and Alessandra French – they were the top U23 crew.
Race Results
Roll of honour
Open double scull
·      Gold: Nick Middleton, Tom Barras (Leander Club)
·      Silver & U23 Shield: Harry Leask, Andy Joel (Leander Club)
·      Bronze: Graham Ord, Josh Armstrong (Edinburgh University B)
·      U23 Lightweight Shield: Matthew Curtis, Gavin Hosburgh (Edinburgh University C)
·      Lightweight Shield: Steven Parsonage, Hugo Coussens (Durham University)
·      U19 Shield: Cormac Molloy, Rory Harris (Molesey BC)
·      Club Shield: Jack Burns, Ben Parsonage (Clydesdale/Strathclyde)
Women's double scull
·      Gold & Lightweight Shield: Brianna Stubbs, Ellie Piggott (Wallingford RC A)
·      Silver: Robyn Hart-Winks, Emily Craig (University of London A)
·      Bronze: Mathilda Hodgkins-Byrne, Laura Meridew (Reading University/Reading RC)
·      U19 Shield: Annabel Stevens, Lucy Glover (Reading RC/Warrington RC)
·      U23 Lightweight Shield: Alex Rankin, Maddie Arlett (Edinburgh University B)
·      U23 Shield: Hanna Gallis Inntjore, Rosalind Wilson (Durham University)
·      Club Shield: Lucy Edmunds, Georgina Brayshaw (Leeds/York)
·      University Shield: Laetitia Tay, Steph Clutterbuck (University of Bath)
Open four
·      Gold: Ollie Cook, Michael DiSanto, Olivier Siegelaar, Jorgen Tveit (Isis A)
·      Silver: Callum McBrierty, Barnaby Stentiford, Cameron Buchan, Matt Rossiter
·      Bronze: Jacob Cushnie, James White, William Warr, Joshua Bugajski (Isis B)
·      U23 Shield: Ben Freeman, Patrick Sullivan, Joshua Kent, Chris Heywood (University of London)
·      Lightweight Shield: Nathan O Reilly, Kieran Brown, Lloyd Seaman, Niall Kenny (Tideway Scullers' School)
·      Club Shield: Leon Taylor, Mark Roberts, John Ciccarelli, John Keen-Tomlinson (Kingston RC)
·      University Shield: Thomas Farrand, Oliver Daly, Peter Boyes, William Aldridge (Nottingham University A)
Women's four
·      Gold: Myriam Goudet, Alice White, Lucy Pike, Melissa Wilson (Cambridge University Women's BC A)
·      Silver & U23 Shield: Lottie Bruce, Charlotte Hodgkins-Byrne, Georgia Statham, Alessandrea French (University of London)
·      Bronze: Imogen Grant, Karolina Farr, Patricia Smith, Oonagh Cousins (Cambridge University Women's BC B)
·      Club Shield: Lucy Stackpool-Moore, Rachel Lund, Bridget Snaith, Amanda Benson-Skailes (Lea RC)
Open trunk-arms single scull
·      Arm-shoulders gold: Scott Jones (Gloucester Hartpury)
·      Arm-shoulders silver: Kingsley Okoroafor (Marlow RC)
·      Women's trunk-arms gold: Sophie Brown (Sudbury RC)
·      Men's trunk-arms gold: Ekow Otto (Marlow RC)
Open eight
·      Gold: Richard Clarke, Sam Arnot, Jacob Dawson, Adam Neill, Sam Twine, George Rossiter, Timothy Clarke, Thomas George Ford, Samuel Royston (cox) (Leander Club A)
·      Silver: Peter Chambers, Jamie Copus, Rory Gibbs, Matthew Aldridge, Mat Tarrant, Scott Durant, Henry Swarbrick, Joel Cassells, Rory Copus (cox) (Oxford Brookes University A)
·      Bronze: Iain Mandale, Callum Johnson, Francis Highton, Finn Stevenson, Thomas Jeffery, Edward Gleadowe, James Scott, George Hallewell, Vlad Saigau (cox) (Leander Club B)
·      Club Shield: Alex Morris, William Downey, Nicholas Challinor-Halford, Samuel Furber, Sam Thornton, Charles Burkitt, Luke Wertheim, Orlando Nixon, Constance Pidoux (cox) (Thames RC)
·      University Shield: Joe Bright, Ben Gray, Adam Giambrone, Oliver Daly, Thomas Farrand, William Aldridge, Peter Boyes, Harry Nichols, Lara-Jayne Cooper (cox) (Nottingham University)
Women's eight
·      Gold: Fiona Gammond, Emma Spruce, Josephine Wratten, Madeline Badcott, Beth Bryan, Katherine Douglas, Karen Bennett, Holly Norton, Erin Wysocki-Jones (cox) (Leander Club)
·      Silver: Myriam Goudet, Melissa Wilson, Lucy Pike, Oonagh Cousins, Imogen Grant, Karolina Farr, Patricia Smith, Alice White, Matthew Holland (cox) (Cambridge University Women's BC A)
·      Bronze: Robyn Hart-Winks, Fionnuala Gannon, Catherine Ador, Emma Reiser, Sara Parfett, Charlotte Hodgkins-Byrne, Georgia Statham, Alessandra French, Matilda Horn (cox) (University of London B)
·      Club Shield: Rachel Francis, Charlotte Dexter, Sally Trump, Emily Walters, Ellenor Peebles, Olivia Uguz, Rowi Mortimer, Anna Terry, Sophie Shapter (cox) (Tideway Sullers School)
·      University Shield: Kathryn Hinton, Emily Batchelor, Olina Parrish, Kristina Stone, Alex Flynn, Amy Louise Ward, Eleanor Hayes, Oluwaseun Olusanya, Sophie Wrixon (cox) (University of Exeter)
Open quadruple scull
·      Gold & Lightweight Shield: Edward Fisher, Charles Waite-Roberts, Jonathan Jackson, Samuel Mottram (Leander Club)
·      Silver: Harry Leask, Frazier Christie, Harry Glenister, Andrew Joel (Leander Club)
·      Bronze & U23 Shield: Matthew Curtis, Graham Ord, Josh Armstrong, Gavin Horsburgh (Edinburgh University)
·      U19 Shield: Isaac Workman, Thomas Shewell, Bryn Ellery, Thomas Smith (The Windsor Boys' School)
·      Club Shield: Ben Parsonage, Aaron Nicholson, Thomas Howatt, Jack Burns (Clydesdale/Glasgow University/Strathclyde University)
·      University Shield: James Mackins, Franklin Hamilton, Simon Williamson, Oliver Dix (Reading University A)
Women's quadruple scull
·      Gold: Lucy Burgess, Emily Carmichael, Holly Nixon, Jess Leyden (Leander Club)
·      Silver & Club Shield: Amelia Carlton, Katy Wilkinson-Feller, Georgina Grandfield, Francesca Rawlins (Tideway Scullers School A)
·      Bronze: Alex Rankin, Mairi Buchan, Anna Rodahl, Maddie Arlett (Edinburgh University)
·      Lightweight Shield: Phoebe Cook, Aerin Thompson, Ella Kay, Olivia Kay (Derby RC/Nottingham RC/Nottingham & Union RC)
·      U23 Shield: Susannah Duncan, Lucy Taylor, Phoebe Campbell, Isabel Lingard (University of Exeter)
·      U19 Shield: Ayesha Wooler, Rachel Ozsanlav-Harris. Eleanor Davies, Lucy Glover (Warrington RC)
·      University Shield: Lucy Ryan, Megan Park, Loretta Grove, Amy Fuller (Reading University A)