GB juniors heading to France for annual international
A 51-strong squad will be looking to secure a fourth successive win for the GB Rowing Team in the annual junior U16 match against France on Sunday, July 10.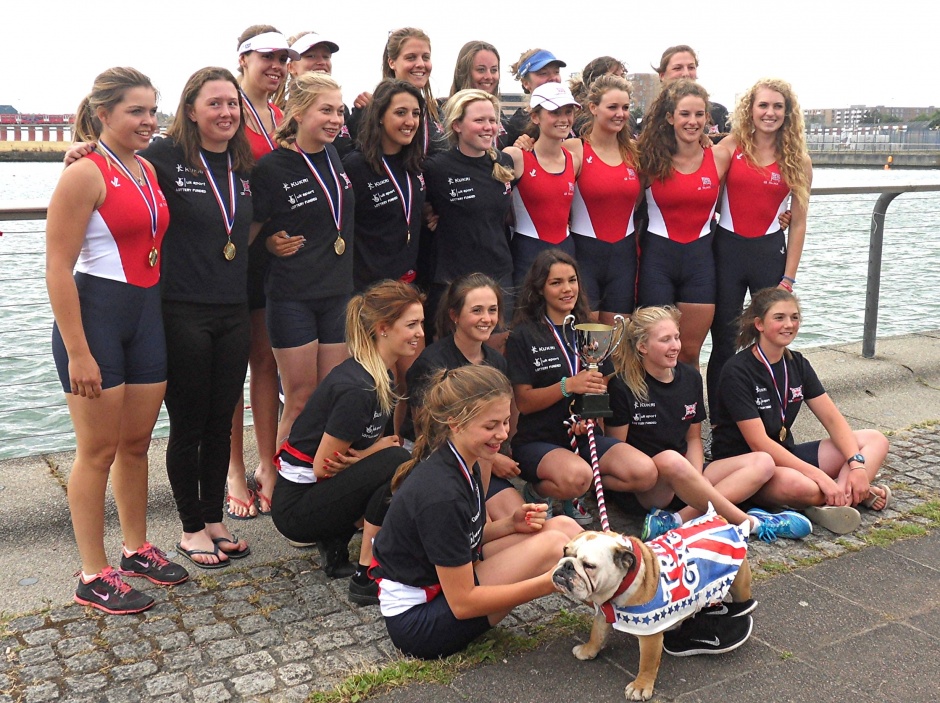 Thirteen crews – consisting of 27 junior men, 22 junior women and two spares – have been named for the contest, this year taking place on the River Scheldt at Valenciennes in northern France.
A host of senior GB rowers gained their first international experience in the club-based competition, including Jess Eddie, Angus Groom and Nathaniel Reilly-O'Donnell who have all been selected by Team GB for the Rio 2016 Olympic Games.
This year's rowers all came through a well-contested selection regatta at the National Watersports Centre in Nottingham.
Two of them – Maidenhead RC's Victor Kleshnev and Marlow RC's Charlotte Fennell – helped GB record a 10-3 victory over France in last year's match at London Docklands.
Kleshnev, who rowed in the single scull in 2015, this year races in the men's quadruple scull with club-mates Edoardo Marshall, Daniel Somerville and Elliott Kemp.
Minerva Bath's Jens Hullah – a member of the GB Rowing Team Start talent ID and development programme at the University of Bath – goes in the single, while RGS High Wycombe's Lewis Howlett and Ethan O'Connor are in the double.
Eton College BC is well represented in the men's sweep squad, with Richard Taylor and Aubrey Warley making up the pair while Sam Stourton, Theodore Hall, Oscar Carr-Middleton and Max Ridgwell all go in the eight.
They will be joined in the boat by Aberdeen Schools Rowing Association's Theo Stott, Robert Powell, Miles Beeson, Conrad Forbes and cox Michael McCrory.
Hampton School's Piero Ladhur, Harry Fieldhouse, Matthew Hamilton and Tom Cross make up the four, while St Paul's School BC's Leo Von Malaise, Alex Langstone-Bolt, Cameron McInroy, Douwe De Graaf and Axel De Boissard go in the coxed four.
Lady Eleanor Holles BC in Hampton is the most well-represented club, providing nine of the women's team.
Clare Jackson, Emma Breeze, Katerina Taylor and Katie Benson make up the women's four, while Gemma King, Catherine King, Alice Snelling, Elizabeth Witt and cox Elizabeth Brandreth go in the eight alongside Marlow RC's Natasha Strudwick, Gini Holmes, Emily Bourne and Charlotte Fennell.
Chester-le-Street ARC pair Bobbi Forster and Eve Larsen complete the women's sweep squad.
Strathclyde Park RC's Rosie Payne goes in the single, Molesey BC's Daisy Leppard and Holly Dunford are in the double, and Nottingham RC's Bella Barlow, Abigail Clark, Jenna Draycott and Aimee Richards make up the quad.
Open All
Crew List
GB v France J16 Match, Valenciennes, France
July 10, 2016
JUNIOR WOMEN
Pair
Bobbi Forster (Chester-le-Street ARC)
Eve Larsen (Chester-le-Street ARC)
Coach: Colin Wood (Chester-le-Street ARC)
Four
Clare Jackson (Lady Eleanor Holles BC)
Emma Breeze (Lady Eleanor Holles BC)
Katerina Taylor (Lady Eleanor Holles BC)
Katie Benson (Lady Eleanor Holles BC)
Coach: Jonathan Cheesman (Lady Eleanor Holles BC)
Eight
Natasha Strudwick (Marlow RC)
Gini Holmes (Marlow RC)
Emily Bourne (Marlow RC)
Charlotte Fennell (Marlow RC)
Gemma King (Lady Eleanor Holles BC)
Catherine King (Lady Eleanor Holles BC)
Alice Snelling (Lady Eleanor Holles BC)
Elizabeth Witt (Lady Eleanor Holles BC)
Elizabeth Brandreth (cox) (Lady Eleanor Holles BC)
Coach: Jonathan Cheesman (Lady Eleanor Holles BC)
Single scull
Rosie Payne (Strathclyde Park RC)
Coach: Alistair Browne (Strathclyde Park RC)
Double scull
Daisy Leppard (Molesey BC)
Holly Dunford (Molesey BC)
Coach: Nick de Cata (Molesey BC)
Quadruple scull
Bella Barlow (Nottingham RC)
Abigail Clark (Nottingham RC)
Jenna Draycott (Nottingham RC)
Aimee Richards (Nottingham RC)
Coach: Martin Kay (Nottingham RC)
Racing spare
Olivia Caesar (Monkton Combe School BC)
JUNIOR MEN
Pair
Richard Taylor (Eton College BC)
Aubrey Warley (Eton College BC)
Coach: Sam Grant (Eton College BC)
Four
Piero Ladhur (Hampton School BC)
Harry Fieldhouse (Hampton School BC)
Matthew Hamilton (Hampton School BC)
Tom Cross (Hampton School BC)
Coach: Jon Neville (Hampton School BC)
Coxed four
Leo Von Malaise (St Paul's School BC)
Alex Langstone-Bolt (St Paul's School BC)
Cameron McInroy (St Paul's School BC)
Douwe De Graaf (St Paul's School BC)
Axel De Boissard (cox) (St Paul's School BC)
Coach: Anthony Smith (St Paul's School BC)
Eight
Sam Stourton (Eton College BC)
Theodore Hall (Eton College BC)
Oscar Carr-Middleton (Eton College BC)
Max Ridgwell (Eton College BC)
Theo Scott (Aberdeen Schools RA)
Robert Powell (Aberdeen Schools RA)
Miles Beeson (Aberdeen Schools RA)
Conrad Forbes (Aberdeen Schools RA)
Michael McCrory (cox) (Aberdeen Schools RA)
Coaches: Sam Grant (Eton College BC) & Jonny Muir (Aberdeen Schools RA)
Single scull
Jens Hullah (Minerva Bath RC)
Coach: Dan Harris (GBRT)
Double scull
Lewis Howlett (RGS High Wycombe BC)
Ethan O'Connor (RGS High Wycombe BC)
Coach: Geoff Baker (RGS High Wycombe BC)
Quadruple scull
Edoardo Marshall (Maidenhead RC)
Daniel Somerville (Maidenhead RC)
Elliott Kemp (Maidenhead RC)
Victor Kleshnev (Maidenhead RC)
Coach: Katerina Kleshneva (Maidenhead RC)
Racing spare
Bryn Ellery (The Windsor Boys' School BC)
Management & team support
Team manager: CD Riches (Westminster School BC)
Assistant team manager: Megan Glenn (King's School Worcester BC)
Equipment: John Moon (Molesey BC)
Physio: Gaby Halloran
Assistant driver: Sean Boret (Hampton School BC)