An eight medal tally for GB in fine world cup performance
It's been a day of golds and more at the season's final world cup in Poland to add to yesterday's three golds and a superb new World Best Time from Rachel Morris.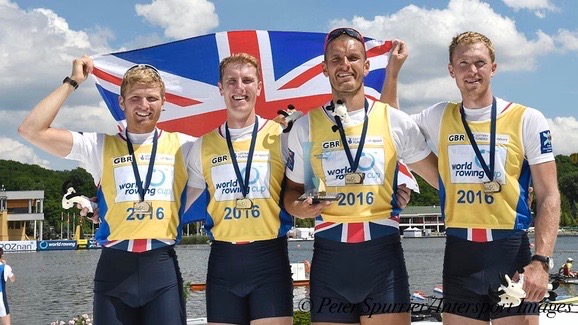 The GB Rowing Team today won two golds, three silvers and three bronzes at the season's concluding world cup in Poznan, Poland, to set up a good platform for final Rio preparation.
Helen Glover and Heather Stanning rounded off their world cup season with a strong performance to take one of those golds against tougher opposition in Poznan, Poland.
The GB duo powered away in the final 100m from their New Zealand challengers to win in a new world cup best time of 6:52.79, bettering their own mark.
"We didn't want a race with all the bells and whistles today and we've been training pretty heavily coming into Poznan", said Glover.  'Over the next few weeks is when we will add those bells and whistles".
"It was good to come out and race, having missed the final in Lucerne through illness", said Stanning.
Alex Gregory, Moe Sbihi, George Nash and Constantine Louloudis were in sizzling form to lead throughout their mens' four final, coming home a length up on World Champions Italy and early-season rivals Australia.
"We put a few things right today and it felt good to do that.  It was our last chance to try things out before Rio", said returning 2012 Olympic Champion Gregory.
"It was humming, really humming today.  That was very, very aggressive from us", said Nash.
The men's eight brought the curtain down in style with a stroke by stroke battle with Germany before taking silver at the death in a big step up from Lucerne.
"That was a great turn-around from yesterday was really good and today was what we know we can deliver", said cox Phelan Hill.
Jonny Walton and John Collins produced one of their career-best performances to take silver in the open men's double.  They led for most of the race and New Zealand needed all their final sprint speed to snatch the gold. France were third.
"It's the first time that we have been on the international podium since 2007 and it's such a relief to be there.  We knew we had it in us but we really got it right today", said Collins.
It is a measure of their recent ambition and form that GB's European Champion women's eight were disappointed at taking silver behind New Zealand.
"It's got to be all about using that to motivate ourselves going forwards", said Katie Greves. "It's been a bit of a tough two weeks but I feel strongly that we are still going in the right direction".
Alan Campbell added a second sculling bronze for GB in the open men's single final, holding onto third and getting closer than before to the eventual winner and Olympic Champion Mahe Drysdale of New Zealand.
Alan Sinclair and Stewart Innes chalked up a bronze for the overall tally in a photo-finish from their own team-mates, Nathaniel Reilly O'Donnell and Mat Tarrant, in the men's pair.  The race, won by Eric Murray and Hamish Bond, had extra spice as the seats in this GB boat have not yet been confirmed for Rio.
The lightweight men's four of Chris Bartley, Mark Aldred, Jono Clegg and Peter Chambers made a significant step up from the Lucerne world cup to take bronze here in a race won by New Zealand but in which the GB crew contended strongly for silver.
Katherine Grainger and Vicky Thornley, returning to the women's double after a gap, looked race rusty but showed promising signs in the opening half of their final before fading to fifth.
This was a very important regatta for Vicky and I to race and it has been an invaluable learning experience", said Grainger. "It would always be good to finish further up the results but we are leaving with a lot of positives".
Will Fletcher and Richard Chambers produced some great racing speed early in their lightweight men's double scull final but slipped from leading at halfway to fifth as their tank ran dry at the end.
Fifth also awaited the open men's quadruple scull of Peter Lambert, Sam Townsend, Angus Groom and Graeme Thomas who have not been in their best form here.
"We have really moved on since Lucerne which we needed to. Today will give us confidence to go on our training camps and prepare for a strong Olympic regatta. We know we still more hard yards to put in", said Sir David Tanner. British Rowing's Performance Director.
Earlier Jack Beaumont put in a strong finish to win the B final of the men's single scull whilst Vicky Meyer-Laker and Louisa Reeve held onto second in the women's pair B final despite strong pressure at the end.
Today's action came after three golds yesterday. Para-rower Rachel Morris took her win in a superb new World Best Time in the arms-shoulders single scull.  Joel Cassells and Sam Scrimgeour had their toughest race yet but held onto gold and an unbeaten record to date this year in the lightweight men's pair whilst GB took the men's coxed pair gold with Oliver Cook, Callum McBrierty and cox Henry Fieldman.
GB Performance Director Sir David Tanner described all three as significant performances and the gold won by Rachel Morris, over the reigning World Champion, as "outstanding".
For further information about this report please contact the GB Rowing Team press officer, Caroline Searle, via [email protected] or 07831 755351
Open All
Race Report
Helen Glover and Heather Stanning shot out of the start and built an early lead of three-quarters of a length within 350m of the outset in their women's pair final.  New Zealand's Rebecca Scown, former World Champion, and Genevieve Behrent were the only boat to stay in contention by halfway where GB led by 1.36 of a second. Romania were in third.
As the crews passed the halfway mark in almost perfect racing conditions, the Kiwis had come back to half a length and the GB crew knew the challenge was on.  As the top two crews moved into a long lead over the rest of the field the New Zealanders attacked again and GB responded.  This was going to be a real race.
Rating exactly the same, the two crews came level with the grandstands and that is where Glover and Stanning came into their own, pulling away strongly to better their own world cup best and to take the win.  "It was useful to get a race like that' ,said Glover afterwards.  Romania were third.
Alex Gregory, Moe Sbihi, George Nash and Constantine Louloudis started as they meant to continue in their men's four final to add Britain's second gold.  They led through all the timing points and had a length over the Australians by mid-race and never relinquished the margin.
Italy, who seem to be masters across their boats of the flying finish, were second having pipped Australia on the line.
"That was good, that was very, very aggressive from us", said Nash. "We have a lot of respect for our opponents and know what they could do to us but it was humming today, really humming.  We really enjoyed going out there and giving it a go".
Louloudis answered:  "That felt good. It was great to put that into play. Both the Italians and the Australians are class crews. Now we need to repeat that in Rio".
Sbihi said: "You talk about scenarios pre-race and you are nervous because you don't know what might happen.  But we stuck to the plan and that felt good".
Gregory added:  "That was the first time this season that we have moved into our race rhythm and felt what we have felt in training.  Now we go away to training camp where none of life's distractions interfere and we can be totally focussed".
Expectation surrounded the GB women's eight's final. The crew were second only to the Olympic champions, the USA, at the last world cup.  With the latter absent the New Zealanders were likely to be the main opposition.
With 500m to go the New Zealanders were still holding onto a lead that they had built throughout the first half.  GB were a length behind and struggling to make an impact on the leaders. Whilst they produced the overlap, they could not make up ground and took silver in 6:08.25 to NZ's 6:08. 25. The Netherlands were third.
Jonny Walton and John Collins produced a superb race to win silver in the men's double scull. They were early leaders in lane one and kept up the pace relentlessly. Only when the crews came to the final 200m did New Zealand's Robert Manson and Christopher Harris begin to show their mettle.
In the surge to the line New Zealand came through to win in 6:08.34 from GB in 6:08.97.  France were third.
Walton, asked about the difference today said: "It's all about being sassy about how we get to the final and then today we focussed on all those processes that we knew and have done so many times and that would get us there. So good to have done this now".
Great Britain blasted out of the blocks in the final of the men's eight final.  Scott Durant, Tom Ransley, Andrew T Hodge, Matt Gotrel, Pete Reed, Paul Bennett, Matt Langridge, Will Satch and cox Phelan Hill put themselves in a place to contend for the podium.
GB led by at the 500m mark but were behind by a whisker at halfway.  The green of the german hull seemed locked in the same line as the yellow of the GB boat as the two crews powered toward the finish a way out from the rest of the field.
Perhaps a measure of their ambition is that the GB women's eight were clearly disappointed if sanguine about their silver behind New Zealand here.
Polly Swann summed it up well for the crew when she said:  "Today was really tough and we had a lot to deal with in the last few weeks so there is a degree of fatigue.  However, now is the time to bed in all the good work done so far and build on it.  We have the best possible support from James Harris and Paul Thompson to do that and stroke by stroke and day by day we will use this as a springboard and build towards Rio through the training camps".
De Toledo added;  "It's a pity not to get a world cup gold but i thought our pattern was good and we don't want to be the finished article yet".
The earlier men's pair final had extra spice for the two contending GB crews with both Nathaniel Reilly O'Donnell with Mat Tarrant, and Alan Sinclair with Stewart Innes knowing that the selectors for Rio were watching carefully.
Eric Murray and Hamish Bond of New Zealand, the World and Olympic Champions were the favourites and led from the early stages. Behind them Sinclair and Innes were tucked in third with Australia intervening.  O'Donnell and Tarrant were lying fifth and moved up to fourth by halfway as their team-mates edged into second. It was all to play for.
Innes and Sinclair were overlapping the Kiwis and in second at 1500m gone before Murray and Bond picked up the pace to move away.  Behind them the Australians blasted through to take silver with the two GB crews locked into a photo-finish with Sinclair and Innes taking the verdict for bronze in 6:23.76 to O'Donnell and Tarrant's 6:24.03.  The bronze gave Sinclair and Innes the overall world cup title.
"It's been a tough week with impending selection", said Sinclair.  "That is as pressurised as I have felt.  Stewart did a great job and I'd like to think we did ourselves justice".
innes added:  "It's been a long time and a lot of pressure for us. We didn't race as well as we wanted at the Europeans in the wind and then we had a few weeks out of the boat [Innes was ill at the time of the world cup in Lucerne].  We put it right here'.
Nathaniel Reilly O'Donnell said:  "The result was not what we wanted today. I'd like to say that it has been so good working with Mat. No-one sees how hard we have been working behind the scenes. Today felt like a bridge too far. It's been a long racing season. Now we wait to see what the chief decides".
Alan Campbell was involved in one of his best races this season in the final of the open men's single scull.  Mahe Drysdale and Damir Martin were, according to recent form, both potential winners.  In the end they battled bowball to lowball to the line with Drysdale getting the gold. Behind them Alan produced a fine race to win bronze having moved up from fourth to third by halfway.
"This shows that I am on the upward path.  There are some very good people that are not here racing but that's the closest I've been to Mahe for a while and takes the pressure off the next stage of preparations.  I look forward to trying to close that further in the coming weeks and it's great to move up from eighth at the Worlds last year to third here", said Campbell.
The lightweight men's four started strongly in their final during which the clouds floated across Lake Malta for the first time but the flags hung limply.Chris Bartley, Mark Aldred, Jono Clegg and Peter Chambers were in a tight mix in the first 500m and emerged to challenge with New Zealand for the lead around the 650m mark until New Zealand from 110m onwards romped out to a clearwater lead.
GB were lying in silver medal position at the 1500m mark but were being challenged by the chasing pack including Denmark.  It was going to be close for the podium slots behind the Kiwis who were clearly going to win.  In the end, the Danes had just enough pace to take the sliver but GB came home in bronze as a big step up from the last world cup.
"It's really good to get on the podium", said Bartley. "That's more like it.  To come here and deliver it against top crews is a good platform as we go into the training camps".
Aldred said:  "We wanted to stay with New Zealand as long as possible and at the end we were aware that everyone was flat out but we kept our heads".
"Credit to our coach Hamish who has come in and helped us and knows what he wants out of us. That race was definitely what we wanted and there was a lot of aggression from us", said Clegg.
"That was a good fight and good technique and puts us where we want to be before the training camps", added Chambers.
Our GB Rowing Team men's quad have had a chequered two years since medalling at both the 2013 and 2014 World Championships.  Early this season Charles Cousins, multiple GB trials winner, had to withdraw from the fray due to a back injury.  In Lucerne last month Peter Lambert was poorly and so Jack Beaumont subbed superbly as they made the podium.
Here their form has not been strong going into today's final in which Peter Lambert, Sam Townsend, Angus Groom and Graeme Thomas were in fourth at halfway in a race led by Australia with Poland and Germany chasing them.
As the Australians stepped on the gas to extend their lead, the Germans came up to snatch second with Poland in third.  GB came home in fifth and will be looking to the forthcoming training camps to put things right.
There were encouraging signs in the opening half of their women's double scull final for Katherine Grainger and Vicky Thornley.  They were lying in fourth and still contending.
Whilst they faded in the second half to fifth, this was a good field from which the Poles emerged as home favourites to win.
Will Fletcher and Richard Chambers were in storming style in the opening 500m of their lightweight men's double scull fine. By 500m they were still leading and putting themselves in the right place.  France, the pre-race favourites and world cup winners in Lucerne, were half a length down still but began to come back. By halfway they were just five tenths down on GB with Norway in third.
Stroke by stroke the French pulled themselves level and then at the 1500m point moved out to a length lead with Norway and Ireland chasing with Italy, too.  On the far side the GB crew faded fast, having spent too much too soon.
Race Results
RESULTS
(Events featuring GB Rowing Team crews only. For full results – www.worldrowing.com)
FINALS
OPEN WOMEN
Pair
1.  Helen Glover/Heather Stanning (GREAT BRITAIN) 6:52.79
2.  Genevieve Behrent/Rebecca Scown (New Zealand 1)  6:54.39
3.  Madalina Beres/Laura Oprea (Romania) 6:58.76
4.  Hedvig Rasmussen/Anne Andersen (Denmark) 7:02.81
5.  Keratin Hartmann/Kathrin Marchand (Germany) 7:04.31
6.  Olivia Loe/Holly Greenslade (New Zealand 2) 7:11.42
Eight
1.  New Zealand 6:06.27
2.  Katie Greves/Melanie Wilson/Frances Houghton/POlly Swann/Frances Houghton/Jessica Eddie/Olivia Carnegie Brown/Karen Bennett/Zoe Lee/Zoe de Toledo (cox) (GREAT BRITAIN) 6:08.25
3.  Netherlands 6:12.04
Double scull
1.  Magdalena Fularczyk/Natalia Madaj (Poland) 6:47.75
2.  Eve MacFarlane/Zoe Stevenson (New Zealand) 6:50.61
3.  Helene Lefebvre/Elodie Ravera-Scarmozzino (France) 6:51.94
4.  Yuliya Bichyk/Tatsiana Kuhkta (Belarus 1) 6:53.68
5.  Vicky Thornley/Katherine Grainger (GREAT BRITAIN) 6:54.38
6.  Sally Kehoe/Genevieve Horton (Australia) 6:57.30
OPEN MEN
Pair
1.  Eric Murray/Hamish Bond (New Zealand 1) 6:18.58
2.  Spencer Turrin/Alexander Lloyd (Australia 1) 6:21.29
3.  Alan Sinclair/Stewart Innes (GREAT BRITAIN 2) 6:23.76
4.  Nathaniel Reilly O'Donnell/Matthew Tarrant (GREAT BRITAIN 1) 6:24.03
5.  Milos Vasic/Nenad Bedik (Serbia) 6:25.20
6.  Giovanni Abagnale/Domenico Montrone (Italy 1) 6:27.02
Four
1.  Alex Gregory/Mohamed Sbihi/George Nash/Constantine Louloudis (GREAT BRITAIN) 5:42.79
2.  Marco di Costanzo/Matteo Castaldo/Matteo Lodo/Guiseppe Vicino (Italy) 5:45.40
3.  William Lockwood/Joshua Dunkley-Smith/Joshua Booth/Alexander Hill (Australia) 5:45.53
5.  Maximillian Korge/Maximillian Planer/Anton Braun/Felix Wimberger (Germany) 5:54.85
5.  Vadim Lialin/Dzianis Mihal/Mikalai Sharlap/Ihar Pashevich (Belarus 1) 5:57.15
6.  Maruis Vasile Cozmiuc/Constantin Adam/Danut-Viore Rusu/Alexandru-Cosmin Macovei (Romania) 6:04.86
Eight
1.  Germany
2.  Great Britain
3.  New Zealand
4.  Poland
5.  Belarus
Single scull
1. Mahe Drysdale (New Zealand) 6:37.81
2.  Damir Martin (Croatia) 6: 39.14
3.  Alan Campbell (GREAT BRITAIN) 6:42.50
4.  Michal Plocek (Czech Republic) 6: 43.54
5.  John Storey (New Zealand 2) 6:54.29
6.   Thibaut Verhoeven  (France) 7:03.26
Double scull
1.  Robert Manson/Christopher Harris (New Zealand) 6:08.34
2.  Jonathan Walton/John Collins (GREAT BRITAIN) 6:08.97
3.  Hugo Bucheron/Matthieu Androdias (France) 6:09.15
4.  Kjeti Borch/Olaf Tufte (Norway) 6:11.23
5.  Romano Battisti/Francesco Fossi (Italy 1) 6:17.29
6.  Marko Marjanovic/Andrija Sljukic (Serbia) 6:18.79
Quadruple scull
1.  Karten Forsterling/Alexander Belonogoff/Cameron Girdlestone/James McRae (Australia)5:37.20
2.  Karl Schulze/Philipp Wende/Lauritz Schoof/Hans Gruhne (Germany) 5:39.58
3.  Mateusz Biskup/Wiktor Chabel/Dariusz Radosz/Miroslaw Ziertarski (Poland) 5:40.79
4. Nico Stahlberg/Augustin Maillefer/Roman Roeoesli/Barnabe Delarze (Switzerland) 5:49.39
5. Peter Lambert/Sam Townsend/Angus Groom/Graeme Thomas (GREAT BRITAIN) 5:45.63
6.  Ivan Capuano/Luca Rambaldi/Emanuele Fiume/Giacomo Gentili (Italy) 5: 51.15
LIGHTWEIGHT MEN
Four
1. James Lassche/Matthew Dunham/Alistair Bond/James Hunter (New Zealand) 5:48.34
2. Kasper Joergensen/Jacob Larsen/Jacob Barsoe/Morten Jorgensen (Denmark) 5:51.07
3.  Chris Bartley/Mark Aldred/Jono Clegg/Peter Chambers (GREAT BRITAIN)5:51.78
4. Franck Solforosi/Thomas Baroukh/Thibault Colard/Guillaume Rinceau (France) 5:52.745. Tobias Franzmann/Lucas Schaeffer/Jonathan Koch/Lars Wiechert (Germany) 5:56.65
6.  Stefano Oppo/Martino Goretti/Livio La Padula/Giorgio Tuccinardi (Italy) 5:59.65
Double scull
1.  Pierre Houin/Jeremie Azou (France) 6:11.92
2.  Kristoffer Brun/Are Strandli (Norway) 6:14.01
3.  Andrea Micheletti/Marcello Miani (Italy) 614.67
4.  Gary & Paul O'Donovan (Ireland) 6:15.46
5.  Will Fletcher/Richard Chambers (GREAT BRITAIN) 6:20.71
6.  Paul & Bernhard Sieben (Austria) 6:26.06
F
B FINALS
OPEN WOMEN
Pair
1.  Anna  &  Maria Wierzbowska (Poland) 7:11.98
2.  Louisa Reeve/Vicki Meyer-Laker (GREAT BRITAIN 2) 7:15.93
3.  Marie Le Nepvou/Noemie Kober (France) 7:15.95
4.  Alena Furman/Ina Nikulina (Belarus) 7:18.23
5.  Heleen Boers/Karien Robbers (Netherlands) 7:21.37
6.  Anna Sture/Hanna Inntjore (Norway) 7:21.74
OPEN MEN
Single scull
1.  Jack Beaumont (GREAT BRITAIN)
2.  Sverri Nielsen (Denmark 1)
3.  Markus Kessler (Germany)
4.  Nick Larsen (Denmark 2) 5.  Jakob Nils Hoff (Norway)