GB Rowing Team name para-rowing squad for World Cup in Varese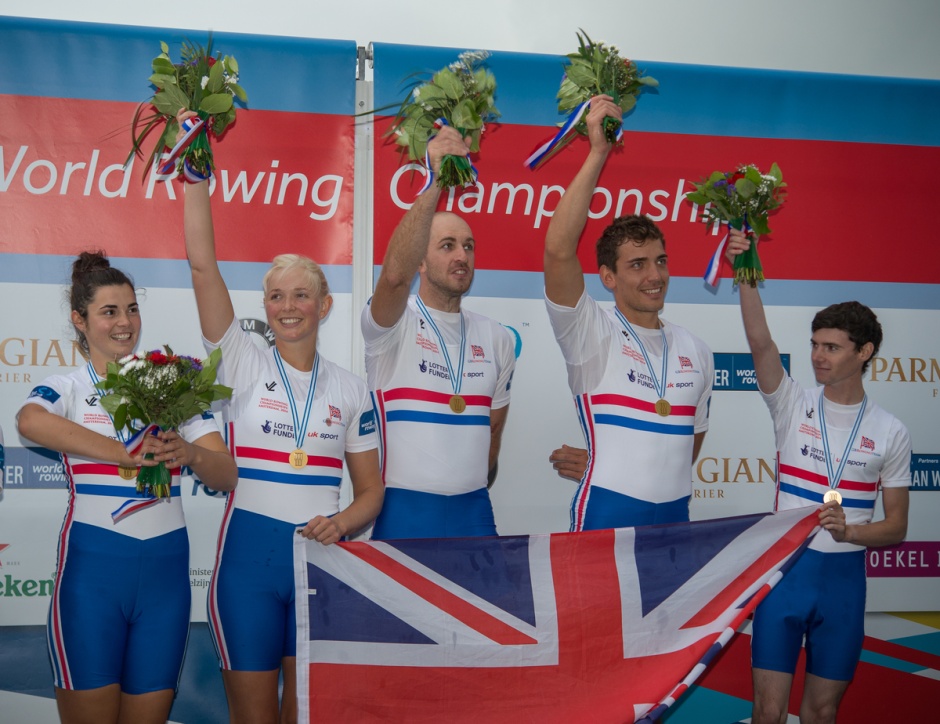 The GB Rowing Team has named the World Championship-winning mixed coxed four as part of a seven-strong para-rowing squad for the forthcoming World Cup in Varese, Italy.
Reigning Paralympic and World champion Pamela Relph has come through a closely-contested selection with Rose Linden to once again row with James Fox, Grace Clough, Dan Brown and cox Oliver James.
The British four – with Relph in the boat in event one and Linden in event two – won two gold medals at the recent International Para-Rowing Regatta in Gavirate, Italy.
"The competition for places has always been high but it seems to have stepped up now that Rio is just around the corner," said Relph.
"The standard in training has gone up – everyone is hitting bigger scores, everyone is lifting bigger weights."
Rachel Morris will make her return to competitive action in the arms-shoulders single scull when the World Cup takes place from June 19-21.
The former Paralympic hand-cycling champion, who reached the World Championships final in her debut season, underwent shoulder surgery in April but has made a good recovery.
Competing in the men's event in Varese will be Beijing 2008 Paralympic champion and 2014 World silver medallist Tom Aggar, who started his season by winning gold and silver in Gavirate.
Britain won six gold medals during that weekend in Gavirate but the whole team is expecting a tougher test at the World Cup.
Fox said: "We almost had a clean sweep of gold medals as a team in Gavirate, which was a pretty good way to start the season.
"But there will be more depth of competition at the World Cup. Our biggest challengers last year were the Americans and they were not in Gavirate, so hopefully they will be there in Varese."
Relph added: "It will be really good to see what other people have been up to during the winter.
"We know what we have been doing and how that is going to affect our speed, so it will be good to put that to the test against stiff competition."
The GB Rowing Team para-rowing squad is supported by the National Lottery and Guide Dogs.
CREW LISTS (Includes club, home town, date of birth)
GB Rowing Team para-rowing squad for World Cup II in Varese, Italy from June 19-21
LTA 4+
Grace Clough (Nottingham RC/Sheffield/21.06.91)
Daniel Brown (Upper Thames BC/Reading/29.11.82)
Pamela Relph (Leander Club/Aylesbury/14.11.89)
James Fox (Univ of London/Peterborough/02.05.92)
Oliver James (cox) (Leander Club/Henley-on-Thames/05.10.90)
Coach: Tom Dyson
ASM 1x
Tom Aggar (Marlow RC/Maidenhead/24.05.84)
Coach: Nick Baker
ASW 1x
Rachel Morris (Guildford RC/Farnham/25.04.79)
Coach: Tom Dyson
SCROLL DOWN FOR MORE
=================================================
CONTACT DETAILS
For background information about the The GB Rowing Team contact the Press office on (01225) 384211 or [email protected] or 07831 755351
For picture requests please contact: [email protected]
GB Rowing Team website, including full rower biogs: www.gbrowingteam.org.uk
Follow us on:
Facebook: www.facebook.com/gbrowingteam
Twitter: www.twitter.com/gbrowingteam
Youtube: www.youtube.com/gbrowingteam
=================================================
THE GB ROWING TEAM is supported by the Lottery through UK Sport and has Science in Sport as a supplier. SAS Analytics is the Official Analytics Partner of British Rowing and the GB Rowing Team