GB Rowing Team announced for Lucerne World Cup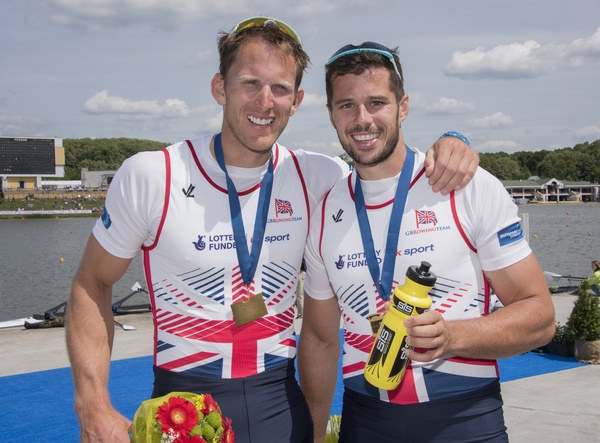 Constantine Louloudis, a double World Champion in the men's eight and Olympic medallist in 2012, has finished his University finals, packed away his books and rejoined the GB Rowing Team for the season's final world cup taking place in Lucerne, Switzerland, from July 10–12.
The Louloudis return is one of a number of small changes, announced today, to the successful crews that competed in Varese last weekend and won eight medals, four of them gold.
Jamie Kirkwood, winner of the last two GB Rowing Team Senior Trials in the lightweight single, has recovered from injury to take a seat in the lightweight men's four with Mark Aldred and 2012 silver medallists Peter Chambers and Chris Bartley.
James Foad and Matt Langridge are also back in the fray as the lead men's pair. The European Champions sat out Varese. They will be joined by a second men's pair of Stewart Innes and Oli Cook – the former having won eights gold in Varese.
Three of the four gold-medal crews from Varese therefore remain unchanged. Charlotte Taylor and Kat Copeland built on their world's best time in the semi-final to beat the reigning Kiwi World Champions by a whisker in Varese in the lightweight women's double.
Olympic, World and European women's pair champions Helen Glover and Heather Stanning laid down a significant marker last weekend by winning their event which has strengthened considerably since the Europeans.
Angus Groom remains in the bow seat of the men's quadruple scull who saw off the best of the rest of the world in Varese apart from the Ukrainians and Russians who were absent in Italy but so strong at the Europeans. Groom is a super-sub, like Jack Beaumont before him, for World silver medalist Charles Cousins who is making a good recovery from a broken bone in his hand.
Coach Jurgen Grobler has moved Phelan Hill back into the men's eight cox's seat for this world cup in lieu of Henry Fieldman who coxed the eight to victory in Varese but now steers the coxed pair of Mat Tarrant and Callum McBrierty. This is an event in which Fieldman won World silver in 2014.
Germany took European gold in the men's eight but the GB Rowing Team hit back, taking the title last Sunday. Both crews are entered for the Grand Challenge Cup for men's eights at Henley Royal Regatta on Sunday 5 July. In football parlance, the score this season stands at 1-1 with extra time coming up at Henley and the potential for it to go to penalties (or not) in Lucerne.
"There is quite a lot of rivalry there. I think the Germans thought they would beat us in Varese and then come and spoil it for us on our home waters", said stroke Will Satch after Sunday's race. "It turned out differently in Italy".
Coaches Paul Thompson and James Harris have decided not to tinker with the women's eight that took bronze in Varese behind only last year's World gold and silver medallists, the USA and Canada. This boat showed that it has come on leaps and bounds since its European performance. From this women's sweep training group, Lucinda Gooderham has been chosen to race the second women's pair with Rebecca Chin who raced in Varese with Karen Bennett.
Katherine Grainger and Vicky Thornley secured bronze in Varese from a strong field and in a tight finish to prove their racing mettle.
Frances Houghton was off-colour in the lead up to Varese but now steps into the women's quadruple scull who were B finalists in Varese. She joins Melanie Wilson, Tina Stiller and Jess Leyden. The four-times Olympian and twice Olympic silver medallist competes instead of Beth Rodford who now moves to the single scull.
Richard Chambers and Will Fletcher will continue the search for speed in training before competing in Lucerne again as the lightweight men's double which has already won European silver and world cup bronze this season.
"I'm really proud to be representing GB in this boat", said Chambers who after Sunday's final had indicated the forward plan: "There was more fight in our performance today than in the semis. We had the aggression now we just need to work on the speed".
The lightweight men's pair remains unchanged with Jono Clegg and Sam Scrimgeour picking up where they left off on the Varese podium. Both raced in the four at the Europeans.
GB Rowing Team's men's four, the European Champions were fifth in Varese, and Scott Durant, Nathaniel Reilly O'Donnell, Alan Sinclair and Tom Ransley will be looking to bounce back with a strong Lucerne performance.
John Collins and Jonny Walton race once more in the open men's double scull after being rowed out of the final in Varese in the tightest of four boat finishes of the entire world cup last weekend. They went on to win the B Final.
Alan Campbell is the open weight GB single sculler. On his return to top racing for the first time since July 2104, and after an injury lay-off, he made the final in Varese – a good and positive first performance this season on the world stage.
Imogen Walsh, finalist in the lightweight women's double scull with Ellie Piggott on Sunday, now moves back to lightweight women's single in which she won European gold in late May.
There are no para-rowing events in Lucerne so the GB mixed para-rowing coxed four, who set a world best time in Varese as they took gold, are back in full training alongside bronze medallist Tom Aggar and finalist Rachel Morris as well as potential members of a new mixed trunk-arms double scull.
The para-rowing crews for the World Championships will be announced alongside the Olympic and International class crews on July 21 as the whole GB Rowing Team squad moves towards the Olympic and Paralympic Games qualifying regatta from September 1-6 in Aiguebelette, France.
SCROLL DOWN FOR MORE
====================================================================
CREW LISTS (Includes club, home town, date of birth)
GB Rowing Team for World Cup 11I
Lucerne, Switzerland, July 10-12.
OPEN
WOMEN
Pair – two boats
Helen Glover (Minerva Bath RC/Penzance/17.06.86)
Heather Stanning (Army RC/Lossiemouth/26.01.85)
Coach: Robin Williams
Lucinda Gooderham (Leander Club/Garboldisham/09.06.84)
Rebecca Chin (Agecroft RC/Deganwy/11.12.91)
Coach: Robin Williams
Eight
Katie Greves (Leander Club/Oxford/02.09.82)
Louise Reeve (Leander Club/London/16.05.84)
Jessica Eddie (London RC/Durham/07.10.84)
Donna Etiebet (Sport Imperial/London/29.04.86)
Victoria Meyer-Laker (Leander Club/Premnay/18.03.88)
Olivia Carnegie-Brown (Oxford Brookes Univ BC/Oxford/28.03.91)
Rosamund Bradbury (Leander Club/Banstead/17.12.88)
Zoe Lee (Imperial College BC/Richmond/15.12.85)
Zoe de Toledo (Cox) (Leander Club/London/17.07.87)
Coach: James Harris
Double Scull
Katherine Grainger (St Andrew BC/Glasgow/12.11.75)
Victoria Thornley (Leander Club/Wrexham/30.11.87)
Coach: Paul Thompson
Single scull
Beth Rodford (Gloucester RC/Gloucester/28.12.82)
Coach: Nick Strange
Quadruple Scull
Melanie Wilson (Imperial College BC/London/25.06.84)
Kristina Stiller (Tees RC/Yarm/23.06.87)
Frances Houghton (Univ of London Tyrian Club/Oxford/19.9.80)
Jessica Leyden (Leander Club/Todmorden/22.02.95)
Coach: Nick Strange
OPEN
MEN
Pair – two boats
James Foad (Molesey BC/Southampton/20.03.87)
Matt Langridge (Leander Club/Northwich/20.05.83)
Coach: Rob Dauncey
Oliver Cook (Univ of London BC/Windsor/05.06.0)
Stewart Innes (Leander Club/Henley-on-Thames/20.05.91)
Coach: Rob Dauncey
Coxed Pair
Mat Tarrant (Oxford Brookes Univ BC/Shepperton/11.07.90)
Callum McBrierty (Leander Club/Edinburgh/13.08.92)
Henry Fieldman (cox) (Molesey BC/Barnes/25.11.88)
Coach: John West
Four
Scott Durant (Oxford Brookes Univ BC/Lancaster/12.02.88)
Alan Sinclair (Leander Club/Munlochy/16.10.85)
Tom Ransley (Leander Club/Ashford/06.09.85)
Nathaniel Reilly-O'Donnell (Univ of London BC/Durham/13.04.88)
Coach: Christian Felkel
Eight
Matt Gotrel (Leander Club/Chipping Campden/01.03.89)
Constantine Louloudis (OUBC/London/15.09.91)
Pete Reed (Leander Club/Nailsworth/27.07.81)
Paul Bennett (Univ of London BC/Leeds/16.12.88)
Mohamed Sbihi (Molesey BC/Surbiton/27.03.88)
Alex Gregory (Leander Club/Wormington/11.03.84)
George Nash (Molesey BC/Guildford/02.10.89)
Will Satch (Leander Club/Henley-on-Thames/09.06.89)
Phelan Hill (cox) (Leander Club/Bedford/21.07.79)
Coach: Jurgen Grobler
Single Scull
Alan Campbell (Tideway Scullers School/Coleraine/09.05.83)
Coach: John West
Double Scull
John Collins (Leander Club/Twickenham/24.01.89)
Jonny Walton (Leander Club/Leicester/06.10.90)
Coach: Mark Banks
Quadruple Scull
Angus Groom (Leander Club/Glasgow/16.06.92)
Sam Townsend (Reading Univ BC/Reading/26.11.85)
Graeme Thomas (Agecroft RC/Preston/08.11.88)
Peter Lambert (Leander Club/Maidenhead/03.12.86)
Coach: Paul Stannard
LIGHTWEIGHT
WOMEN
Single scull
Imogen Walsh (London RC/Inverness/17.01.84)
Coach: Paul Reedy
Double Scull
Charlotte Taylor (Putney Town RC/Bedford/14.08.85)
Kat Copeland (Tees RC/Ingleby Barwick/01.12.90)
Coach: Paul Reedy
LIGHTWEIGHT
MEN
Pair
Jonathan Clegg (Leander Club/Maidenhead/14.07.89)
Sam Scrimgeour (Imperial College BC/Kirriemuir/28.01.88)
Coach: Rob Morgan
Four
Peter Chambers (Oxford Brookes Univ BC/Coleraine/14.03.90)
Jamie Kirkwood (Leander Club/Cresswell, N'bland/30.08.89)
Mark Aldred (London RC/Birmingham/18.04.87)
Chris Bartley (Leander Club/Chester/02.02.84)
Coach: Rob Morgan
Double Scull
Richard Chambers (Leander Club/Coleraine/10.06.85)
Will Fletcher (Leander Club/Chester-le-Street/24.12.89)
Coach: Darren Whiter
SCROLL DOWN FOR MORE
=================================================
CONTACT DETAILS
For background information about the The GB Rowing Team contact the Press office via [email protected] or 07831 755351
For picture requests please contact: [email protected]
GB Rowing Team website, including full rower biogs: www.gbrowingteam.org.uk
Follow us on:
Facebook: www.facebook.com/gbrowingteam
Twitter: www.twitter.com/gbrowingteam
Youtube: www.youtube.com/gbrowingteam
=================================================
THE GB ROWING TEAM is supported by the Lottery through UK Sport and has Science in Sport as a supplier. SAS Analytics is the Official Analytics Partner of British Rowing and the GB Rowing Team