Athlete in the Spotlight: James Fox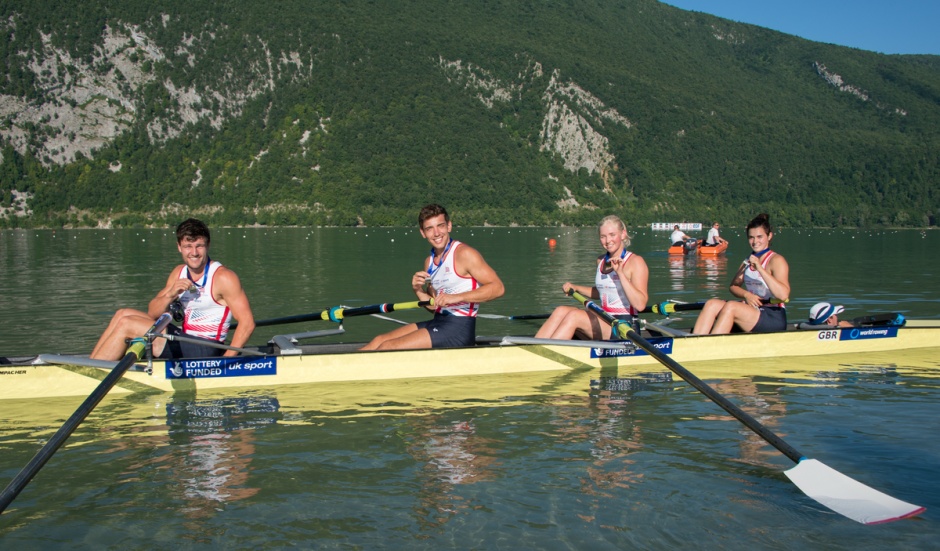 GB Rowing Team news caught up recently with James Fox in the latest of our series of spotlight features on squad members. We'll be adding more regularly so look out for future editions. Tweet us via @GBRowingTeam if there is an athlete you would like to see featured.
JAMES FOX
Birthdate: 02/05/1992
Hometown: Peterborough
Education: Brunel University
Began rowing in: 2003
Clubs: Peterborough City RC, University of London Boat Club
Original coach(es): Brian Young, Tom Dyson
James Fox has just started his third full season in the GB Rowing Team LTA mixed coxed four – and is bidding to complete a hat-trick of World Championship titles.
The 22-year-old came into the crew in 2013, the summer after Britain had memorably won gold at the London 2012 Paralympic Games.
He teamed up with Pamela Relph, Naomi Riches, Oliver Hester and cox Oliver James to win both races on his senior international debut, the Varese International Para Regatta.
They were also victorious at the second World Cup at Eton Dorney before completing a stunning year with a five-second winning margin at the World Championships in Chungju, Korea.
Grace Clough and Daniel Brown came into the boat for the following year's championships in Amsterdam but the result was the same, with clear water between the British boat and the runners-up from the United States.
The mixed coxed four have also started 2015 in impressive fashion, with James helping secure two gold medals for Britain at the International Para-Rowing Regatta in Gavirate, Italy last weekend.
We caught up with James to chat about all things rowing-related as well as life outside the sport.
GBRT: How and why did you first start rowing?
JF: I first started rowing in the summer before secondary school and it was just for a bit of fun as the rugby season had finished. Peterborough City Rowing Club held taster sessions and I went along to one of those and enjoyed it immediately.
GBRT: What has been your biggest success and your biggest disappointment in the sport so far?
JF: I would regard my biggest success so far as winning the Fawley Cup at Henley Royal Regatta. I was really young when we won that, though, so I've got my eyes set on another win at some point! As for my biggest disappointment, I tried and failed to get into the Junior World Championships squad twice when I was 17 and 18. I still can't let that go but I guess that's probably a driving force behind what I'm doing at the moment.
GBRT: What are some of your most memorable moments in your career so far?
JF: I'm going to have to say winning the World Championships twice in the LTA4+ is among my most memorable moments in the sport. It's not something you forget in a hurry! Coming fifth in the Fours Head with Westminster School was fun too.
GBRT: What aspirations do you have within the sport?
JF: Although winning World Championships is great, there is no question that Rio 2016 is the main focus. A gold there would be epic! After that who knows what will happen.
GBRT: Who is your best friend within the rowing set-up and why?
JF: I would say 90 per cent of my friends are involved with rowing, which I think is great, but the guys down at the University of London/Tyrian Club come at the top of that pile. They're great fun both on and off the water.
GBRT: Who do you look up to?
JF: I look up to whoever is beating me. For whatever reason they're doing something better than I am, so there is always something to learn from them.
GBRT: What hobbies and hidden talents do you have?
JF: I've taught myself to cut hair over the last four or five years and, although that sounds pretty dubious, I cut my friends' hair quite often. Whether I'm any good or not you'll have to ask them but we haven't had any disasters so far! It's always fun when your stroke man doubles up as your stylist anyway.
GBRT: What are some of your favourite bands?
JF: I'm sure you'd find some rubbish on my iPod but generally I like Arctic Monkeys or The Strokes, something along those lines. You need something more upbeat for training though!
GBRT: Favourite books?
JF: I'm not a massive reader but at the moment I'm reading James Cracknell's Touching Distance for the second time so that can't be bad. Also, American Psycho is an interesting one.
GBRT: Favourite films and TV shows?
JF: My favourite film of all time is Blue Valentine. I love it! The Wolf of Wall Street and Pulp Fiction aren't far behind, though. As for TV shows New Girl is a winner in my eyes.
GBRT: What qualifications and job aspirations do you have outside of rowing?
JF: I have a BSc in Sports Science from Brunel University but I didn't really enjoy it that much. I'm going into property development when rowing comes to an end as I think that would be good fun! Hopefully that won't be for a while yet, though.