Athlete in the Spotlight: Grace Clough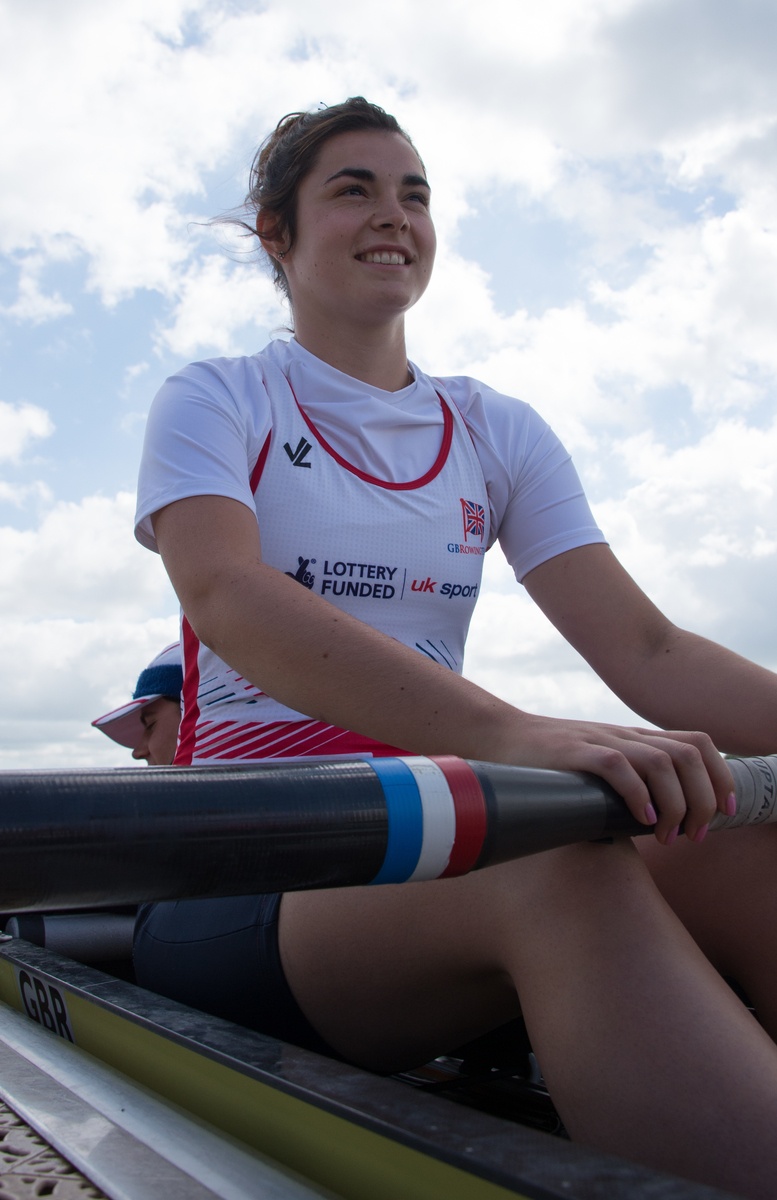 GB Rowing Team news caught up recently with Grace Clough in the latest of our series of spotlight features on squad members. We'll be adding others regularly so look out for future editions. Tweet us via @GBRowingTeam if there is an athlete you would like to see featured.
Birthdate: 27/06/1991
Height: 173cm
Hometown: Sheffield
Education: High Storrs School, University of Leeds
Began rowing in: 2013
Clubs: Nottingham Rowing Club
Original coach(es): Dez Atkins
From absolute beginner to world champion in 12 months – it has truly been a meteoric rise for para-rower Grace Clough.
The 23-year-old is also a prime example of the London 2012 legacy in action, having been inspired by the Games to give para-sport a try.
Grace has always been a keen sportsperson, captaining Yorkshire at basketball and playing football for a local team, but a shoulder injury at birth meant she could only reach a certain level.
She attended a BPA/English Institute of Sport (EIS) disability SportsFest while at the University of Leeds, where she tried rowing for the first time.
A successful trial at Bisham Abbey in September 2013 confirmed her natural ability for the sport and she was placed on the High Performance Programme at Nottingham Rowing Club before quickly progressing to the full GB Rowing Team squad at Caversham.
Grace was then selected for the LTAMix4+ four, helping the crew win gold at the Varese International Regatta and the second World Cup in Aiguebelette.
And her astonishing rise to prominence was capped at the World Championships in Amsterdam, where the British crew of Grace, James Fox, Pamela Relph, Daniel Brown and cox Oliver James finished five seconds clear of nearest rivals USA.
Ahead of the GB Rowing Team Para Trials at Caversham on April 4-5, we caught up with Grace to talk about her inspirational success story so far, as well as life outside the sport.
GBRT: How and why did you first start rowing?
GC: I started rowing in late September 2013. Previous to this I had never sat in a boat or even an ergo for that matter. I decided to start rowing after attending a disability SportsFest in Sheffield in May 2013, while I was at university. There were a wide range of sports to try, including rowing, athletics and cycling, but I decided not to pursue anything until I had finished university as I had my dissertation and examinations to complete.
After university I decided to follow up the emails from the talent scouts inviting me to trial the chosen sports. Admittedly rowing was lowest on the list of sports that I wanted to partake in because I thought my body type and disability would be suited to cycling or athletics.
I tried cycling first and after a lot of falling off I was soon covered in grazes and bruises from the solid floor of the velodrome. At this point I contemplated rowing. I travelled to Bisham Abbey for further testing and, to my surprise, I really enjoyed it.
Subsequently I was accepted into the High Performance Team at Nottingham and I was assessed at my training sessions intermittently by GB coaches. Then I was thrilled to be invited to the Para Squads training camp in Banyoles, Spain for two weeks.
GBRT: What has been your biggest success and your biggest disappointment in the sport so far?
GC: Winning World Championship gold in Amsterdam last year as part of the LTAMix4+ is certainly my biggest success to date. Attending such a big event like the World Championships in my first year of rowing was surreal but made me very proud. The biggest disappointment was losing my initial seat race last year. The reality was, at that point, I was not up to the standard required to compete with the crew but I realised how much I wanted to come back and prove myself. A combination of hard work and a bit of luck meant I was given another chance and managed to win my seat in the boat.
GBRT: What are some of your most memorable moments in your career so far?
GC: The success of last year is something that will stay with me forever but if I had to pick one specific moment it would be my first race at Varese International Para Regatta. I was nervous and excited as it is unusual for any athlete to have their first competitive race be an international event. I was only given my GB lycra the evening before while the crew talked through the race plan.
On the day of the race I remember warming up in the boat and the conditions were terrible. The water was so rough that it was spilling over the bow of the boat. I was drilling "do not crab" into my head as pre-competition nerves set in. As the start drew closer the weather deteriorated further. The race was eventually called off once they realised it was not safe for boats to attach to the start pontoon.
The race was rescheduled for the next day. This time the conditions were perfect for a smooth outing – so much calmer and flatter. Of course, the only thing still going through my head was "do not crab". I made it through to the end of the 1,000m race and you will all be happy to know that I didn't crab! The victory gave me my first medal as an international rower and the enjoyment and adrenaline of racing began.
GBRT: What aspirations do you have within the sport?
GC: During my youth I never considered the possibility of competing in para sport. The success of London 2012 changed my perspective and inspired me to investigate avenues available to me. I still find it hard to comprehend that I am currently a fully-funded athlete potentially working towards achieving my main aspiration of representing Great Britain at the Rio Paralympic Games and retaining the boat's gold medal.
GBRT: Who is your best friend within the rowing set-up and why?
GC: Pam Relph is one of my closest friends in the rowing set-up. This was probably initiated by being forced to team up to deal with the lads' humour in the boat! We were room-mates on various camps, then for seven weeks in the build-up to Amsterdam which meant we developed a strong bond. Pam was also very positive and supportive when I was learning to row and took me under her wing in the first few months of my training.
GBRT: Who do you look up to?
GC: Since I don't hail from a rowing background I'm going to pick the person who has had the largest influence on my sporting life. That is Pat Smith, my first basketball coach from Doncaster who positively influenced me and the other girls I trained with both on and off the court. He always used to joke that he would never pick me to take a free throw to save his life but always knew I had the fitness to get back and defend before anyone else.
During my first season in rowing I sometimes questioned why I was training at Caversham, the centre of rowing excellence with the GB Rowing Team, when I had just started the sport. To try and reassure myself I always remembered what Pat had told me: "You can't teach a basketball player to be an athlete but you can teach an athlete to be basketball player." This really helped me focus. Pat was one of the first people I wanted to tell after winning gold in Amsterdam as he has been integral to my sporting development.
GBRT: What hobbies and hidden talents do you have?
GC: A hidden talent of mine is that I am barista trained. A plus to this is that I can produce nice latte art (well, maybe after a few attempts). One of my hobbies is arts and crafts, mainly knitting, cross stitch and quilt making.
GBRT: What are some of your favourite bands?
GC: Cheesy pop songs, especially ones that I can sing along to!
GBRT: Favourite books?
GC: I do love a good romance book, so my favourites include PS I Love You and One Day.
GBRT: Favourite films and TV shows?
GC: The Greatest Store in the World is my film choice as it always gets me in the mood for Christmas. Neighbours was my favourite TV show growing up, so much so that it influenced where I travelled in Australia during my gap year. I visited Ramsay Street in Melbourne and even got a picture with Karl Kennedy and Paul Robinson.
GBRT: What qualifications and job aspirations do you have outside of rowing?
GC: I studied Sociology at the University of Leeds, where I graduated with a first. I also gained Grade 5 in the flute and have a PADI Open Water diving qualification. I always wanted a career in the police force from an early age but, as a result of watching a large volume of police shows recently, I may be in process of changing my mind! Since the age of 13 I have worked part time in cafes and restaurants, so a future business ambition of mine is to own an independent coffee shop or restaurant.