Magical moments at BRIC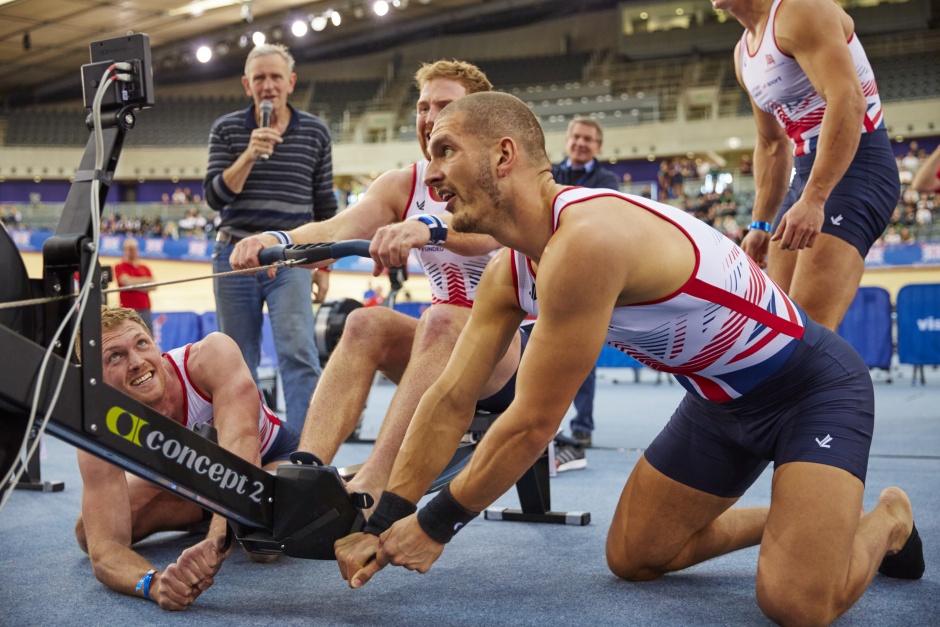 British Rowing Indoor Championships commentator, and Olympic legend, Martin Cross looks back on a stunning inaugural BRIC.
It was a magical day in an iconic venue, full of unforgettable moments: what a start for the 2015 British Rowing Indoor Championships!
For over seven hours on Sunday 8 February, over 1300 indoor rowers, 1000 spectators together with a host of volunteers, made the Lee Valley VeloPark their very own. Social media hummed with excitement and those stories of PBs, winning or losing medals and meeting an Olympic medallist or two, even saw the Championships trend on Twitter.
The diversity of the indoor rowing community was fully represented ranging from Olympic and Paralympic champions like Katherine Grainger and Tom Aggar, through to gym-based teams like the MAD Team through to Year 7 students like Sam Turnill from Doncaster Schools' Rowing Association and Katherine Ola Wa Pango from Headington School Boat Club.
So the whole spectrum of British indoor rowing was there and from the broad smiles, grimaces of pain and looks of determination on the faces of the competitors, the day was a resounding success. There was even a new world record too for Grace Clough in the LTA para-rowing category.
But leading the way – and there in force – were the men and women from the GB Rowing Team – with Moe Sbihi taking one of the headline events with a welcome personal best. The Molesey Boat Club man took the 2k Open title in a time of 5:45.4. With most of the British women choosing to compete in the team and relay events, held towards the end of the day, the field was clear for Leander's Captain Debbie Flood to shine in the Open Women's 2k. The 2008 Olympic silver medallist – now retired from international rowing – pulled an impressive 6.53.3, to take the title ahead of Poland's own Olympic medallist, Julia Michalska Plotkowiak.
Later in the afternoon, a star-studded British quartet of Sam Townsend, Alex Gregory, Moe Sbihi and Will Satch took centre stage for a one-off effort at a 2k, with athletes taking turns to pull 200m or so each. Their time of 5.16.3 certainly impressed their coach Jürgen Grobler. But in a different event – the team relay – both the MAD Team and Leander went quicker, pulling 5.08.5 and 5.14.8 respectively.
In the adaptive LTA race, Tom Aggar pulled 3.58.3 to beat Scott Jones but it was Clough from Nottingham RC who took a new world record in a time of 3.28.6 for the 1,000m race.
By Martin Cross