GB crews progress to semi-finals at World Junior Champs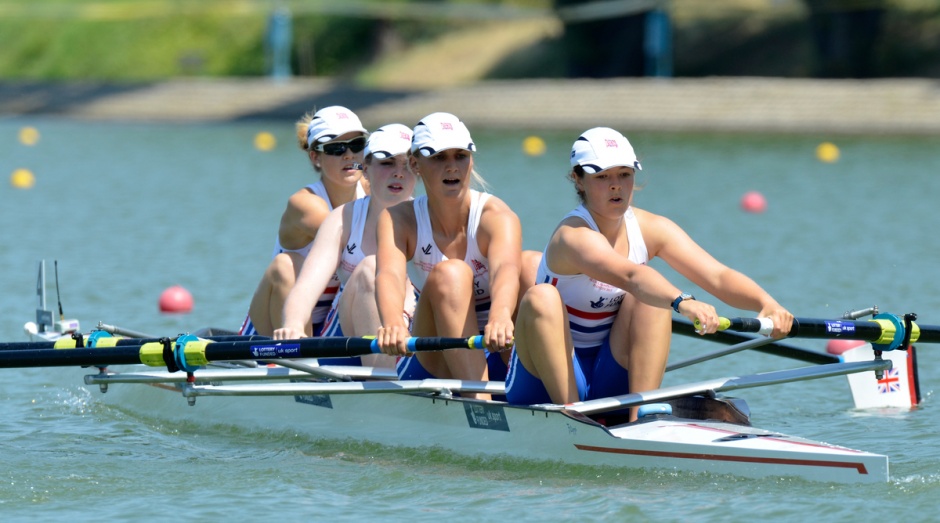 The next generation of GB rowers made a positive start at the World Junior Championships today in the sweltering temperatures of Plovdiv, Bulgaria.
The GB Rowing Team has seven crews competing at the event for Under 18s from August 15-19 and Kathryn Twyman as a sole competitor in the World Senior Championships (which only features non-Olympic class events in Olympic years and is run alongside the junior event).
In the first day of racing the junior men's and women's fours qualified directly for the semi-finals and the junior men's quadruple scull progressed to the quarter-finals of their event.
The junior women's quad narrowly missed out on a direct place in the semi-finals, finishing third in their heat, and will now race in tomorrow's repechages along with Twyman in the senior lightweight women's single scull, who finished fifth in her heat.
The GB junior women's four of Elisha Lewis, Anna Fairs, Cecelia Mowczan and Lauren Kedar ensured the day started well for the team as the temperatures rose above 30 degrees in Plovdiv.
They finished second in their heat behind Italy to qualify direct for the semi-finals along with Canada who were several lengths back in third. The GB four led for the start of the race before the Italians rowed through in the later stages.
The junior men's four of Robert Wickstead, Lewis McCue, Harry Lonergan and Alexander Lloyd produced a good opening display in Plovdiv.
The four were in control of their heat within the first 500m and went on to win comfortably ahead of Denmark and Australia to reach the semis on Friday.
In contrast the junior women's quadruple scull of Jessica Leyden, Katie Bartlett, Joanna Unsworth, Lucy Burgess were involved in a tense battle in their heat which went all the way to the line.
The top two progressed directly to the semi-finals and after the USA disappeared into an early lead the focus turned to the race for the second qualifying spot.
The young GB crew challenged Australia for virtually the length of the course before missing out by less than a second. They will now have another chance to qualify via tomorrow's repechage.
In the final race for GB in the junior programme today, the GB men's quadruple scull of James Rudkin, Thomas Barras, Oliver Knight and Sebastian Devereux reached the quarter-finals with a third-placed finish in their heat behind Romania and New Zealand.
In the senior World Championships Twyman came fifth in her heat. The Oxfordshire sculler stayed with the field in the opening stages, but with only one sculler qualifying direct to the semis she dropped back after the Danish sculler pulled clear. She will now race in the repechages tomorrow.
On Thursday the GB Rowing Team will contest heats in the junior women's double scull, and junior men's pair and eight while the women's quadruple scull will race in the repechage.
SCROLL DOWN FOR MORE
================================================================
Results
World Senior (non-Olympic-class crews) & Junior World Championships
Plovdiv, Bulgaria, 15-19 August 2012
Juniors
WOMEN
Four (JW4-) (1-3 to semi-final, 4… to repechage)
1. Italy 7:00.99
2. Elisha Lewis/Anna Fairs/Cecelia Mowczan/Lauren Kedar (GREAT BRITAIN) 7:06.06
3. Canada 7:11.84
4. Ukraine 7:17.07
5. Denmark 7:18.33
Quadruple scull (JW4x) (1-2 to semi-final, 3… to repechage)
1. USA 6:46.61
2. Australia 6:51.03
3. Jessica Leyden/Katie Bartlett/Joanna Unsworth/Lucy Burgess (GREAT BRITAIN) 6:51.82
4. Denmark 7:00.63
5. Japan 7:18.70
MEN
Four (JM4-) (1-3 to semi-finals, 4… to repechage)
1. Robert Wickstead/Lewis McCue/Harry Lonergan/Alexander Lloyd (GREAT BRITAIN) 6:17.03
2. Denmark 6:27.16
3. Australia 6:29.93
4. Bulgaria 6:41.10
Quadruple scull (JM4x) (1-4 to quarter-finals, 5…quarters or E final)
1. Romania 6:02.07
2. New Zealand 6:02.58
3. James Rudkin/Thomas Barras/Oliver Knight/Sebastian Devereux (GREAT BRITAIN) 6:08.25
4. Slovenia 6:22.02
5. Bulgaria 6:34.57
LIGHTWEIGHT WOMEN
1. Rikke Quist (Denmark) 7:49.68
2. Elisabetta Sancassani (Italy) 7:58.91
3. Fabiana Beltrame (Brazil) 8:01.47
4. Yoo Jin Ji (Korea) 8:11.30
5. Kathryn Twyman (GREAT BRITAIN) 8:20.44
6. Amina Rouba (Algeria) 8:23.20
SCROLL DOWN FOR MORE
================================================================
CREW LIST
World Rowing Junior & Senior Championships
Plovdiv, Bulgaria, 15-19 August 2012
(Club/home town)
JUNIOR WOMEN
Four
Elisha Lewis (Sir William Borlase's Gram. School BC/Marlow)/
Anna Fairs (Tees RC/Stockton-on-Tees)/
Cecelia Mowczan (Reading RC/Reading)/
Lauren Kedar (Reading RC/Reading)
Coach: Ryan Demaine
Double Scull
Annabel Rogers (Runcorn RC/Chester)/
Emily Ford (Grange School BC/Crewe)
Coach: Julie Edwards
Quadruple Scull
Jessica Leyden (Hollingworth Lake RC/Burnley)/
Katie Bartlett (Nottingham RC/Nottingham)/
Joanna Unsworth (Henley RC/Hurley)/
Lucy Burgess (Northwich RC/Swindon)
Coach: Richard Boulton
JUNIOR MEN
Pair
Ryan Mitchell (Maidstone Invicta RC/Maidstone)/
Elliot Tarrant (Walton RC/Chertsey)
Coach: Adam Moffatt
Four
Robert Wickstead (Hampton School BC/London)/
Lewis McCue (ASRA/Inverness)/
Harry Lonergan (Royal Shrewsbury School BC/Isleworth)/
Alexander Lloyd (Hampton School BC/Hampton)
Coach: Colin Greenaway
Eight
Charles Shaw (Radley College BC/Waterlooville)/
Titus Morley (St Edwards School BC/Lambeth)/
Eduardo Munno (Bedford Modern Sch. BC/Brickhill, Bedfordshire)/
Thomas George (Radley College BC/Cheltenham)/
Callum Jones (St Edward's School BC/Nottingham)/
Oliver Wynne-Griffith (Radley College BC/Guildford)/
Matthew Benstead (Hampton School BC/London)/
Thomas Marshall (Royal Shrewsbury School BC/Kingston)/
Edward Henshaw (cox) (Hampton School BC/Wycombe)
Coach: John Gearing
Quadruple Scull
James Rudkin (Stowe Sculling Club/Northampton)/
Thomas Barras (Burway RC/Chertsey)/
Oliver Knight (Walton RC/Chertsey)/
Sebastian Devereux (Marlow RC/Hillingdon)
Coach: Nick de Cata
LIGHTWEIGHT WOMEN
Single Scull
Kathryn Twyman (Wallingford RC/Oxford)
Coach: Ben Reed
MANAGEMENT AND TEAM SUPPORT STAFF
Team Manager: John Layng
Lead Coach: Richard Boulton
Equipment Manager: Bret King
Assistant Driver: Robin Dowell
Doctor: Lucy Free
Physio: Rachel Burr
SCROLL DOWN FOR MORE
==============================================================
SCHEDULE
Wednesday August 15: Heats
Thursday August 16: Heats and repackages
Friday August 17: Repechages and semi-finals
Saturday August 18: Semi-finals and finals
Sunday August 19: Finals
SCROLL DOWN FOR MORE
==============================================================
CONTACT DETAILS
For media enquiries about The GB Rowing Teams please contact:
Andy Sloan, Caroline Searle or Miranda Edwards on:
T: (01225) 443998
M: ANDY (07714) 168391
M: CAROLINE (07831) 755351
GB Rowing Team website www.gbrowingteam.org.uk – full biogs available
here.
Follow us on Facebook: www.facebook.com/gbrowingteam
Follow us on twitter: www.twitter.com/gbrowingteam
Follow us on YouTube: www.youtube.com
==============================================================
*The GB Rowing Squad is supported by the National Lottery
Sports Fund as part of UK Sport's Podium Programme.
GB Rowing Team News bulletins are issued by the GB Rowing Team office