First day of finals at World Junior Championships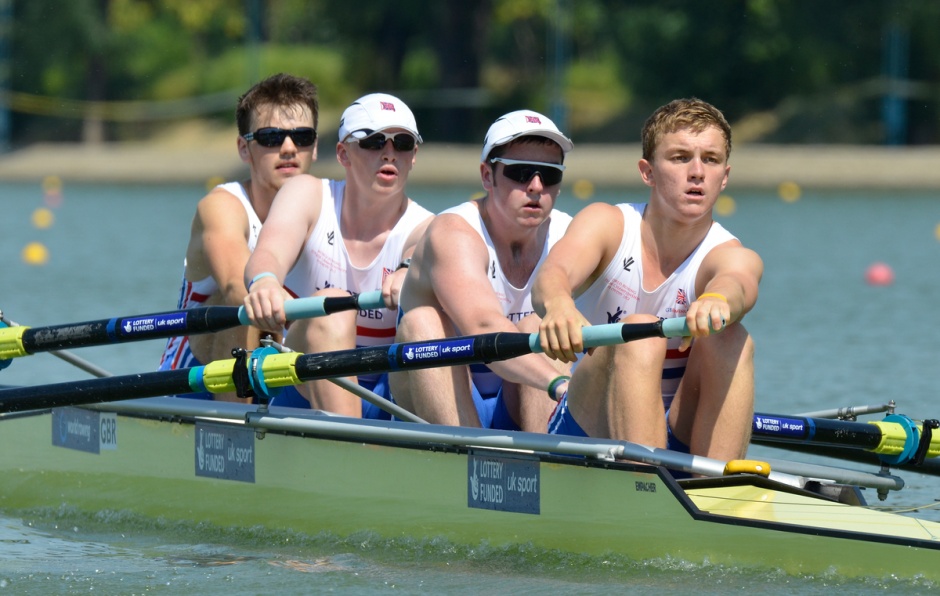 The GB Rowing Team's junior men's four finished fourth in the world on the first day of finals at the World Junior Championships.
The four of Lewis McCue from the Aberdeen Schools Rowing Association, Harry Lonergan from Royal Shrewsbury School Boat Club and Londoners Robert Wickstead and Alexander Lloyd from Hampton School Boat Club, all 17, were just outside the medals behind Italy, Romania and Germany after a brave race to the line for bronze in the 30 degree heat of Plovdiv, Bulgaria today.
There were two victories to cheer as well for the lottery-funded team, with the GB junior women's four and quadruple scull both winning their B finals to finish seventh overall at the Championships.
Romania and Slovenia took the initiative in the early stages of the junior men's four final before the Italians came through on the outside lane to lead at halfway with GB pressing hard in third, just ahead of Germany.
The Italians kept up the pace at the front, shadowed by Romania in second as the field began to fracture and Germany edged past the GB crew in a tense battle for bronze.
It took a photo finish to decide the gold medal with Italy winning by 100th of a second from Romania and Germany held off the GB crew who finished fourth, well clear of Slovenia in fifth.
In the B finals, the junior women's four of Elisha Lewis from Marlow, Anna Fairs from Tees RC and Reading RC duo Cecelia Mowczan and Lauren Kedar started the day for GB in fine fashion, holding off a strong charge from Poland to win.
The British, Polish and Canadian crews were virtually inseparable after the first 500m but by halfway Lewis, Fairs, Mowczan and Kedar had opened up a slender lead which they extended to seal the win.
The GB Rowing Team's second 'B' final win to finish seventh overall came from the junior women's quad of Jessica Leyden, from Hollingworth Lake RC, Katie Bartlett from Nottingham RC, Henley RC's Joanna Unsworth and Lucy Burgess from Northwich RC.
The quad matched the fast start of the Czech Republic before moving into the lead and controlling the race to finish ahead of China in second with Greece just pipping Australia to third.
In the junior men's quad B final, GB finished sixth in a close race, just fading in the final stages to come home behind South Africa.
The only semi-final of the day for GB saw the junior women's double scull of Anna Rogers, 17, from Runcorn RC and Crewe's Emily Ford, 17, finish fifth ahead of Sweden, maintaining the margin to the lead pack throughout the race.
On Sunday the GB junior men's eight race in the A final for the top six crews at 10:30am with Ed Munno hoping to add a second medal to the silver he won in the JM8+ at the 2011 World Junior Championships on the Olympic course at Eton Dorney.
Full race schedule available via www.worldrowing.com
SCROLL DOWN FOR MORE
================================================================
RESULTS
World Junior Championships
Plovdiv, Bulgaria, 15-19 August 2012
'B' Finals
WOMEN
Four (JW4-)
1. Elisha Lewis/Anna Fairs/Cecelia Mowczan/Lauren Kedar (GREAT BRITAIN) 7:04.83
2. Poland 7:05.29
3. Ukraine 7:06.78
4. Canada 7:06.83
5. Belarus 7:07.69
6. France 7:12.85
Quadruple scull (JW4x)
1. Jessica Leyden/Katie Bartlett/Joanna Unsworth/Lucy Burgess (GREAT BRITAIN) 6:42.64
2. China 6:45.37
3. Greece 6:47.28
4. Australia 6:47.80
5. Czech Republic 6:51.05
6. Ireland 6:52.07
MEN
Quadruple scull (JM4x)
1. Germany 5:55.82
2. Latvia 5:56.41
3. Croatia 5:59.50
4. Russia 6:00.21
5. South Africa 6:03.71
6. James Rudkin/Thomas Barras/Oliver Knight/Sebastian Devereux (GREAT BRITAIN) 6:05.73
Semi-final
WOMEN
Double scull (JW2x) (1-3 to A final, 4… to B final)
1. Ionela-Livia Lehaci/Andreea Asoltanei (Romania) 7:15.09
2. Dominika Bacskai/Laura Kurdi (Hungary) 7:16.87
3. Elodie Ravera-Scaramozzino/Eleonore Dubuis (France) 7:18.47
4. Ivana Krkljus/Zana Krakic (Croatia) 7:25.27
5. Annabel Rogers/Emily Ford (GREAT BRITAIN) 7:30.66
6. Amanda Tholin/Frida Carlsson (Sweden) 7:32.01
Final
MEN
Four (JM4-)
1. Italy 6:12.43
2. Romania 6:12.44
3. Germany 6:14.98
4. Robert Wickstead/Lewis McCue/Harry Lonergan/Alexander Lloyd (GREAT BRITAIN) 6:21.30
5. Slovenia 6:30.70
6. Austria 6:38.56
SCROLL DOWN FOR MORE
================================================================
CREW LIST
World Rowing Junior & Senior Championships
Plovdiv, Bulgaria, 15-19 August 2012
(Club/home town)
JUNIOR WOMEN
Four
Elisha Lewis (Sir William Borlase's Gram. School BC/Marlow)/
Anna Fairs (Tees RC/Stockton-on-Tees)/
Cecelia Mowczan (Reading RC/Reading)/
Lauren Kedar (Reading RC/Reading)
Coach: Ryan Demaine
Double Scull
Annabel Rogers (Runcorn RC/Chester)/
Emily Ford (Grange School BC/Crewe)
Coach: Julie Edwards
Quadruple Scull
Jessica Leyden (Hollingworth Lake RC/Burnley)/
Katie Bartlett (Nottingham RC/Nottingham)/
Joanna Unsworth (Henley RC/Hurley)/
Lucy Burgess (Northwich RC/Swindon)
Coach: Richard Boulton
JUNIOR MEN
Pair
Ryan Mitchell (Maidstone Invicta RC/Maidstone)/
Elliot Tarrant (Walton RC/Chertsey)
Coach: Adam Moffatt
Four
Robert Wickstead (Hampton School BC/London)/
Lewis McCue (ASRA/Inverness)/
Harry Lonergan (Royal Shrewsbury School BC/Isleworth)/
Alexander Lloyd (Hampton School BC/Hampton)
Coach: Colin Greenaway
Eight
Charles Shaw (Radley College BC/Waterlooville)/
Titus Morley (St Edwards School BC/Lambeth)/
Eduardo Munno (Bedford Modern Sch. BC/Brickhill, Bedfordshire)/
Thomas George (Radley College BC/Cheltenham)/
Callum Jones (St Edward's School BC/Nottingham)/
Oliver Wynne-Griffith (Radley College BC/Guildford)/
Matthew Benstead (Hampton School BC/London)/
Thomas Marshall (Royal Shrewsbury School BC/Kingston)/
Edward Henshaw (cox) (Hampton School BC/Wycombe)
Coach: John Gearing
Quadruple Scull
James Rudkin (Stowe Sculling Club/Northampton)/
Thomas Barras (Burway RC/Chertsey)/
Oliver Knight (Walton RC/Chertsey)/
Sebastian Devereux (Marlow RC/Hillingdon)
Coach: Nick de Cata
LIGHTWEIGHT WOMEN
Single Scull
Kathryn Twyman (Wallingford RC/Oxford)
Coach: Ben Reed
MANAGEMENT AND TEAM SUPPORT STAFF
Team Manager: John Layng
Lead Coach: Richard Boulton
Equipment Manager: Bret King
Assistant Driver: Robin Dowell
Doctor: Lucy Free
Physio: Rachel Burr
SCROLL DOWN FOR MORE
==============================================================
SCHEDULE
Wednesday August 15: Heats
Thursday August 16: Heats and repechages
Friday August 17: Repechages and semi-finals
Saturday August 18: Semi-finals and finals
Sunday August 19: Finals
For daily race schedules go to www.worldrowing.com
SCROLL DOWN FOR MORE
==============================================================
CONTACT DETAILS
For media enquiries about The GB Rowing Teams please contact:
Andy Sloan, Caroline Searle or Miranda Edwards on:
T: (01225) 443998
M: ANDY (07714) 168391
M: CAROLINE (07831) 755351
GB Rowing Team website www.gbrowingteam.org.uk – full biogs available
here.
Follow us on Facebook: www.facebook.com/gbrowingteam
Follow us on twitter: www.twitter.com/gbrowingteam
Follow us on YouTube: www.youtube.com
==============================================================
*The GB Rowing Squad is supported by the National Lottery
Sports Fund as part of UK Sport's Podium Programme.
GB Rowing Team News bulletins are issued by the GB Rowing Team office