Docklands Head returns with a splash
Amid many other heads being cancelled at the moment due to strong stream and waterlogged boating areas, Docklands Head ran successfully at the London Regatta Centre in East London on 12 November 2023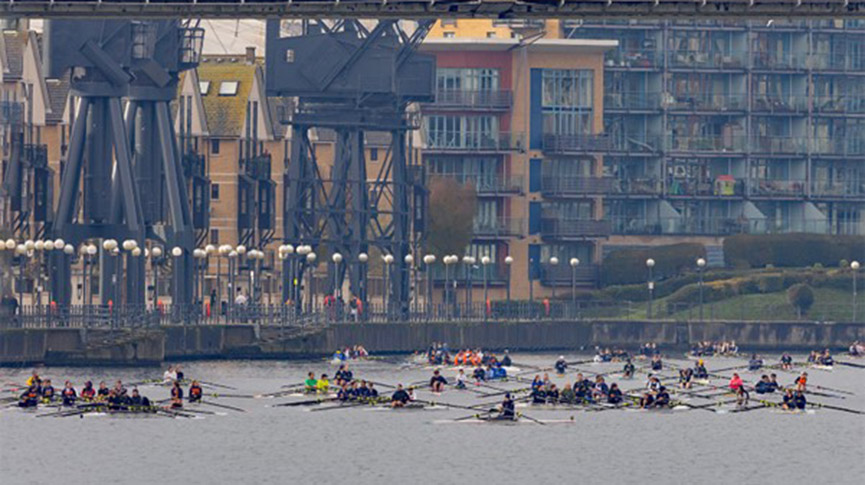 Following its cancellation last year because of forecast bad weather, Docklands Head, which is organized by Poplar, Blackwall and District RC (PBDRC), drew a large and enthusiastic crowd of rowers, spectators, and supporters.
Favoured by ideal weather conditions with light winds and no rain, the day unfolded as a showcase of exceptional rowing talent and camaraderie. The event was fully booked three weeks in advance, with nearly 200 crews representing a diverse range of junior, senior, and masters rowers. The footbridge overlooking the course was abuzz with cheering spectators, adding an extra layer of excitement to the event.
"We are incredibly proud to have hosted another successful Docklands Head. The event's popularity is a testament to the dedication of our members, the enthusiasm of our participants, and the unwavering support of our community. We look forward to welcoming everyone to the Greenwich Head of the River in February." – PBDRC Captain Dan Bartlett
Dulwich College and Lea RC emerged victorious, claiming the prestigious titles of Head of the River and Women's Head of the River, respectively. The full results and photo gallery can be found here. The organising committee extends its heartfelt gratitude to the dedicated volunteers, umpires, and Regatta Centre staff for their invaluable support and contributions to the event's success.
Looking ahead, PBDRC will be running Greenwich Head of the River, on 18 February 2024. For this competition, crews will venture beyond the Docks, embarking on a scenic stretch of the River Thames. The race will commence in Wapping, with Tower Bridge proudly standing in the distance, and conclude at the club's boathouse in opposite the Cutty Sark in Greenwich, passing by iconic landmarks such as Canary Wharf.