Rowing east, west and beyond!
From the Norfolk Broads to the West of England and on to Germany, touring rowers have been exploring waters far and wide this summer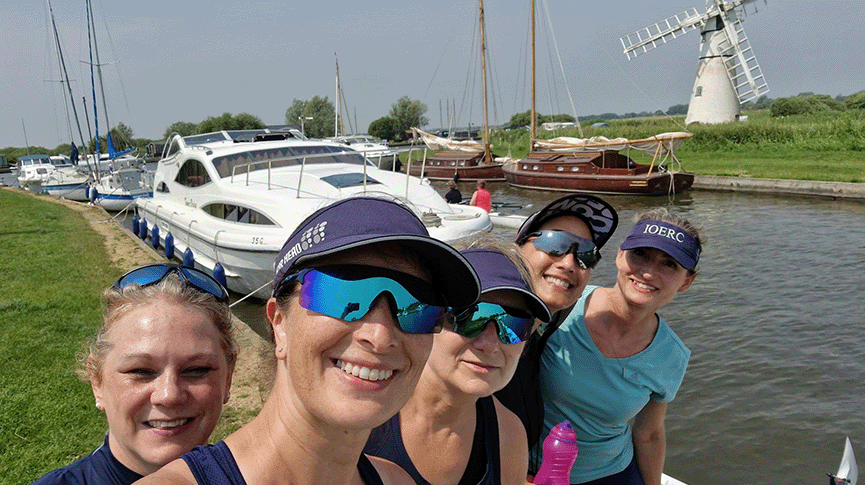 'Explore the Broads' Tour
The bi-annual 'Explore the Broads' tour in mid-June was organised jointly by the four rowing clubs on the Norfolk Broads (Yare BC, Lowestoft RC, Norwich RC and Beccles RC). Covering about 15 miles a day across two days, the group explored the stunning Bure, Ant and Thurne rivers from Wroxham Broad to Hickling Broad.
Tour Organiser Frances Kemp of Yare BC said, "Organising a weekend tour for 50 rowers is a big undertaking, but so worthwhile to see the delight of visitors to this lovely part of East Anglia."
First time tourer Barbara Sanderson from Oxford said, "The tour was a brilliant way to see this beautiful part of the East of England. It was great fun rowing with people from across the country and chatting to other people on sailing yachts and paddleboards as we passed."
British Rowing National Tour on the River Severn
At the end of July, the 28th British Rowing National Tour headed to the West of England. A huge flotilla of almost 100 rowers in 18 boats traveled downstream on the River Severn from Stourport to Gloucester.
Taking place over three days, the group stopped at Stourport, Worcester, Upton, and Tewkesbury for lunch or overnight along the 50km route.
Tour organiser John Turnbull commented, "It was fantastic to have such a diverse group of people on this year's National Tour – we had people aged from juniors to over 80, a special group of adaptive rowers, and 25 different rowing clubs represented!"
'Wanderrudern' on the Wansee
Rounding off the summer, 70 rowers from across the UK travelled to Berlin, Germany in early September to take part in a tour around the Grosser Wansee organised by the British Rowing Recreational Rowing Committee and the Berliner Ruderclub E.V.
Where will you row next year?
Rowing tours – exploring a distant stretch of water as part of an organised group – are one one of the best summer rowing activities. There are lots of opportunities to give it a try including the annual British Rowing Tours, which visit a new part of the UK each year, and the regular British Rowing European Tours described here. Various clubs and commercial operators also arrange tours across the UK and internationally.
You can find out more about upcoming tours and tour organisers here.  Start making plans for summer 2024 now!
Photos: Kindly provided by tour participants, main photo Isle of Ely RC.