Delivering free activities for children over the summer holiday
Julia Philipson, Development and Fundraising Manager at Fulham Reach BC, shares her experience of running a water sports-focused holiday activity and food programme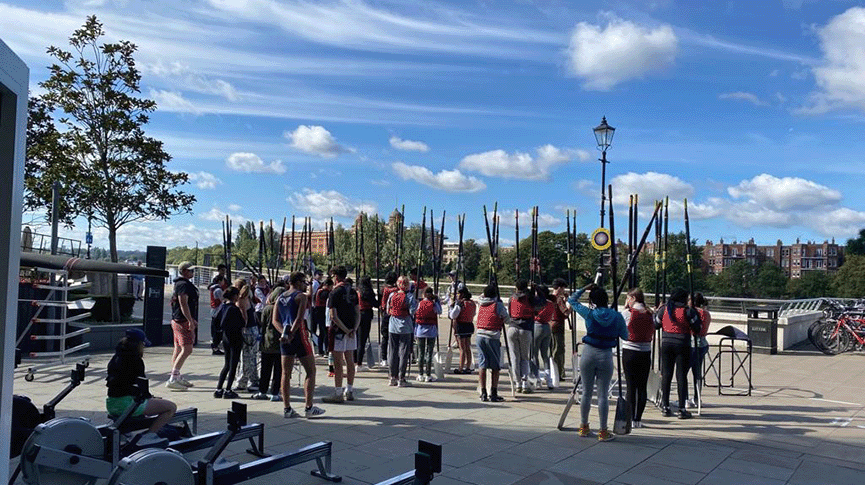 Research has shown that school breaks can create significant challenges for lower income families. This is something we were all too aware of in our local community around Fulham Reach BC, where we have a strong focus on providing safe access to the Thames for young people from disadvantaged backgrounds. With 12 state schools and over 1,000 young people benefiting from the opportunities we offered last year, we observed a significant gap during the summer holidays for those who had used our facilities in term time.
To help fill this gap, back in 2019 we created our Free Watersports Weeks holiday programme, which targets young local people who may suffer from food insecurity, lack of appropriate activities and learning loss and be at risk of crime during the holidays. The programme offers a safe space, engaging activities and nutritious meals.
Our Free Watersports Weeks provide unique opportunities for local young people within London Borough of Hammersmith and Fulham's wider 'Summer in the City' scheme, designed to deliver the Government's Holiday Activities and Food Programme in our area. They promote unity through sports and also connect young Londoners with their local river, often for the first time.
Collaboration with other local organisations
This year, we were excited to partner with more charities and organisations than ever before, broadening the transformative experience for participants. Collaborators included:
Sam's Riverside, providing nutritious food
London Sports Trust, offering kayaking
3Pillars Project, facilitating boxing, rugby, and basketball
The Queen's Club Foundation, running tennis.
Daily inspirational talks covered water safety from RNLI, crime prevention from Key 4 Life, meditation, nutrition from GB track athlete Aidan Syers, self-belief, and first aid from St John Ambulance. Our collaboration extended to sports charities with expertise in areas like crime prevention and youth development.
Programme impact
The impact we had was huge. We hosted 282 participants over three weeks, supporting young people from a range of backgrounds and with various needs:
74% of those attending were from diverse ethnic communities and lived in an area with an IMD (Index of Multiple Deprivation) level 4 or below
62% of participants were girls
26 SEND (special educational needs and disability) participants.
After attending, 100% said they felt more confident on the river and 94% said they'd like to continue to row! In terms of the stats we provides a total of 720 meals and 320 snacks, and 105 hours of free holiday activity time.
"Great experience, met some amazing people and enjoyed rowing"
"I loved this place so much! It helped me socialise and I've learned a lot of new things."
"I had so much fun this week, learnt new skills and met some cool people."
Participants and parents praised the positive effects on self-confidence, skills, and well-being. Words like 'fun,' 'exciting,' and 'freeing' dominated participant feedback.
Delivery challenges
Most participants will have never accessed the River Thames and many won't be able to swim.
While it's amazing to be able to offer free programs, they can lead to no-shows, so we overbooked by 25% this year to accommodate dropouts.
Weather and river conditions influence motivation, and catering for dietary needs and allergies adds complexity.
Despite challenges, the rewarding nature of our Free Watersports Week – witnessing young people thrive through sport – overshadows any obstacles.
What's next for Fulham Reach BC?
Due to the demand (we had waiting lists for most days) and resounding success, we're planning to run more free holiday sessions in the future but also looking to establish an after-school club to meet the same need during term time.
Additionally, we introduced water quality testing for the first time and explored how we can better protect the environment, which connected well, and we will be more proactive in exploring how we lead and engage people to be more environmentally aware in the future.