Cambridge sweep the board at the 2023 Boat Races
On a brutally rough day down at the start, a daring move early on by Cambridge cox Jasper Parish proved decisive in the Men's Boat Race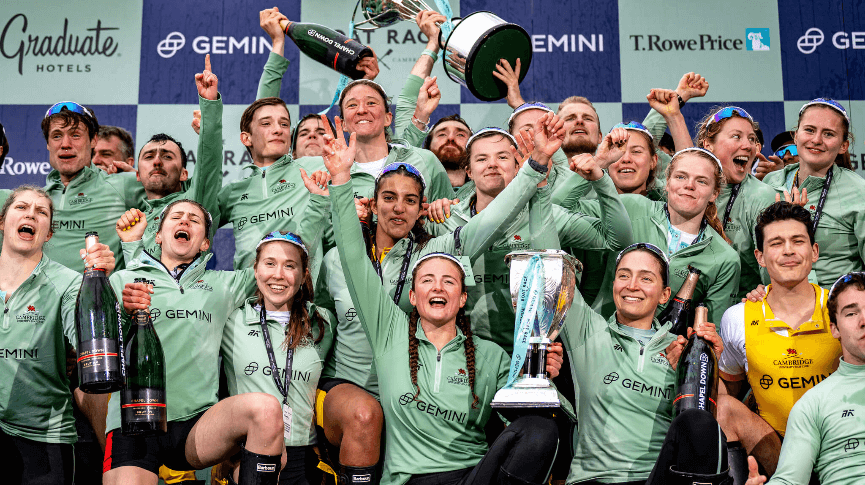 Cambridge win the 77th Women's Boat Race by four and a half lengths
Cambridge's winning time of 20 minutes and 29 seconds reflected the extremely choppy conditions up to Hammersmith, caused by wind against tide.
Cambridge President Caoimhe Dempsey had chosen the Surrey station, which has a small disadvantage at the start, but a much greater one after Hammersmith.
Both crews got off to a strong start, with Oxford edging out a slim lead as the crews passed Craven Cottage. However, it was not long before Cambridge, the pre-race favourites, began to push through.
Umpire Matt Smith cautioned the coxes to separate as they approached Hammersmith Bridge, but the light blues had already widened the gap enough that there was no clashing between the crews. As the course turned in their favour, they soon drew away to have clear water.
By Chiswick Eyot, Cambridge were leading by three lengths and the race was a procession from there to the finish line in Mortlake.
After finishing, Oxford cox Tara Slade protested that Cambridge cox James Trotman had cut in front of her when there was less than a length ahead. Smith agreed that he had, but dismissed her claim because there was no contact between the two crews.
Later, the Cambridge second boat, Blondie, had had a much closer battle with Oxford's Osiris in the reserves race, winning by just one length.
Cambridge win the 168th Men's Boat Race after inspired steering tactics
On winning the coin toss, Oxford's Tassilo von Mueller followed convention by choosing the Surrey station. But with conditions even rougher off the start than they had been for the women's race 40 minutes earlier, this gave Cambridge an opportunity, albeit a high-risk one.
In messy conditions off the start, Cambridge cox Jasper Parish was warned twice by Umpire Antony Reynolds in the first minute of racing. Cambridge managed to pull away from Oxford slightly, but the water conditions made finding a rhythm difficult, and the two crews remained neck and neck as they powered down the Putney Embankment.
Although only a first year undergraduate at Cambridge, Parish knows the Tideway well, having learned to cox at St Paul's School, and he drew on his considerable experience to make the calculated gamble of heading for flatter, though much slower water as the crews passed Craven Cottage. It was a move reminiscent of Andy Lobbenberg's famous dive for the Fulham Wall in the 1987 Boat Race, which won that race for Oxford after the infamous 'mutiny'. And it was just as successful. Oxford cox Anna O'Hanlon made the doomed decision to follow him, but was still out in the waves on the Surrey station, and merely finished up taking her crew the longer route. Parish's steering paid off, as Cambridge gained a length on Oxford by the Mile Post.
The water conditions improved after Hammersmith Bridge with Cambridge still in the lead. According to statistics, the crew that passes under Hammersmith has an 80% chance of winning, and it seemed that Cambridge was on track to uphold this trend.
However, Oxford began to make a comeback and by Chiswick Steps they had started to overlap with Cambridge. But Cambridge held them off and with Oxford stroke Felix Drinkall clearly in physical distress, the light blues crossed the finish line in a winning time of 18 minutes and 18 seconds, one and a third lengths ahead of Oxford. Cambridge now lead the 168-race tally 86-81 (with one dead heat).
Having collapsed after finishing, Drinkall was pulled out of the boat and taken to hospital for checks. The race organisers later reported that he was "doing well".
Lightweight and Veteran Boat Races
Cambridge also won both the Men's and Women's Veteran Boat Races on Saturday, and the men's and Women's Lightweight Boat Races on Monday, 20 March.