Royal Dolphins RC wins grant from Active Thames
The Royal Docks-based adult rowing club, which champions all capabilities, will use the grant of £3172 to upskill coaches, create greater accessible facilities and provide more sessions to members.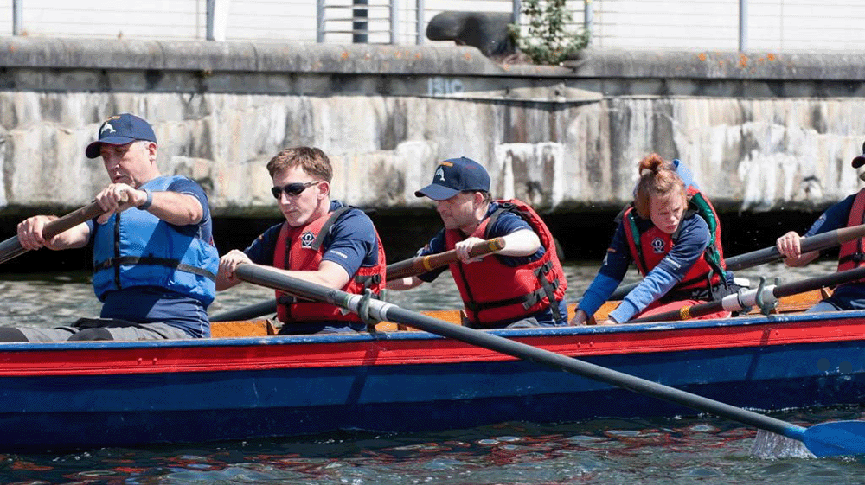 From neurodiversity to visual impairment and chronic pain, Royal Dolphins RC aims to make rowing more accessible.
One member, 64-year old Sarah Young, who has reduced mobility and clubfoot, the opportunity to partake in a seated sport such as rowing has "broadened [her] horizon". With no prior watersports experience, Sarah joined the club in August 2017 and has not looked back since. Based at the Royal Docks Watersports Centre in Newham, the club meet every Thursday and currently have ten members. "It was a revelation, first of all, to be able to be in a team," she says. "It was nice to feel very comfortable with people who also had a certain amount of disability and [it] provided me with a real feel good factor. It was lovely to be doing something very different – to get out on the water and be out in the boat!"
There is a great sense of community and belonging within the club with a mixture of non-disabled  people and people with greater needs. Depending on the weather, members can also use rowing ergometers and the indoor rowing tank.
If you adapt the equipment to the individual, rather than asking the individual to adapt to the equipment, you make opportunities possible.
Royal Albert Dock Trust support the programme by providing access, equipment and in-house knowledge to be able to adapt equipment. Postural support seats can be added to the boats to improve extra lateral support and increase stability, while pontoons are a good transfer height and there is an access ramp. If a member has limited hand function, hand gloves named splints are added to facilitate grip on the oar. The indoor rowing tank also has a hoist, and adaptive seats.
Simon Goodey, CEO of Royal Albert Dock Trust, said that before the club was set up in 2007 (under the original name of Headway), rowing was inaccessible. "If you make a venue accessible, you adapt the equipment to the individual, rather than asking the individual to adapt to the equipment, you make opportunities possible."
Simon added it's vital for anyone with a disability to engage with sport because they are more likely to lead a sedentary lifestyle which creates a greater predisposition to developing secondary health conditions like cardiovascular disease, Type 2 diabetes or disuse osteoporosis. These conditions can often be offset or controlled through a sport like rowing.
"On the water," he continues, "No one is identified by their disability."
Active Thames is a new programme led by the Port of London Authority. The grant aims to maximize the social, economic, and environmental benefits of the river by improving diversity and inclusion in watersports and enhancing coaching. The funding allows members like Sarah to keep engaging with her passion. "Rowing built up my confidence after a difficult phase after I stopped full-time work," says Sarah, "I realised that there were other things you could do, other opportunities, a new aspect of life. You don't always have to be a sporty type, and there are so many benefits to showing commitment and being prepared to train, get stuck in, and be part of a team."
Sarah adds coaches are incredibly patient. As coaches require additional knowledge of an individual needs, the funding will allow more coaches to join the club and increase upskilling, in order to keep the coach-to-participant ratio high.
"It's not just about physical disabilities," Sarah says, "It's also about depression and mental health. Being outside is very therapeutic, to be able to be on the water, in the sunshine and in a boat and meet new people each week. It is very good for wellbeing."
Active Thames is a partnership programme to support the development of watersports on the tidal Thames and inland waterways in London, Kent and Essex.