Last A-Final places booked in sunny Saundersfoot: World Rowing
Day 2 of the 2022 World Rowing Coastal Championships dawned bright and calm and although the breeze picked up and shifted around during the day, conditions remained far more benign than on Friday.
Photos: World Rowing / Ben Rodford
This made for some close racing in many events – despite the fact that crews were unanimous in wanting more waves for Sunday's finals to give the true coastal rowing vibe.
Calm seas and controlled racing
On beautiful blue calm water and with the sun still rising on the horizon, it was Monika Dukarska and Rhiannon O'Donoghue (IRL06, Killorglin RC) who took an early lead in the first race of the day in the coastal women's double sculls (CW2x). The Irish duo were able to paddle comfortably across the line, 21 seconds in front of Maria Zerboni and Sofia Secoli (ITA01, Circolo Canottieri Saturnia ASD). In heat 2, Janneke van der Meulen and Karien Robbers (NED01, Rv Willem 3) had already established a big open-water lead by the first turning points and were never threatened, crossing the line nearly a minute ahead of Marta Jambrino and Carlota Gil (ESP02, RCMD Malaga).
Spaniards strong in men's solos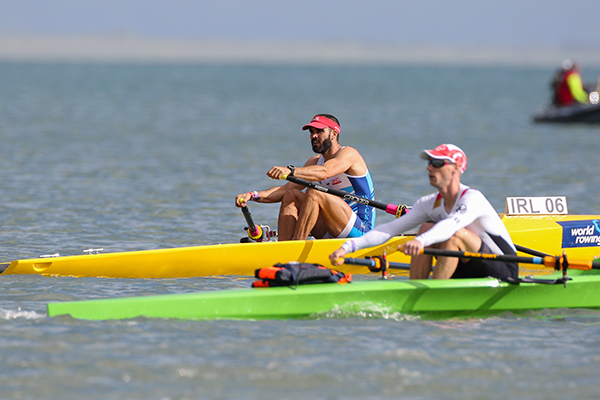 Having come away from the 2021 World Rowing Coastal Championships in fifth place in the coastal men's solo (CM1x), Marc Montfort (ESP01, RCN Tarragona) looked determined to stamp his mark in heat 1. Montfort stretched out in the first leg, but the battle behind him saw his lead cut and it was Ronan Byrne (IRL02, Shandon RC) who eventually won the race. The second heat also saw a strong Spanish performance, with Ramon Cotilla (ESP02, RCMD Malaga) – fourth last year – taking the win ahead of 2017 champion Simone Martini (ITA01, Canottieri Padova). Last but not least, Spanish-born 2021 bronze medallist Adrian Quiroga, rowing for Ireland (Wicklow RC), won heat 3.
Fast and furious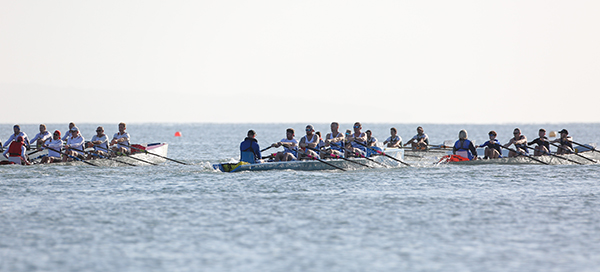 Off the start in the first heat of the coastal men's quadruple sculls (CM4x+), USA01 (Next Level Rowing) and ESP01 (RCMD Malaga) both attacked hard. It was the USA crew who came away best and were able to sit back and watch the rest of the field to the finish line, while GER01 (Stuttgarter RC) came in second, almost 23 seconds back. In heat 2, GBR02 (UL Tyrian Club) had the fastest start, but a tangle with Egypt at the first turning point gave ITA01 (Circolo Canottieri Saturnia A.S.D.) an opportunity to take the inside line and the lead. GBR02 settled for second with Egypt third.
Mixing it up
Defending champions Ander Martin Domingo and Esther Briz Zamorano (ESP04, Remo Torrevieja) were imperious in heat 2 of the coastal mixed double sculls (CMix2x), their coastal experience paying off. Ronan Byrne capped off a good day on the water, finishing second with partner Natalie Long for Ireland (Shandon RC and Lee Valley RC). In heat 1 earlier, Celia Gomez and Javier Balabona (ESP02, RCMD Malaga) were fastest off, but were soon caught by the impressive pairing of Olympic women's single sculls champion Emma Twigg and World Rowing Under 23 bronze medallist Ben Mason (NZL02, Nelson RC). Twigg and Mason were never threatened as the rest of the pack fought for positions behind them.
B-Finals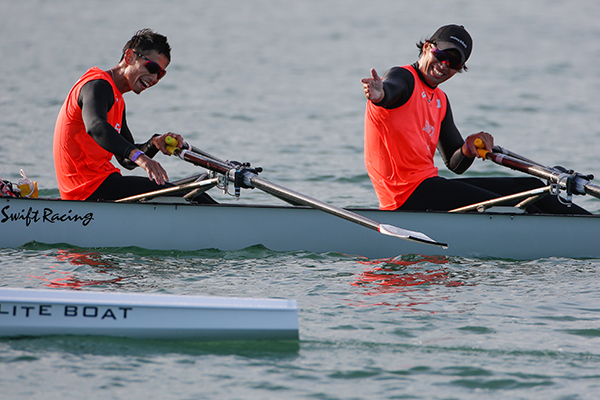 The USA secured two wins in the three B-finals contested, with Hannah Huppi (USA03, New Orleans Rowing Club) coming in 18.9 seconds clear of second-placed Carina Hein (GER01, Ruderclub Allemannia Hamburg von 1866) in the coastal women's solo (CW1x). Gary Rought and Malachi Anderson (USA01) held off Cian Sweeney and Michael O'Boyle (IRL02, Loughros Point RC) to win final B of the coastal men's double sculls (CM2x) by just under 10 seconds. In the last race of the day, final B for the coastal women's quadruple sculls (CW4x+), Ireland's Olderfleet RC were a little stronger than local club Wisemans Bridge and closed the day with a win.
Follow the action with live audio commentary and results on the World Rowing website.