5 British clubs win at Head of the Charles Regatta
Crews from Leander, Vesta, Crabtree and Molesey plus sculler Jamie Copus, representing Oxford Brookes University, all won their events last weekend against substantial opposition at this hugely popular head race in Boston, USA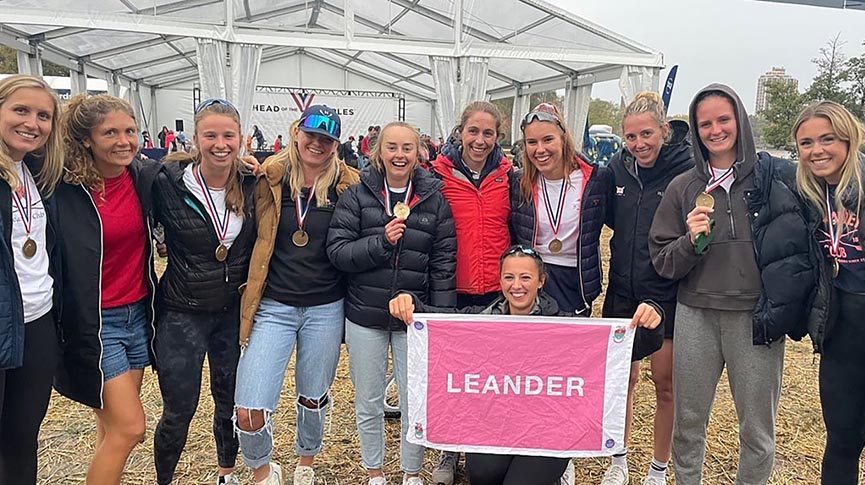 Most notably, Leander – described on the competition's website as "a small, historic British club" – won Women's Championship Eights. The crew of Flo Donald, Ruth Siddorn, Sophia Heath, Daisy Bellamy, Isabelle Hawes, Isobel Powell, Juliette Perry and Susannah Dear, coxed by Morgan Baynham-Williams (2022 World Champion in the PR3 Mixed Coxed Four), finished 1.267 seconds ahead of the University of Pennsylvania in a strong field of 29 entries.
Their grit over the last part of the course proved decisive. At the first timing marker the crew had been in second place, although less than one second behind UPenn. As the race progressed, the Leander women looked strong as they worked their way through the field of women's eights in front of them.  At the penultimate timing marker the Leander women still in second place but with determination and excellent coxing by Morgan Baynham-Williams, they managed to finish the world famous championship course as winners.
Leander's Chief Women's Coach, Ross Hunter said: "The Head of the Charles is such an iconic event and to be part of it this year has been amazing. The athletes have performed superbly and I hope these results bring pride to all our members around the world."
Vesta RC's Rebecca Kelly, Fran Lidlow, Lydia Cronin and Charlotte Orrell, coxed by Felicity Carroll, won Women's Club Fours by a similarly slim margin of just by 1.966 seconds, beating 51 other crews.
View this post on Instagram

Jamie Copus, who competed in the GB Lightweight Double Sculls at the European Rowing Championships this year, took the Lightweight Single Sculls category.
Moving on to the masters events, Cambridge Blues Guy Pooley and David Gillard won Senior Masters (50+) Men's Double Sculls for Crabtree BC by an impressive 22 seconds, while the Molesey BC four of Clive Roberts, James Wright, Florian Herbst and Harvey Worden, coxed by 1984 Olympic gold medallist Adrian Ellison, were the winners of the Senior Masters Coxed Fours.
There were several other impressive performances by British crews across the 72 events of this vast, three-day rowing festival. In particular, Wallingford's Grand Masters (60+) Women's Eight put in a stunning row that saw them pipped for gold by an agonising 0.739 seconds. Also coming second by the narrowest of margins were Windsor Boys School who finished just 1.251 seconds behind the winners of the Men's Youth Coxed Quads.
Wallingford was one of no fewer than five entries in their event who clocked times faster than the previous course record. The crew contained Jackie Darling, who represented GB in the eight at the 1975 World Championships in Nottingham and was stroked by Judith Burne, 1986 World silver medallist in the lightweight coxless fours.
Other British clubs racing at the HOCR this year included City of Oxford RC, KCS Wimbledon BC, King's School Chester RC, Lea RC, London RC, Putney Town RC, Sudbury RC, Thames RC, Tideway Scullers School, UL Tyrian Club, Westminster School BC and Wimbleball RC, with several 2022 GB Rowing Team U23 and U19 World Rowing Championships members competing.
Send us #YourStories
We want to hear from you!
Use this form to send us a news story about your crew, club or competition.