2 bronze medals for GB at the European Rowing Coastal and Beach Sprint Championships
The GB Beach Sprint Team competed alongside British club rowers at the European Rowing Coastal and Beach Sprint Championships in San Sebastián, Spain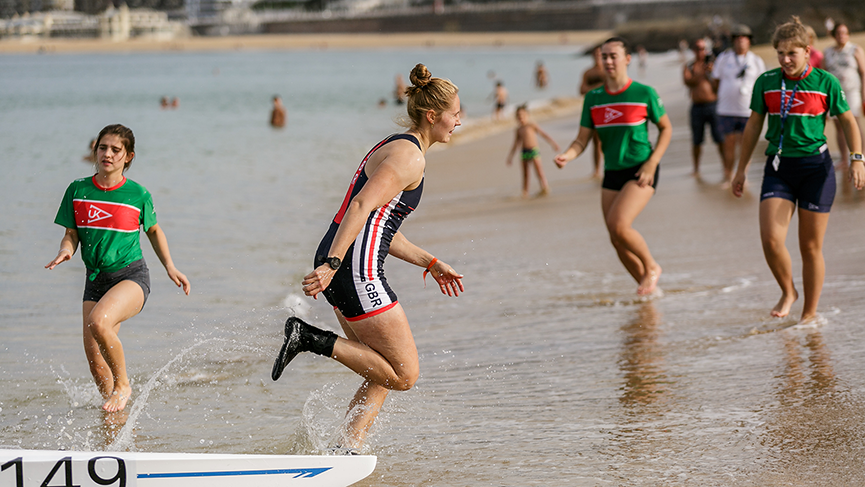 The European Rowing Beach Sprints Championships
The GB Beach Sprint Team had a great performance over the weekend, bringing home two bronze medals for the Coastal U19 Men's Solos and the Coastal Women's Solos, along with many close finishes.
Will Burrows (Norwich RC) was victorious over Italy by 9 seconds in the B Final of the Coastal U19 Men's Solos (CJM1x), after narrowly missing out on an A Final spot to the eventual gold medallist from France.
Will said, "Winning the bronze was an amazing feeling and accomplishment. I really enjoyed Beach Sprints, and I'm looking forward to progressing within the sport next season."
Rosa Thomson (Leander Club) also took bronze, finishing ten seconds ahead of Italy in the Coastal Women's Solos (CW1x). She said, "Exhilarating and challenging – I've loved every second of competing. This was my first coastal race so I'm thrilled to come away with a medal. I'll be looking to challenge for gold with some more experience on the sea!"
Elsewhere in the team, Coastal Men's Solo rower Hal Flowerdew (Walton RC) narrowly missed out on a space in the semi-final, finishing mere seconds behind the eventual silver medalist from Spain.
In the Coastal Mixed Doubles (CMix 2x), Gregor Maxwell (London RC) and Eva Barellon‐Kendall (Agecroft RC) had an unlucky Round 2 draw and ended their race for the medals early behind bronze medallists Germany.
In good spirits after the race, Gregor commented, "For me the highlight was unquestionably when at the start of our race the German bow fell off their seat. The corresponding low point was them getting back on."
Summer Harlow (Exeter RC) had a brilliant quarter final in the Coastal U19 Women's Solos (CJW1x), but came a close fifth in her semi-final.
In the Coastal U19 Mixed Doubles (CJMix2x), Sam Cuthbertson (Trentham BC) and Isabel Punchard (Trentham BC) breezed through their quarter final against Belgium and finished a close fourth in their B Final, less than three seconds behind Italy.
Team Manager Mark Dunstan said, "I'm really pleased with how well the team performed against such a high standard of competition. Several of our athletes were earning their first ever GB vests, and all should be proud of how well they conducted themselves. It's been another great event on our path to understanding more about performance in the beach sprints format and growing the experience among our squad."
The European Rowing Coastal Championships
The weekend also played host to the European Rowing Coastal Championships over the longer endurance course. In the events for national teams, Paul Coutanche (Jersey RC) placed 13th overall in the Coastal Men's Solos (MCM1x), and Clare Jamison (Christchurch RC) and Charles Cousins (Rob Roy RC) came ninth in the Coastal Mixed Double Sculls (MCMix2x).
Clare, who also raced in the European Rowing Club Coastal Championships Women's Solos (CCW1x) on the same day, said "It was a fabulous experience to be allowed to race in the endurance format this time. Although second on the beach in the Mixed Doubles, a time penalty for interference meant no medal for us this time. Jumping straight into the solo definitely tested the endurance aspect of the sport and after a solid win in the heat I finished fifth."
Taye Le Monnier and Laima Pačekajutė (Jersey RC) competed alongside Clare in the CCW1X, with Laima progressing through to the final and placing 13th overall.
A large contingent from Jersey Rowing Club joined Taye and Laima in competing in the club events, alongside crews from Guernsey RC, Hollowell Scullers, and UL Tyrian Club.
Tim Fenemore (Hollowell Scullers) and Gary Briggs (Jersey RC) raced in the Coastal Club Men's Solos (CCM1x) A Final, where Gary placed 12th and Tim came 14th overall.
Tim had "fantastic fun" racing against a San Sebastián city backdrop. "It really felt as though you were rowing within an arena. The course was really technical, with 14 turning buoys and up to 18 boats battling it out in each of the A Finals."
"There were inevitably some boat and blade clashes, but we are seeing a massive improvement in performance from 'club' to 'international' levels and it's a privilege to race."
Elsewhere in the competition, Charles Cousins and Des Nevitt (Jersey RC) finished fifth in the Club Coastal Men's Doubles (CCM2x), the British Club Coastal Women's Coxed Quadruple Scull (CCW4x+) from Jersey finished eighth overall, and two of the three Jersey RC Club Coastal Mixed Doubles (CCMix2x) made their A Final, finishing 14th and 15th overall. Jersey also had a boat in the Club Coastal Women's Double Sculls (CCW2x) A Final.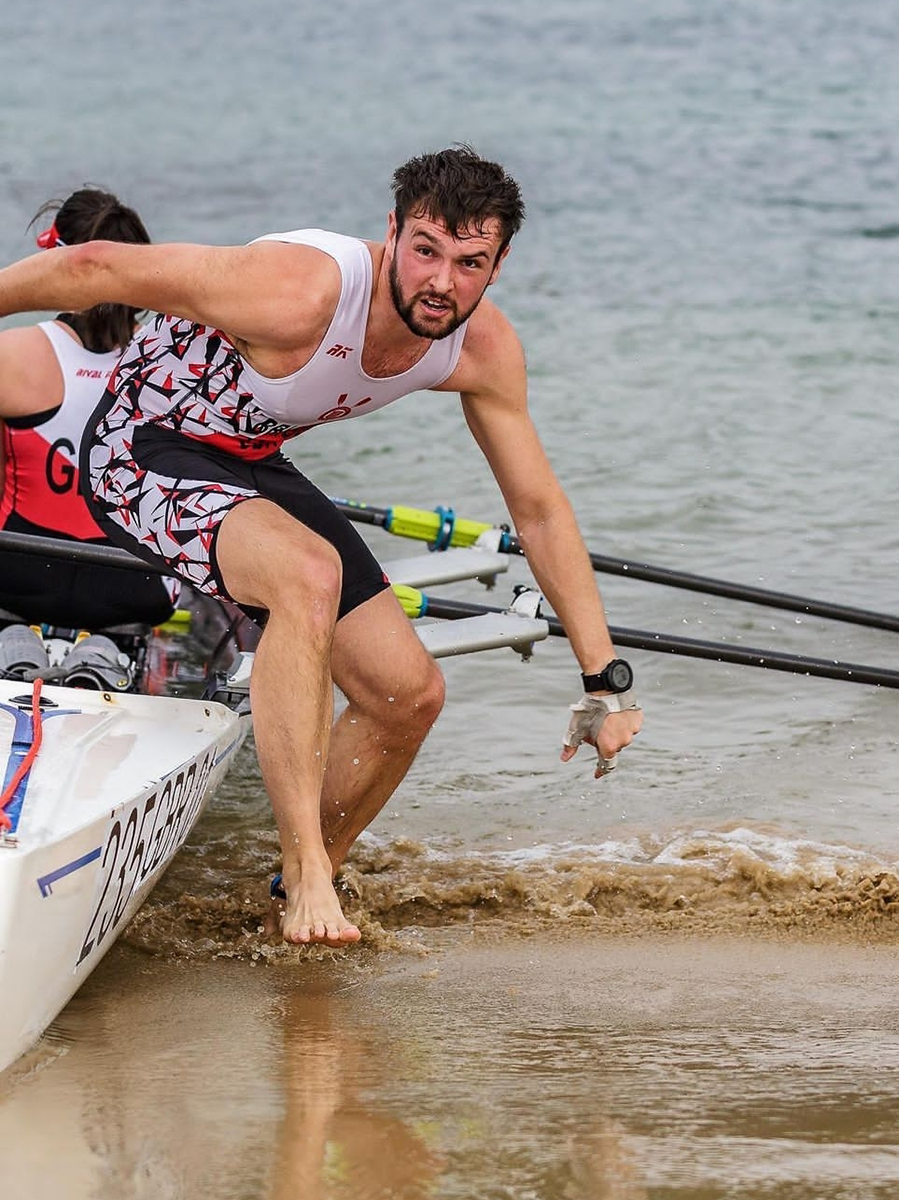 "Having the 4km CCMix2x and CCM1x heats only 30 minutes apart was a real challenge." Said Gary, Vice-Club Captain at Jersey RC. "I had specifically been preparing to cope with having 2 races in a day, but I had definitely expected more than 3 minutes on land between them! I feel a huge sense of pride representing GB, and I wouldn't have been able to even compete in the 2nd race without the Jersey team's help –  they were launching the singles boat while I was still doubled over at the finish line!
"The Jersey RC have had great representation at international events for a long time. The support from the entire team was fantastic, with some club members travelling to the event purely to assist and cheer on the rowers, and that's not to mention the interest and support we get online from back home in Jersey."
In the Club Coastal Men's Coxed Quadruple Sculls (CCM4x+) saw two crews from Britain competing, with Tyrian Club finishing eighth and the crew from Guernsey finishing 15th overall.
Find a full list of entries and results on the World Rowing website