Kingston Grammar School's 70km sponsored row to fund defibrillators
Over 100 rowers, aged 14 to 83, took on a challenge to row 70km along the Thames, from Henley to Thames Ditton, to raise £20,000 towards life-saving defibrillators and cardiac testing in schools.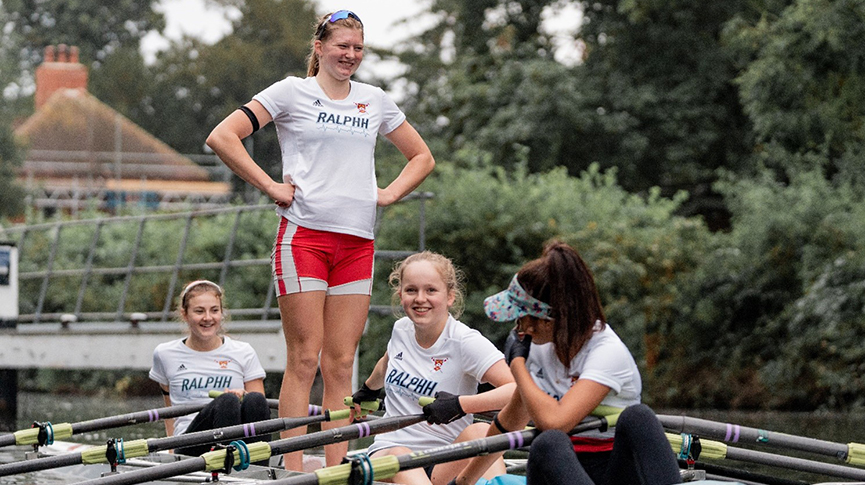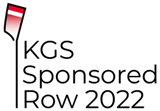 Olympic Champion Sophie Hosking MBE was at the finish to greet the rowers at the Kingston Grammar School BC, after the mammoth 13-hour row. She was joined by the Chairman of heart charity RALPHH, Richard Allen, who said: "It's marvellous that Kingston Grammar School have got behind this. The rowers are all heroes; it's no small task to row 70 km. The money raised from this row will help us to fund at least eight more public access defibrillators."
The oldest rower was 83-year-old Roger Grubb (at stroke in the photo below). He is a stalwart of the row, which is completed every four years by pupils, alumni, parents and members of Kingston Grammar School Veterans BC. He has completed it more than eight times. He said: "There is much joy, some pain, and a splendid sense of achievement to be had in taking part and completing the KGSBC Sponsored Row. It is wonderful to experience the sense of camaraderie between the rowers of all ages, the supporters and other river users during the row – especially in the locks. Something never to be forgotten!"
The rowers all wore black armbands as a mark of respect following the sad death of Her Majesty Queen Elizabeth II.
They set off from Henley in Oxfordshire at 6am and travelled through Marlow, Cookham, Maidenhead, Bray, Windsor and Eton – where they stopped for lunch – Staines, Shepperton, Walton-on-Thames, Molesey before arriving back at KGS Boat Club, near Hampton Court Palace, in the early evening.
En route they navigated a total of 16 locks, manned by parents, volunteers and lock keepers.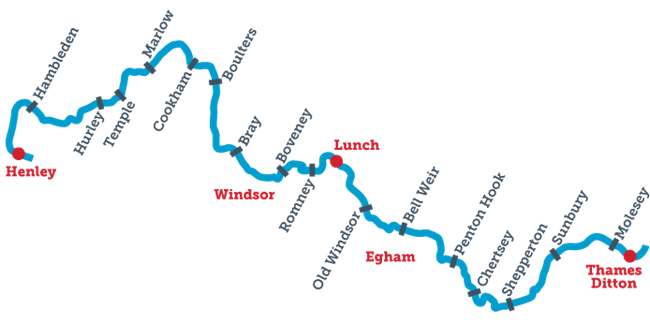 J18 rower, Matilda, said: "It was long, and it was definitely a challenge. There was one point where I wasn't sure if it was tears or sweat running down my face! It feels great to be done and to have raised money for such a good cause."

This year the school rowed in honour of a former pupil, Rob Allen, who died suddenly from an undiagnosed heart condition in 2018. His family set up RALPHH (Robert Allen Life Promotion And Healthy Hearts Trust) to increase public access to defibrillators (AEDs) nationwide and to fund ECG screening for young people. It has recently provided significant funding towards two local Public Access Defibrillators (PADs) at Molesey and Sunbury locks. Rob was a National Schools rowing champion in 2003, rowed at Henley Royal Regatta and had been a coach at the school boat club.
Kingston Grammar School has a strong rowing tradition, with former pupils also including Olympic Champion James Cracknell and five World Champions, and has been organising the sponsored row every four years for the past 43 years.
Ed Green, KGS Director of Rowing, said: "I'm delighted that we achieved what the students set out to do, some of them having previously only rowed a fraction of what they accomplished today, and I'm pleased that we've made our target, raising money for a charity that's so close to the hearts of this club."
The fundraising page for the row is still open for contributions.