Masters rowers put training to the test at Nottingham
Despite windy conditions, there was a joyful atmosphere as the rowing community gathered at the National Water Sports Centre on Saturday 11 June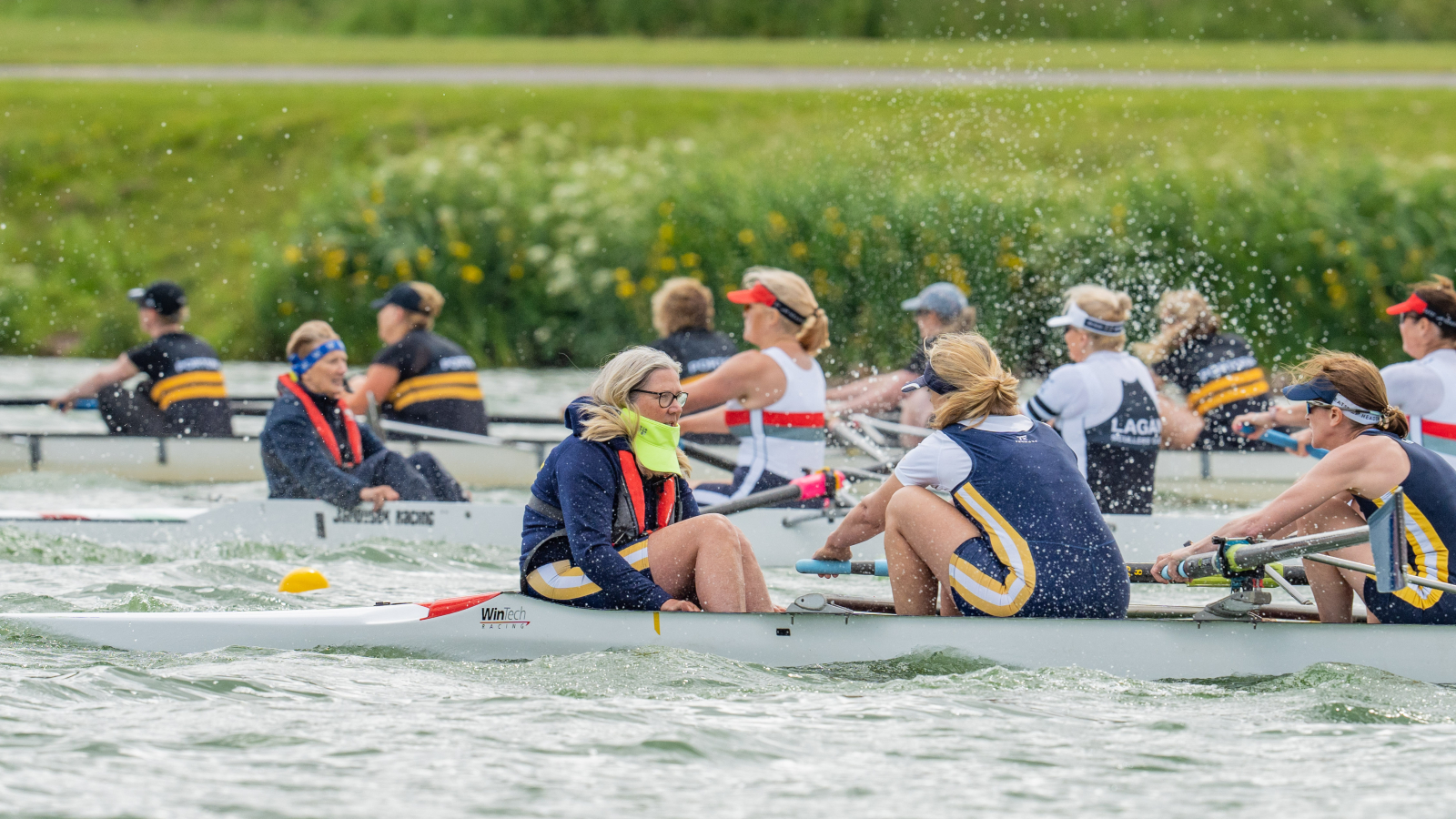 For the first time since 2019, the British Rowing Masters Championships (BRMC) returned to its pre-Covid two-day format on 11-12 June, offering championship and non-championship events across master categories from A (27 and upwards) through to J (80 and upwards).
Saturday saw 110 races take place with crews experiencing challenging conditions and a head wind down the 1,000m course. Racing was competitive with several tight finishes as crews put their training to the test on the multi-lane course.
In one of the closest races of the day, Leeds RC clinched first place in the women's A-C eight final, 0.03 seconds ahead of local crew Nottingham RC.
Composite crew Eva Rankin and Gill Prescott from Loch Lomond ARC and Nottingham RC have quite a few BRMC medals to their name already but were still delighted to add another to their collection in the women's G/H double scull.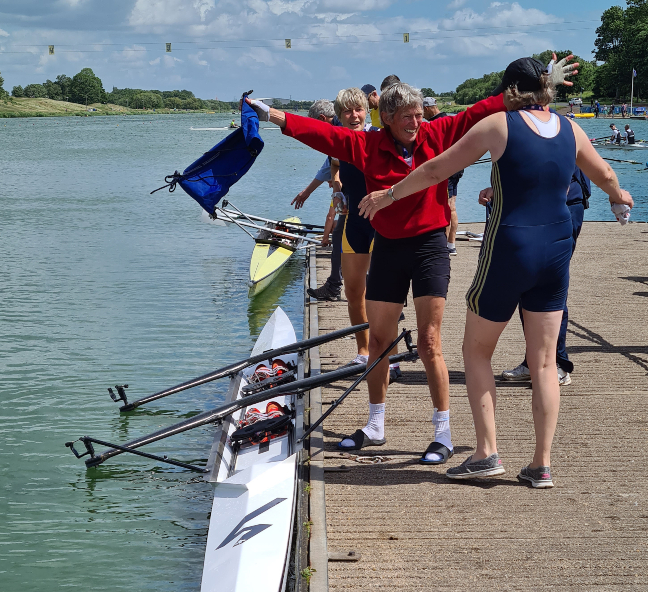 Eva Rankin from Loch Lomond (in red), and Gill Prescott (behind), being congratulated on their win by their friend Helen McMillan, regional chair for the Northern region.
Both took up rowing in their late-forties and after first joining forces at the 2009 World Rowing Masters Regatta in Vienna, Eva and Gill have been rowing together at races ever since – and have become firm friends in the process.
Gill said: "We train individually and then we get in the boat. When I get back into a boat with Eva it just feels nice. It's like putting on an old pair of slippers."
"It feels natural," added Eva.
Reflecting on their race, Gill said: "We had a 13-second handicap against us – it was interesting holding ourselves straightish at the start and we didn't do a racing start. The first 500, we couldn't really race [because of the conditions] and then we just put the power down.
"It's really lovely to meet up. We've had three years of not seeing people."
Also racing in the double were Paul Batchelor and Phil Bell from Doncaster RC. Coming to the BRMC is "the highlight of the season" said Paul, adding: "We row on a really nice river – it's flat so we could do with some multi-lane experience. We've been to York and Durham and went to Nottingham Masters a few weeks ago."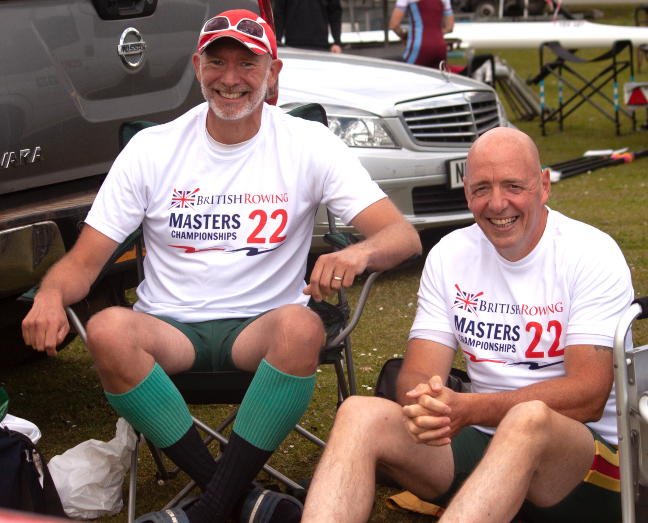 Paul and Phil relax in between races
Paul said: "Our goal is to come down here and get more practice… One year we're going to win a gold medal!"
The RAF RC fielded six crews during the day with RAF and Tees member Chris Morrill saying that competitions such as the BRMC are so accommodating because of their structure.
"It's a fixture on our calendar – and offers really good value in terms of time and race with a good field. So pretty much all the events are available – championship and non-championship. You can pick and choose according to where the strengths of the squad lie.
"We come most years, if not every year, and we go to World Masters every couple of years so that adds another dimension.
"The Services have a very positive attitude towards physical activity, so we have a very generous level of support. Crew boats are the pinnacle of teamwork and these are all values we cherish. It's [rowing] a really good activity and allows people to develop their leadership and organisational skills."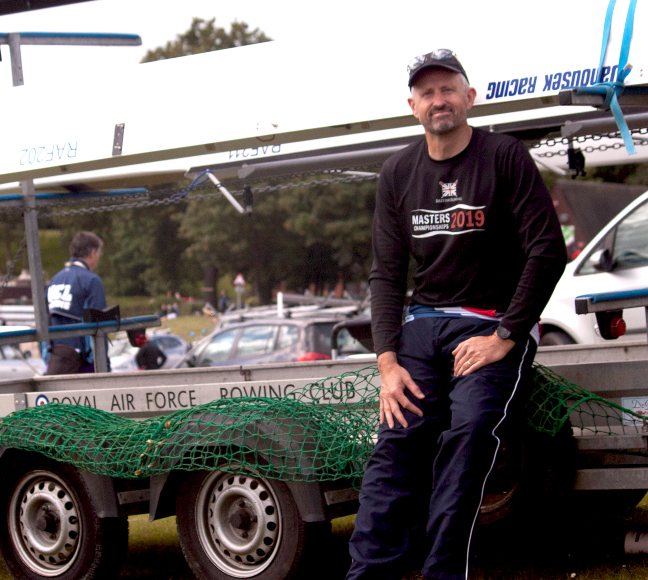 Chris pictured by the club's boat trailer
With crews coming from far and wide to race against other masters, many had long journeys to the venue. Crews from Belfast RC had their flight to Leeds postponed three times on Friday before they finally arrived in Nottingham at 1.30am on Saturday morning.
Joy McAleer, cox of the club's women's D/F eight and four, said: "We're just happy to get here."
The Belfast crew won gold in the women's D/F coxed fours, snatching the win with 1.50 seconds separating them from second-placed Ancholme.
Meanwhile the eight is targeting the World Rowing Masters Regatta in September and were keen to use their race as a marker.
"We were third," said Joy, "and felt we had a good race in difficult conditions, but it was difficult for all crews. There were waves which was problematic on the stake boats, but the stake-boat holders did well and were very patient.
"Some of our crews have been rowing together for years but we've only been rowing together for a year – one rower rejoined the sport after a 30-year gap!
"Covid interrupted our training because people were getting it from Nov to Feb and it was highly disruptive but the same for all our crews."
Their "secret weapon" Lee Humphreys – a youthful 65 and the oldest in the crew – added: "We've been waiting for this for so long and everybody is very keen to compete – it's just good to have something positive.
"It's 10 years since I've been here because I said I'd never come because it was windy! Today, we just had to keep it clean with clean catches."
At the start, juniors from Nottingham and Union RC were on stake-boat duty, wishing crews good luck as they endeavoured to give them the straightest start possible – not always easy in the conditions. In July they plan to race at the British Rowing Junior Championships so it will be the turn of their parents to man the stake-boats.
With the day's racing complete, Christopher Anton, Chair of the Organising Committee for the BRMC, said: "It was a great team effort from the Organising Committee – the umpires, the volunteers and the stake-boat holders – to get today's racing completed in very challenging conditions.
"I was glad that we were able to run lightweight single events this year which were well populated and some of the gold medallists were absolutely chuffed to be as fast as the corresponding open weight races.
"We look forward to better weather tomorrow and another good and competitive day's racing."
Day Two begins at 9am on Sunday morning with 69 races scheduled. Follow our updates during the day on our social media.
For full results from Day One visit here >>>