Ardingly masters top the Victor Ludorum table at the British Rowing Masters Championships
The atmosphere was festive as spectators enjoyed tight finishes on the water, with Ardingly RC collecting the Victor Ludorum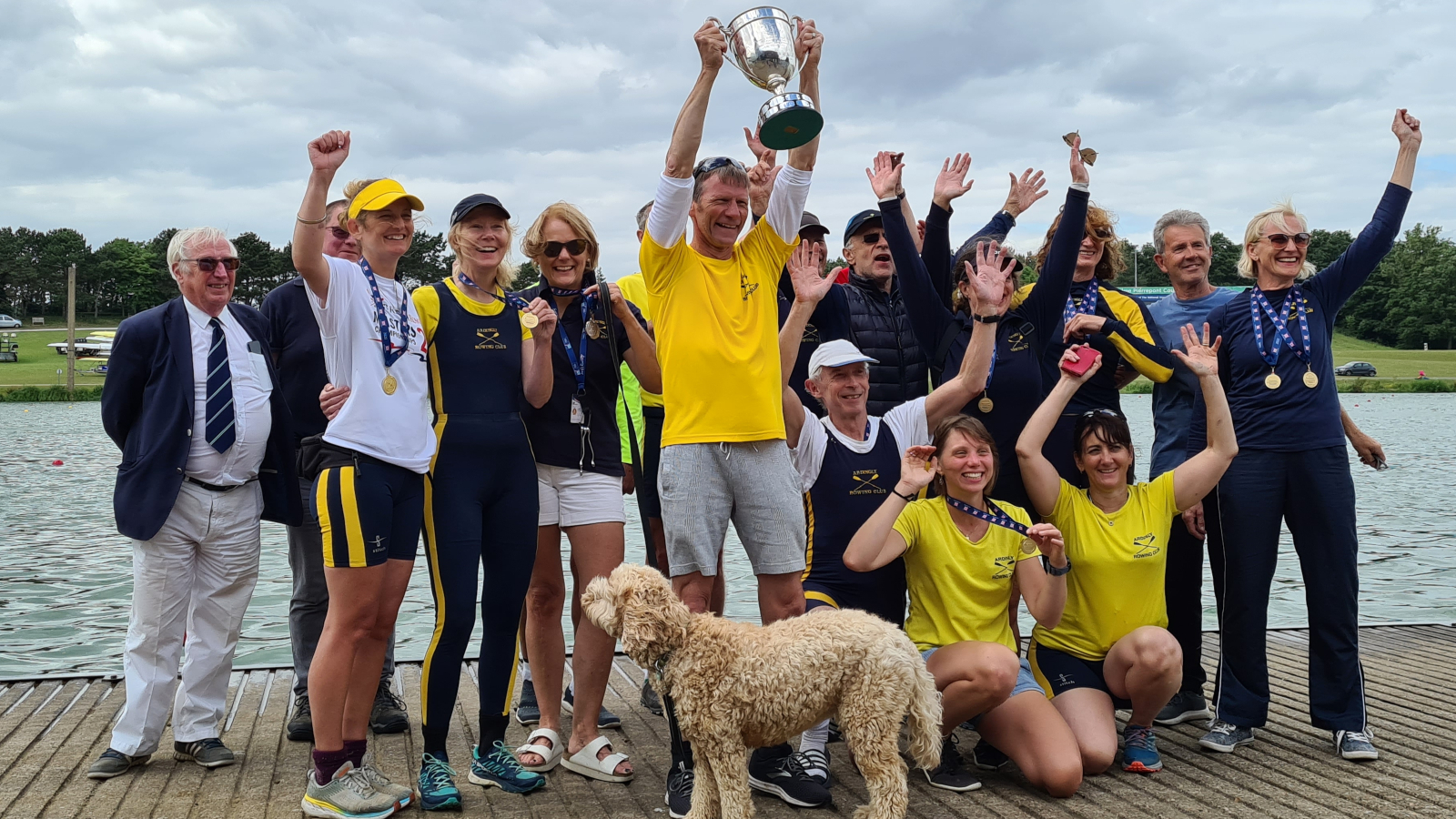 Day two of the British Rowing Masters Championships saw more quality racing on the water with Ardingly RC earning the Victor Ludorum.
Ardingly club captain Pete Billin said: "It feels brilliant because I think we came third about seven years ago and this year we were the club with the largest entry. We didn't have quite a good first day but we had quite a few wins throughout today.
"I'm really pleased for the club because we're only a small club and it's a tribute to the coaches that we've had over the years, as well as those who started the club. We don't have a boathouse, we have an open corrugated shed – but the important thing is getting out onto the water.
"Overall, it's been a real team effort."
The weekend has seen competitive races with clubs of all sizes enjoying the thrill of testing themselves against crews from all over the country.
Bewl Bridge were leading the Victor Ludorum table at the end of day one. With around 165 members, the Kent-based club has a blossoming junior and masters section.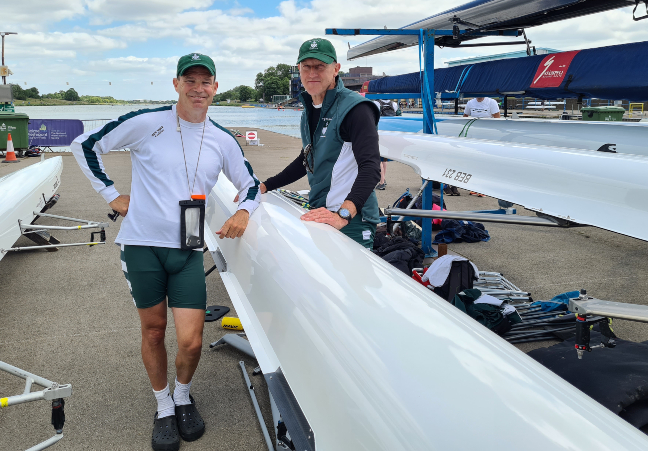 Angus Bogle (left) and Dave Ribbens
Bewl Bridge rower Dave Ribbens said: "This is the largest contingent we've brought up here on record. Our youngest crews are C and our oldest is F.
Jane Ryman, a coach and sculler from Stourport, stressed how much bringing back a medal can mean to smaller clubs
Club captain Angus Bogle said: "We discovered looking in the Almanack last year that we had more wins across all the heads and regattas in masters than any other club in the country which we were quite surprised about."
With Bewl crews enjoying success on the water, the club has appreciated the high quality racing, with Angus saying: "We just raced and there were three seconds between five crews so win or lose a race like that, it's good to be part of it."
Dave added: "When you row in isolation on the reservoir you think you're going well, but you've no idea so you're pressure testing your capabilities. It's nice to win a medal, but it's nice to race against someone else and find out where you are."
Jane Ryman, a coach and sculler from Stourport, stressed how much bringing back a medal can mean to smaller clubs too.
"It's good to see lots of crews coming out and racing again"
"We've got one sculler who regularly does well at World Championships and National Championships and for a lot of people they look to them and are proud that the club has managed to get someone here. It helps you train.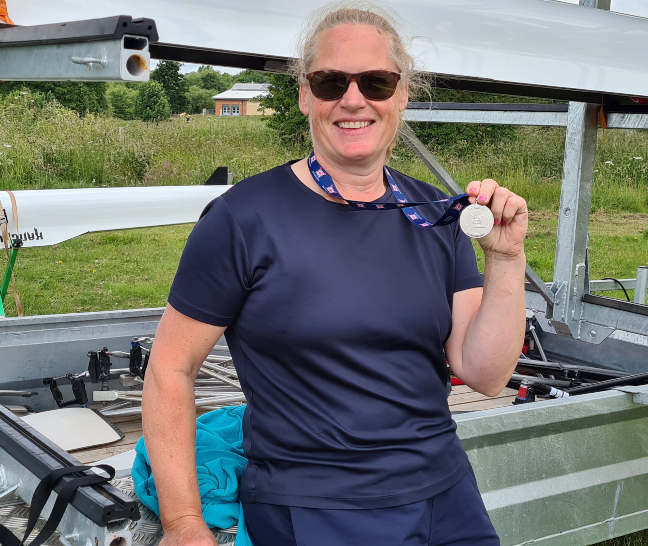 Jane Ryman pictured with her silver medal from the women's E single sculls
"I've certainly seen a lot of coaches round here, you know, chest up, springing along and following a crew who are wearing medals. So, I personally feel that if you could actually buy a medal for a coach then I think crews would.
"We came second in our quad yesterday and there were three crews racing, so we didn't get a medal and I feel that that's quite harsh. For some people that might be their only chance to get a medal."
Amanda Hosking from Broxbourne has been coming to national masters events for several years, collecting two gold medals in a women's D quad and eight this weekend.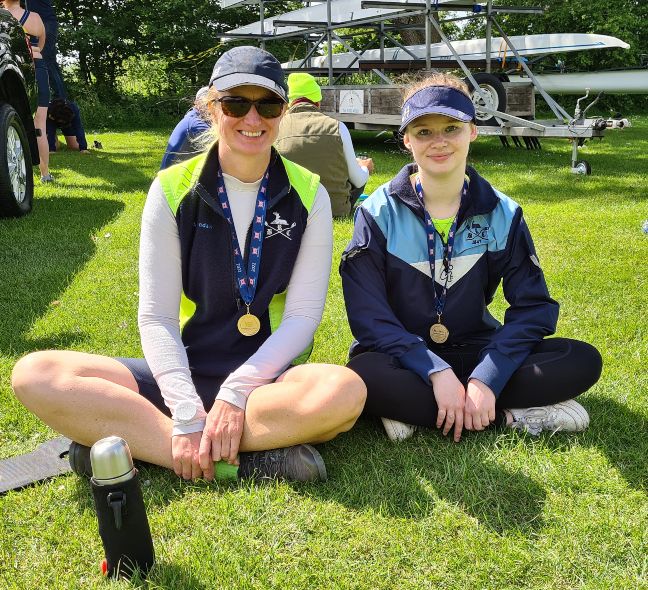 Amanda and Amy with their eights' medals
She said: "It's really good to get back to it – it's quite a focus for us and target.
"We do a lot of training for it and it's really nice to come here and do it at a two-day event again. It's good to see lots of crews coming out and racing again.
"We were here yesterday in a women's D quad, so we won that after a heat and then a final in very interesting conditions. You always have to expect interesting weather at Nottingham – if it's good weather then it's great and make the most of it, but I think you always have to be prepared for interesting weather."
Broxbourne cox Amy Home said: "This is an experience! I haven't been at Nottingham for a very long time and I'd forgotten how harsh the weather can be, but yes it was great – and winning really helps!"
Amy was one of several competitors racing at the BRMC for their first time. Father and daughter, Paul and Jess Ashmore represented Cambridgeshire club St Ives, with Jess competing in her first British Rowing Masters Championships.
Accustomed to training on the benign River Great Ouse, the windy conditions made the going tough, with Jess reflecting: "Hearing everyone's comments about how tough the conditions were I thought, 'I just want to stay in the boat'. That was the aim to stay in the boat from start to finish.
"The race was good – I came sixth, but it was part of the experience and I enjoyed it!"
Chair of St Ives, Paul first took up rowing 40 years ago and said: "It's lovely that Jess rows – she enjoys the training and we've got an ergo at home. We do a mixed double and, in Covid times, we could do a family double so in 2020 we brought Jess on that way.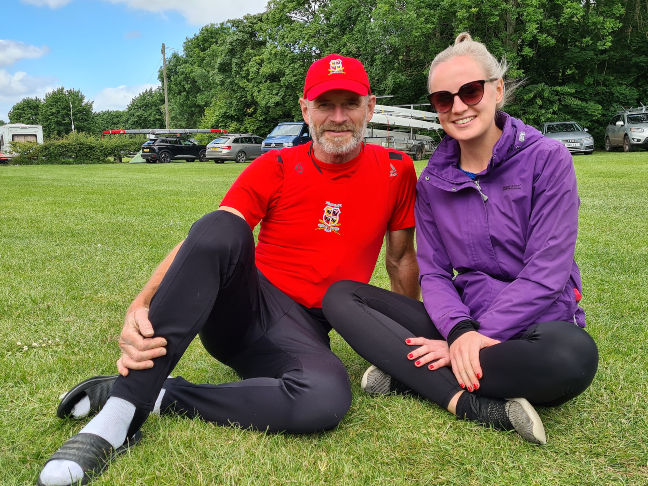 Paul and Jess keeping rowing in the family
"We had our first race in the mixed double at Lincoln Head and we won that – masters C – in March."
But of course these competitions just wouldn't be able to be held without the unstinting support of the many volunteers including stake-boat holders, catering staff and umpires.
Christopher Anton, Chair of the BRMC Organising Committee said: "Thanks to the volunteers who assisted the running of this year's regatta, particularly Team Keane who provided lots of volunteers when they weren't racing and helped in the regatta's success."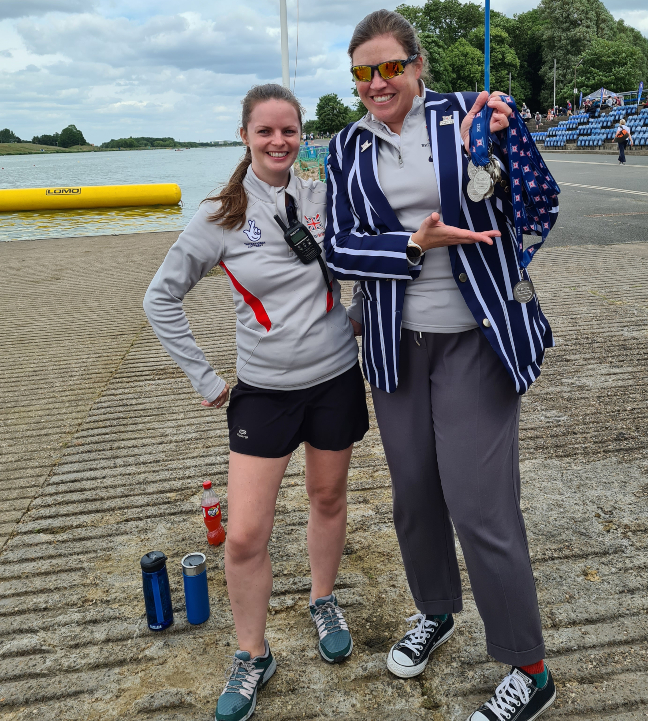 Volunteers Sue and Sarah pictured at the medal pontoon
In between presenting some of the medals, Umpire Sarah Gregory, Deputy Chair of the BRMC Organising Committee, said: "We've had quite a few comments from people saying thank you which was quite nice, especially yesterday when it was really quite challenging. To have people saying, 'Thank you, we appreciate you trying to run it in those conditions' was good. That's probably been my favourite bit."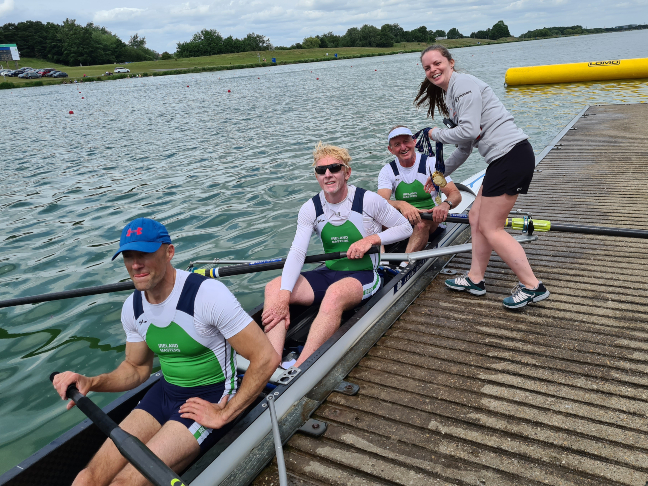 On medal duty
Former HSCT coach Sue Palmer studied for a masters in event management and has volunteered at events ever since. Her favourite part?
"I have to be biased and say doing medal ceremonies because I've been doing it for few years now. We get the pleasure of people who are really happy because they've done well enough to be awarded a medal.
"This weekend has been great because every single competitor has had a photo with their medal from a professional photographer which has been amazing.
"There's a great community within the organising committee, the umpires and all the volunteers and there's a willingness to make the event a success. It's really great."
For full results from the BRMC visit here >>>