A look back on the racing, wins and community spirit of the British Rowing Offshore Championships
The first British Rowing Offshore Championships, hosted for the first time in Wales, saw plenty of smiles and two great days of racing.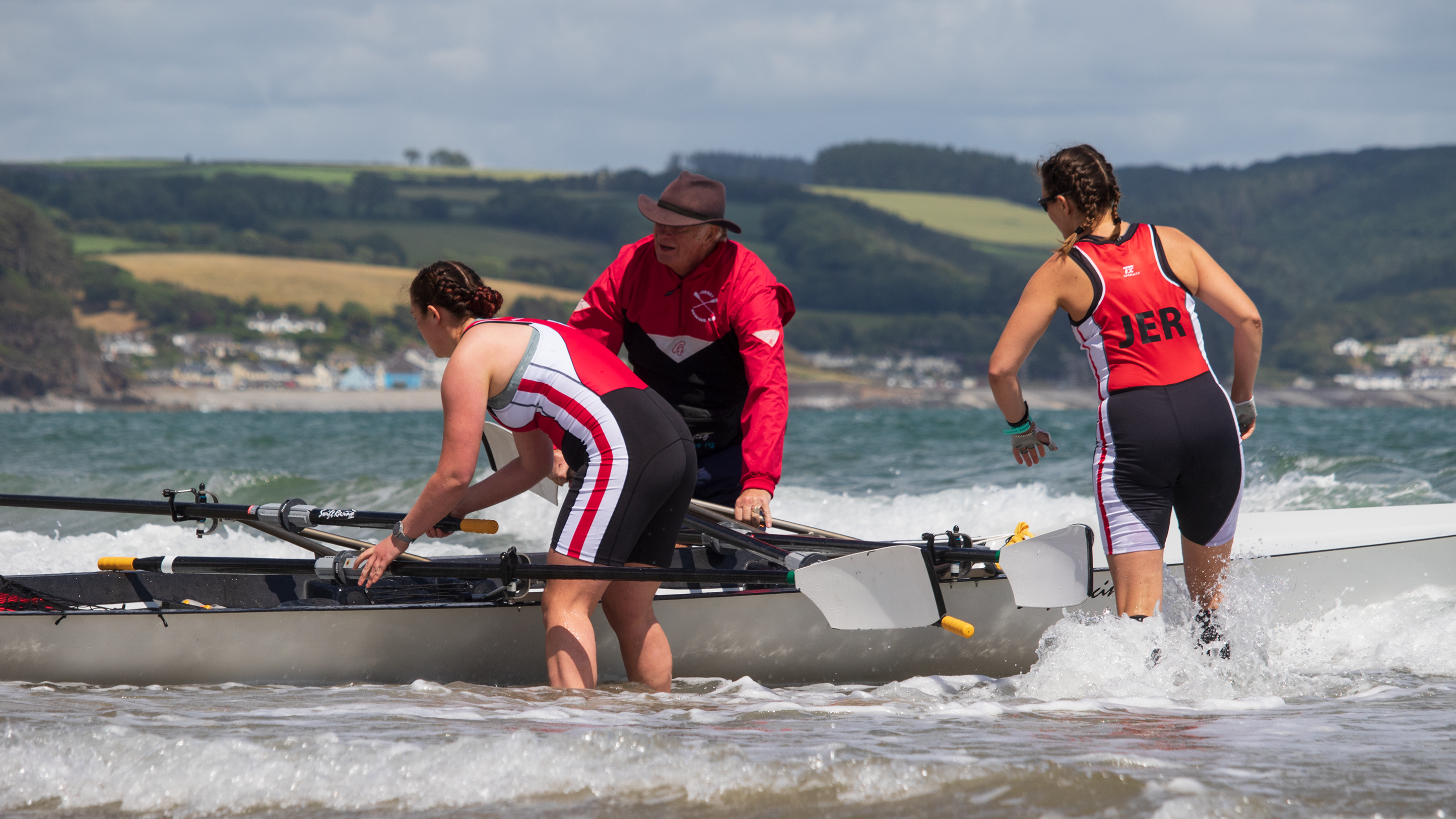 Friday and Saturday (24 and 25 June) saw Saundersfoot Beach brought to life with the bustling of boats, cheerful competitors and plenty of exciting racing.
Established coastal rowing clubs were out in full-force, with Jersey Rowing Club boating more than 35 competitors over the two day Championships. Congratulations are due to the whole team, topping the medal table with 3 gold medals, 1 silver and 2 bronze medals.
The Champs also saw plenty of first-timers turn their hands to river rowing's 'wilder cousin'. Cardiff University followed their captain Angus Gould to Saundersfoot, after he was hooked on coastal rowing during his first competition at the Welsh Rowing Coastal Championships earlier this year.
"Angus asked us if we wanted to do something crazy," said coach Maddie Scott. Having placed neither foot nor blade in a coastal boat before this weekend, their third place result not far behind Mayflower Offshore Rowing Club in the coastal coxed quadruple sculls (CO 4x+ – won by Tyrian Club) was incredibly impressive. Hopping out of the boat upon their return to greet the rest of their squad, there were smiles all round as one rower commented "this is the first time we've been this happy after a race."
The enthusiasm on the beach was palpable, with their CW 1x competitor Ellie Postlethwaite embracing the coastal mindset by cheerfully reporting a great race, despite having capsized twice.
"Even though he's the captain and I'm the coach, we're really all just great mates," Maddie added. "We're talking about making it an annual thing."
The Tyrian coastal open quadruple scull had an extremely strong performance in their event, calling it a "race of two halves".
"Up to Turning Point 1, where you're rowing straight into the waves, we had to learn how to row again." Nevertheless the team pulled through with a gold medal to take back to London.
Another happy newcomer was Poole ARC's Oscar Williams, who was cautiously optimistic ahead of his first ever coastal race yesterday. Today, to his own surprise, he competed in the CO 1x A Final finishing 6th overall. Oscar is planning on trying out for his university lightweights' river rowing team, but he's caught the coastal bug and hopes to return to the beach in the future. "It's not all about power, it's technique as well. And it's just fun bouncing around!"
"this is the first time we've been this happy after a race."
It was also brilliant to see the Coastal Rowing Academy bring 11 competitors to the event for their first ever BROC. "We're not expecting to win anything but we haven't come last yet, which means we're doing absolutely brilliantly," said coach Mike Gilbert. The club won a silver medal in the CW 2x event. "We hope to be back here competing in October for the World Rowing Coastal Championships."
Holding the event on the 2022 World Rowing Coastal Championships and Beach Sprint Finals course brought a certain buzz to both days of racing. Thanks are also due to the clubs who travelled from abroad – including a contingent from Sweden's Helsingborgs Roddklubb, who (racing as a family team and in composite crews throughout the competition) will be taking home 1 silver and 2 gold medals between them.
We look forward to just as exciting an event on Sunday (26 June), when the British Rowing Beach Sprint Finals will take place.
 Caught the coastal rowing bug? Tickets are on sale now for the World Rowing Coastal Championships and Beach Sprint Finals. Visit the event website here.