The 2022 Gemini Boat Race with Ollie Wynne-Griffith and Amelia Standing
The Gemini Boat Race 2022 returns to the Tideway on Sunday 3 April. Alex McMullen from Junior Rowing News talks to Boat Race Blues Ollie Wynne-Griffith (Cambridge) and Amelia Standing (Oxford)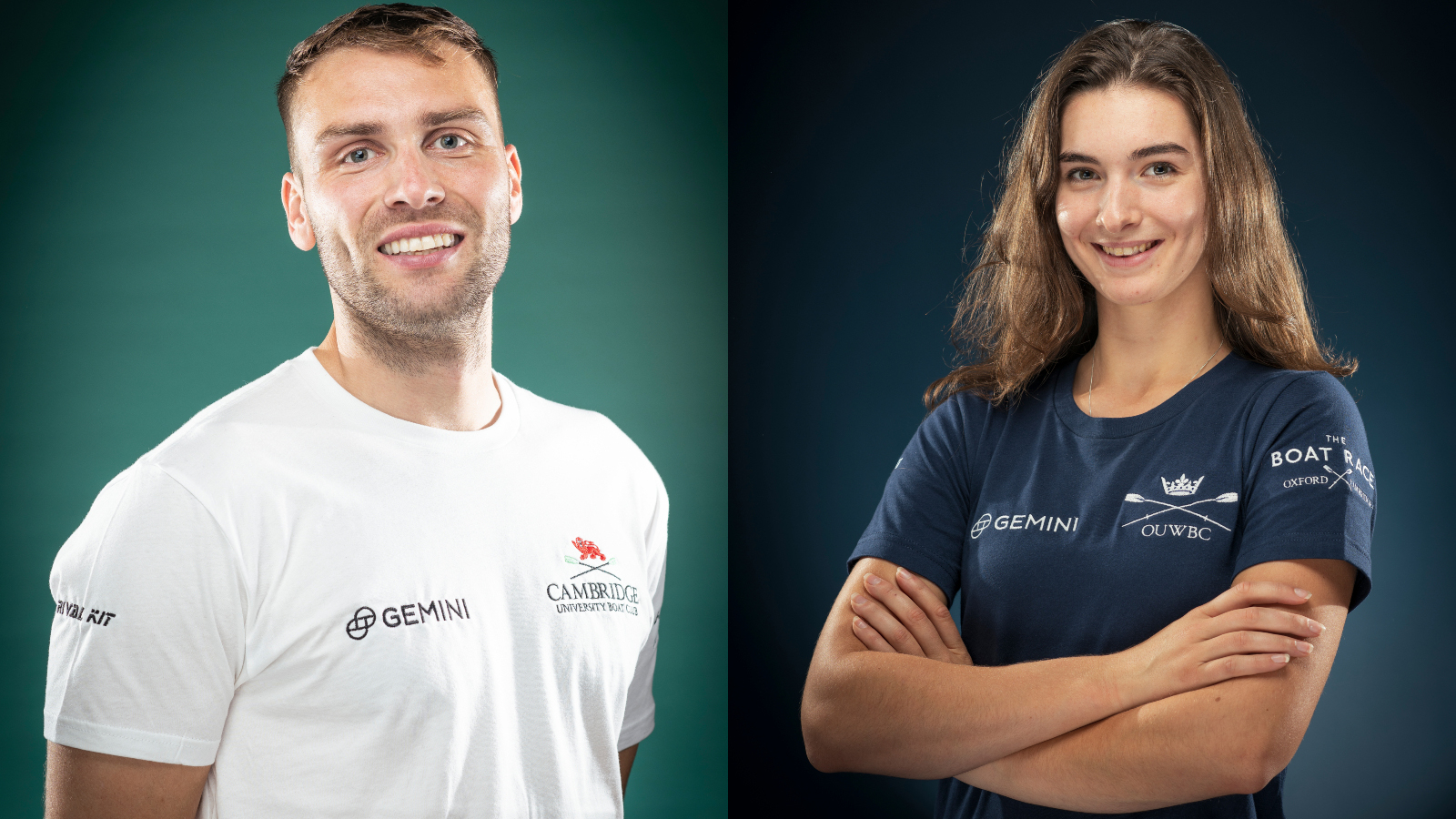 The Oxford-Cambridge Boat Races are among the oldest and most iconic sporting events. Following a 2020 cancellation and a 2021 relocation to Ely, the women's and men's 2022 Gemini Boat Races between Oxford and Cambridge universities return to the Tideway's famous Championship Course on Sunday 3 April for the 167th Men's Boat Race and the 76th Women's Boat Race.
Having rightfully earned its title as one of the most distinguished amateur sporting events in the world, the Boat Race has played host to athletes at the top of their game in our sport since it began in 1829. With such a legacy to uphold, it is no surprise that those selected into the women's, men's, and lightweight Blue boats consider it to be one of the greatest honours in their rowing career. Oxford's Amelia Standing (OUWBC Blue Boat, three seat and women's President) and Cambridge's Ollie Wynne-Griffith (CUBC Blue Boat, five seat), who won an Olympic bronze with the GB men's eight at Tokyo, are among those select few racing this year. We discuss some of the key characteristics of the pinnacle event in their university rowing calendar.
"It's special to wear the blue knowing about the men and women who have worn it before you"
The Boat Race is undoubtedly steeped in history. With the first men's race held in 1829 in Henley-on-Thames, it has taken place on the 6.8-kilometre Championship Course upstream from Putney to Mortlake since 1845. The men's Boat Race then became an annual fixture in 1856, with breaks during the First and Second World Wars.
The @Gemini Boat Race returns to #London on 3 April@OUWBCsquad make final preparations..for the hardest race .. for @OUWBCPresident last Boat Race… everyone looking forward to racing #Cambridge .. @BritishRowing @UniofOxford @WorldRowing #sport pic.twitter.com/CHDxbX5Zxq

— The Boat Race (@theboatrace) March 17, 2022
Perhaps surprising to some, it was not until 1927 that women were able to represent their respective institutions and compete in the first ever women's Boat Race, originally held on the Isis in Oxford over only 800 metres. Many iterations of competition on Henley-on-Thames' world-renowned course followed before the move to the Tideway in 2015, in line with its 70th anniversary.
It is this history that serves as a permanent reminder of both the undeniable legacy of the Boat Races, and the prestige that comes with being selected.
"It is a great privilege and honour," Ollie notes. "It's special to wear the blue knowing about the men and women who have worn it before you. In my case, a few of those men are family members who originally inspired me to pick up an oar. This makes my selection extra special for me."
Fast forward to 2022, and the atmosphere surrounding the occasion is more thrilling than ever, not least for the athletes themselves. Amelia is no stranger to the intensity of the training programme in the run-up to selection, as this year marks her fourth consecutive Blue Boat campaign.
"The mileage on a given week will be anything from 170km to 220km"
"We [at Oxford, much like Cambridge] train 12 times per week, with Mondays off, which works well around our academic timetable," Amelia explains.
"This features double sessions every weekend, and, equally, we try to get out on the water on weekday afternoons as much as possible. When final selection approaches, the more time we can spend in the boat, the better."
From a Light Blue perspective, Ollie highlights the distinct variety in this year's Cambridge programme.
"There is more intensity and pieces than I've been used to previously," he says. "Generally, the mileage on a given week will be anything from 170km to 220km, depending on the time of the season."
Better still, Oxford and Cambridge's respective training programmes are not without a bit of side-by-side competition. Both Blues show their sporting camaraderie in the final preparatory months of training by organising pre-race fixtures against high-performance clubs like Leander, Oxford Brookes University, and Tideway Scullers School, which take place on the Tideway in the weeks leading up to Race Day. Cambridge's men even raced a Dutch U23 crew a couple of weekends ago.
Amelia says: "These fixtures have definitely been a highlight of the programme for us this year, as they help build mental fortitude and also allow us to live through different scenarios we might encounter on race day."
"Being surrounded by like-minded people who are simultaneously academic and athletically determined is constantly inspiring"
With all the high points that come with the territory of Boat Race selection, the intensity of the training programmes at both Oxford and Cambridge are by no means free of challenges.
"Switching sides was a big one for me," Ollie points out. "Having rowed on stroke side for a decade it was definitely a risk [to switch], but also a great opportunity to lose bad habits and reteach myself to row more efficiently."
While all the athletes competing this year have undoubtedly had highly successful domestic and perhaps international rowing careers in their own right, both Amelia and Ollie explain that it is important for spectators and fans to remember that the athletes are first and foremost full-time students.
"It's a constant balancing act between rowing and academics, but we make it work. Being surrounded by like-minded people who are simultaneously academic and athletically determined is constantly inspiring," Amelia explains. This certainly renders Boat Race selection and performance all the more impressive given the incredible demands on a person's time and energy.
With the legacy of almost two centuries resting on the athletes' shoulders, it will be a fittingly gladiatorial match on race day. The stage is set, the crews are prepared, and the countdown has begun.
One final question remains – which blue are you?
The women's and men's Gemini Boat Races 2022 take place on Sunday 3rd April on the Championship Course of the River Thames. It will be televised live on BBC One. The full crew lists can be found here.