British Rowing Almanack 2022 now available
The 2022 British Rowing Almanack is now out and available to buy! We talk to Editor Maggie Phillips about the new edition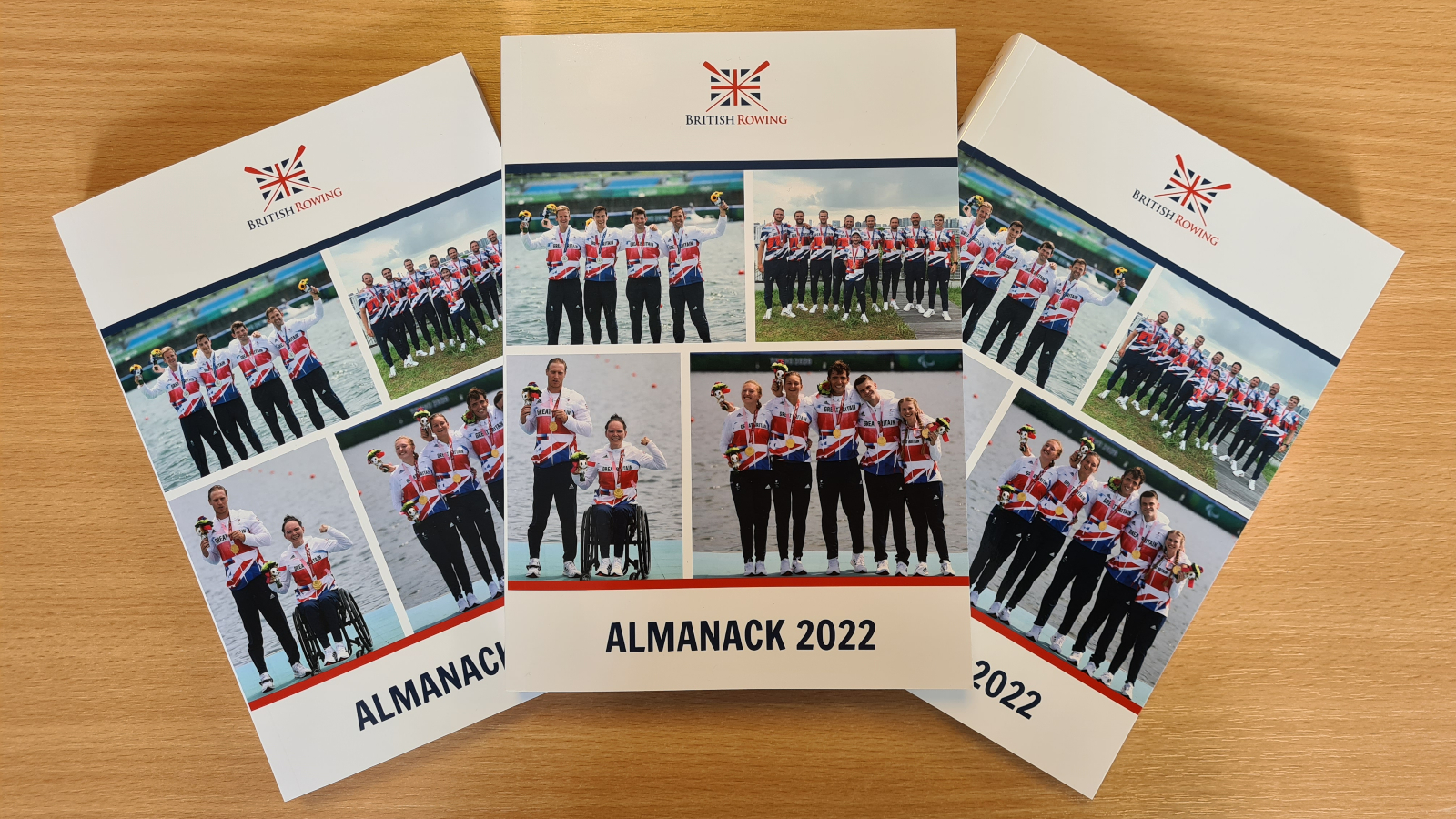 The British Rowing Almanack is back after being cancelled last year because of COVID-19. This fantastic resource for aficionados of the sport is jam-packed with information from the fastest times at Henley Royal and club records through to the masters' handicapping table and the colour of different club blades. The detailed governance information includes the 2022 Rules of Racing making the Almanack the go-to reference guide for the rowing community.
After finishing her 11th Almanack, we caught up with Editor Maggie Phillips to find out what it takes to compile this annual yearbook.
1 – How did you become editor of the Almanack?
Maggie: Back in 2009, Di Ellis (then Chairman of British Rowing) asked me if I would consider taking on the task (a voluntary post) to follow Keith Osborne, editor for the previous 50 years. Having had some experience in rowing journalism, including writing articles and taking photos for Rowing & Regatta magazine, I accepted – initially for five years. Well – that soon turned into 10 with the publication of the 2020 edition.
2 – Last year there was no Almanack published due to COVID-19 – the first time that a year was missed since 1947. It must have been a strange feeling collating information from both 2020 and 2021. How did the process go?
Maggie: Initially, it was the weather, including Storms Ciara and Dennis, which forced the cancellation of many 2020 spring heads prior to the first COVID-19 lockdown in March. But it was not until late summer, after there were no regattas at home and abroad, when it became apparent that a 2021 Almanack was not a viable option.
However, all data from the 2020 events – which did happen – was collated with the hope that things would improve in 2021 which it eventually did. So, we were up and running for the 2022 edition.
3 – Is there anything different in the 2022 edition?
Maggie: The main difference is that we have a '2020 Season' section followed by the '2021 Season'. In both all events which did not happen, and why, are listed which is most important as an historical record. We know why today but readers in years to come may not.
4 – Do you have any help compiling the contents?
Maggie: I certainly do – the majority of the event results and related data are supplied by British Rowing, but still need some enhancing. But I rely on numerous contributors, in the main volunteers from all over the UK, for the remainder (eg coastal rowing, ocean rowing, skiff racing, Welsh and Scottish Rowing to name just a few) and I can't thank them enough for all their hard work – especially for this edition in what was challenging times. This also applies to all those who have supplied photos to enhance these reports.
5 – What are the highlights for you in the new Almanack?
Maggie: As always, I do enjoy identifying new and relevant articles for each edition and subsequently liaising with the contributors. This time we feature the 2020 Tokyo Games with input from some of the GB athletes competing and volunteers in various roles, including the hoops they had to go through to get there. Nearer to home we also cover how two provincial regattas planned and put on their events over the first weekend after restrictions were eased in July.
6 – So, with the latest edition out in print, can you now put your feet up for a bit?! 
Maggie: The first answer is no! And work has already started for the 2023 edition – the Oxford v Cambridge Boat Races were held and, thankfully, back on the Tideway with crowds lining the banks. Also, most of the spring heads have now taken place so that will be next.
How to order
The 2022 Almanack is on its way to life members, direct debit members and affiliated clubs and is available to purchase below.
The price of the Almanack is £28 for a perfect bound version and £31 for a spiral bound version.
If you are a British Rowing member then you can login to your account; go to your 'Profile' and select 'Member Details'. Click 'More' and you will then see the 'Extras' tab where you will have options to purchase a stitch or spiral-bound copy.
If you don't have an online account or are not a member of British Rowing, then you can contact us at [email protected] to find out more.