'If I can get in a coffin full of snakes, I can get in a boat and row to Burnley!'
On Monday at 8am, Radio 1 celebrity Jordan North will start his Row Home from London to Burnley for Comic Relief – he talks to Toby Bryant about blisters, training and life!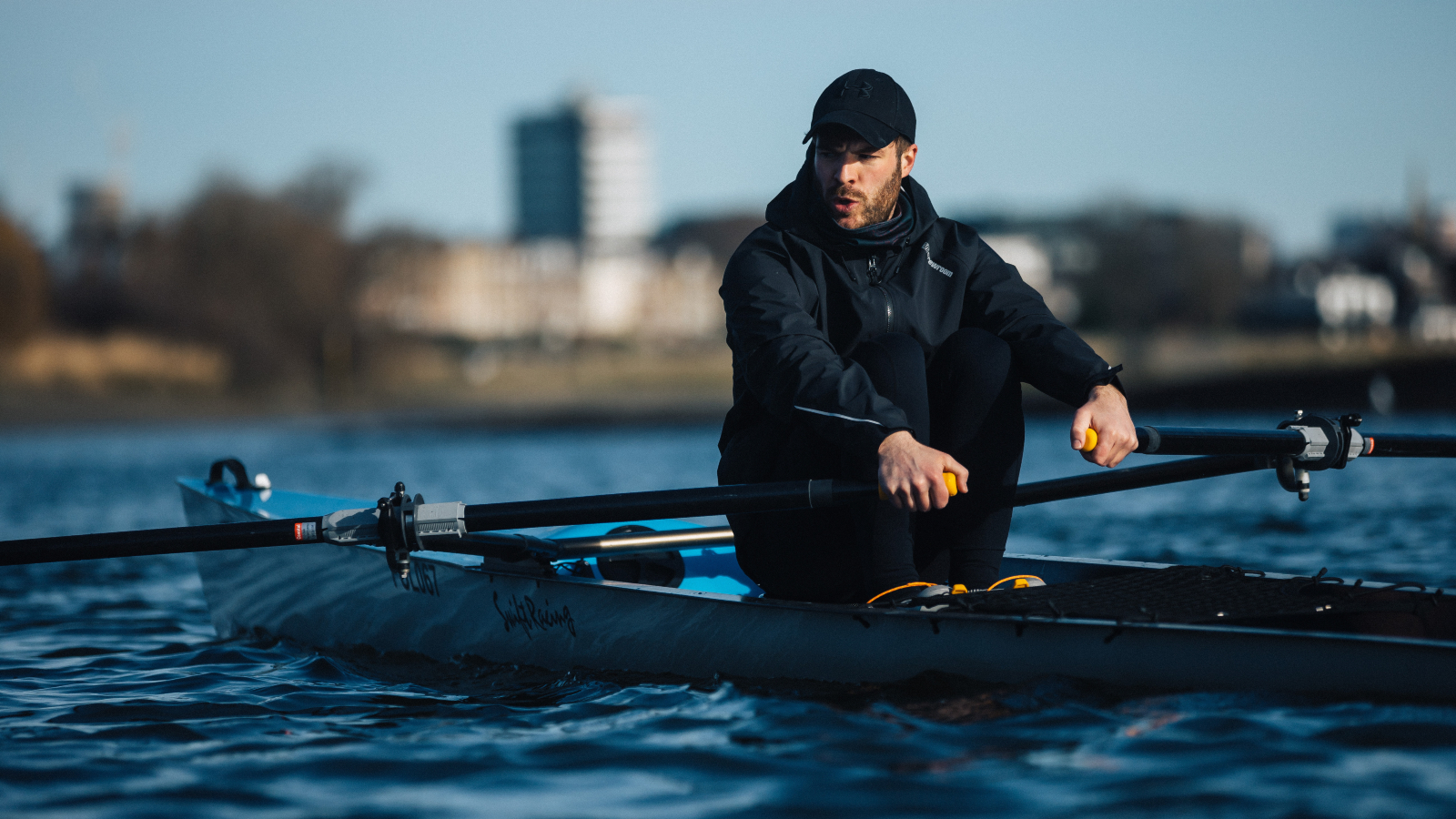 When Radio 1 presenter Jordan North was screaming and squealing at the thought of a challenge on I'm a Celebrity… Get Me Out of Here! in 2020, it's fair to say you wouldn't have believed he would be prepping to row from London to Burnley.
Yet, as Jordan admits the show changed his life, that is now reality for the charming star. The 32-year-old will row 100 miles in five days, starting this Monday, 28 February, from the Thames in the capital and finishing in his hometown of Burnley.
Just days before setting off, Jordan talked to British Rowing about blisters, training and who he wishes was in his boat…
BR: Hi Jordan, thanks for chatting with British Rowing. First things first… how are your hands?
Jordan: "Oh, honestly, that's the best question I've been asked. Nobody else actually realises that. I can cope with the back pain and the legs, but the blisters are the worst.
"They're actually pretty bad at the moment. At Fulham Reach Rowing Club where I'm training, when I started they kept asking, 'have you got your first blister yet?'
"I said no, and they told me I wasn't working hard enough. When I got my first blister they were all high-fiving me, which was very nice!"
"I take my hat off to any rower or anyone reading this who gets in a boat every week because it is hard"
BR: Hopefully it's getting to the stage where they are have calloused more now at least?
Jordan: "Yes! Although saying that, I was on the ergo last night and I've got another little blister appearing this morning which is great…"
https://twitter.com/jordannorth1/status/1495806605627215872
BR: Lots of people do a lot of things for Comic Relief – you've taken part in the 'LOL-A-thon' before. Rowing 100 miles is perhaps a little more on the extreme side… how did the idea come about?
Jordan: "Last year I said I wanted to do something for Comic Relief. I felt like it was my time to step up to the plate, everyone at Radio 1 has done bits before. I've got involved but felt it was my time to step up.
"In November last year Comic Relief got in touch and said they were thinking about doing something with rowing as they've never done that before. I thought it sounded good and stupidly said to myself, how hard can rowing be?
"Honestly, now I take my hat off to any rower or anyone reading this who gets in a boat every week because it is hard. A lot of people think it's just upper body, but it's not. It's your whole body, your legs, the technique you have to nail every time you're on the water."
BR: What was your relationship with sport coming into the challenge? 
Jordan: "I'd never rowed before. I run two or three times a week and go to the gym when I'm free, but this is the fittest I've ever been in my life. I thought I was fit before this, but this is the next level.
"People have started to notice too! They've said, 'oh, you been going to the gym?'. I've had to be quiet about it and keep it secret."
"I told Helen Glover about it on my radio show and she said, live on air, 'I wouldn't want to do that', which filled me with confidence!"
BR: You've mentioned being surprised it wasn't just all in the arms. Talk us through what other preconceptions you had about the sport and how that compared to reality?
Jordan: "I thought I'd have to do loads of gym work on my upper body and didn't realise it was the legs.
"For me it was the technique. It took a good two or three weeks to actually get a bit of technique and be able to get in the boat without stabilisers. I still think that's the most important part. I've managed to build my fitness up but if you lose concentration for a second or don't keep your eye on the boat or the water you're nearly falling in, or you're on the other side of the river."
BR: You've been training with Tracey Corbett down at Fulham Reach. What has your training consisted of so far?
Jordan: "I'm training six times a week – three times a week on the Thames and then three times on the ergo in my bedroom. I've got targets every week I've got to smash on the splits and how many metres I row in a certain time.
"I can't wait for that bloody machine to be taken away because it haunts me. I get up every night and bang my shin or toe on it too! It causes me pain when I'm on and off it!"
BR: Can you talk us through exactly what the challenge consists of?
Jordan: "It's going to be around about 26 miles a day. On a good day we might be able to do it in six hours and on a bad day eight hours. We're going to start in London, make our way through the Midlands, up through Yorkshire and across to Burnley.
"I told Helen Glover about it on my radio show and she said, live on air, 'I wouldn't want to do that', which filled me with confidence!"
BR: Are all the Radio 1 colleagues confident in you, or are some nervous?
Jordan: "It's been a mixed reaction. Some say I can do it. Greg James said I'm either going to smash it or end up in the middle of the Irish Sea, which I think sums me up.
"They've all been dead supportive and the whole station is getting behind me. We've had such a great response from the listeners which has been really nice to see."
BR: Enough talking about how wrong it all could go! What are you most looking forward to about the challenge?
Jordan: "A pint of Guinness at the end.
"I've cut down on the booze loads, but now I'm on an alcohol ban. I've not had a drink since last week and I'm not going to have one this weekend.
"I said to my mum, on that Friday I want you on the finish line no matter what time I finish with a fresh pint of Guinness."
BR: You're taking on the challenge in a single. If you were to be in a four, who would you want in your boat?
Jordan: "Ooh… I'd definitely have Vick Hope, I think she'd be great. I'd have Greg James as well and then I'd have Sean Dyche with me. He can keep an eye on us and if Sean Dyche is in that boat, we aren't going to be failing any challenge."
BR: If Sean Dyche was there you'd be doing it in two days, not five!
Jordan: "Exactly! If Sean Dyche was there, we'd do it in 24 hours… [in gruff Sean Dyche voice] 'c'mon lads, I'm cold.'"
BR: You're a man who knows his music. What tracks have been motivating you and pushing you along?
Jordan: "Burnley come out to Arcade Fire 'Wake Up', so I've been listening to that as I find it quite motivational. We've had quite a mixture of tracks, anything from the Arctic Monkeys keeps me going and I've been listening to Radio 1 as well which has been helping.
"I want to get a little shower radio for the boat so I can listen to Radio 1 whilst I'm in there."
BR: Finally, we've got to ask about I'm a Celeb as you've provided some iconic TV moments from there. How nervous are you for this challenge compared to the show?
Jordan: "With I'm a Celeb you didn't know what to expect and, don't get me wrong I don't really know what's going on with this, but I'm ready and I've trained for this. In I'm a Celeb I was just thrown in the deep end.
"If it wasn't for that show, I wouldn't be doing this. I know it sounds corny, but that show changed me for the better. It's given me a new lease of life. If I can get in a coffin full of snakes, I can get in a boat and row to Burnley!"
You can follow Jordan's journey from 8am on Monday, February 28 on @BBCR1