Coaching diving legend Tom Daley for Comic Relief
Tom Daley has completed his epic four-day sports challenge for Comic Relief – and it's included rowing. World Class Start Coach Nicola Benavente coached Tom and shares her experiences with Toby Bryant below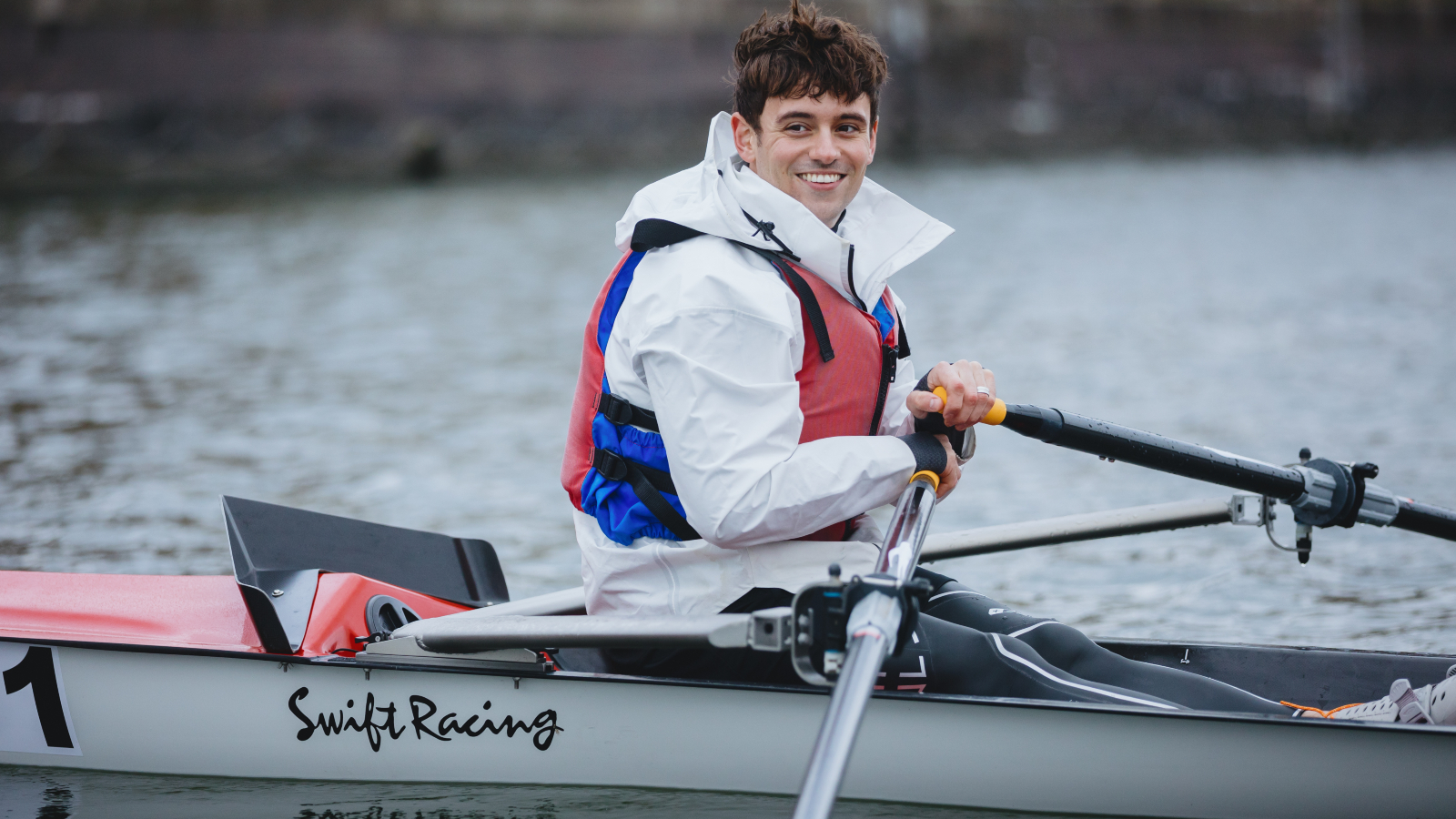 Having won an Olympic gold medal at Tokyo 2020, been awarded an OBE and captivated the nation with a knitting side hustle over the past 12 months, you'd think Tom Daley would be wanting a quiet February.
Instead, the 27-year-old took on the gruelling 'Tom Daley's Hell of a Homecoming' to raise money for Comic Relief.
The Olympian has cycled, run, swam and rowed from the Queen Elizabeth Olympic Park in Stratford to his hometown of Plymouth over a crazy four-day effort.
His epic challenge began by rowing from the Olympic Park to Tower Bridge, followed by a cycle ride to the GB Rowing Team's training centre at Caversham, where he was greeted by Sir Steve Redgrave. Day two saw him completing an open water swim at Caversham Lake, with the GB rowers waving him off as he got on his bike to cycle to Southampton.
https://twitter.com/BritishRowing/status/1493644090520526853
Over the last two days of his challenge, Tom has had to combat storms and high winds as he cycled and ran from Southampton to Plymouth, describing it as 'The hardest thing I have ever put my body through!' on his Instagram feed.
https://twitter.com/comicrelief/status/1494391901037993989
He's put in the hard hours before taking on the challenge, converting himself from a diver to an all-sports machine. That included eight water sessions and three coached ergo sessions via Zoom, led by British Rowing's World Class Start coach Nicola Benavente.
We talk to Nicola about her role in 'Tom Daley's Hell of a Homecoming'.
Q: How did coaching Tom come about and what were you most looking forward to about it? 
Nicola: "Comic Relief got in touch with British Rowing and asked if we could help, so of course we were keen to help.
"Tom is such a great athlete. The fact that someone who, as a diver, doesn't have an endurance background is going to take on something that even an endurance athlete would find savage was really tough.
"To be able to offer him some help to get through the rowing bit, I couldn't say no."
"His commitment to training was amazing. There wasn't a chance in hell he was going to get out and give up"
Q: Had Tom ever set foot in a boat, or did he come at rowing as a complete novice?
Nicola: "He was completely new to it. He said he'd done a session or two on the rowing machine, but not much.
"He'd never been coached or done any training on a rowing machine, let alone on the water. He'd never really seen a boat before, just watched a bit of rowing here and there. He was a real novice!
"His commitment to training was amazing. There wasn't a chance in hell he was going to get out and give up.
"At the back end of our training sessions, he would do his cold-water immersion. In week one he was in for two minutes just in swimming trunks and life jacket. It was awful watching. By week eight he was up to 10 minutes. He was doing that two or three times a week. I just knew there was no way he was stopping."
Q: What was it like coaching an Olympian?
Nicola: "Tom was really easy to coach. It's fascinating the overlap of diving and rowing which I'd never thought of before.
"Things like holding his body and how to push through his legs, just the simple things that we talk about when coaching rowing he understood as it's the same in diving.
"There was quite a lot of crossover, which was fascinating to figure out and see. He was great at taking things in and transferring it into what he's done before."
Q: That's interesting, you might not necessarily realise the crossover in sports…
Nicola: "Diving is predominately a trunk and leg sport, so his hips and trunk are really strong. Getting into the positions for rowing was dead easy for him. He had a bit of hamstring difficulty, but nothing we couldn't work with.
"The position we asked him to get into was more extreme than he had been in before, but still the way he moved was easy.
"It was really a question of building a pattern of a movement, rather than teaching him how to hold himself well and engage muscles."
"People were cheering for him as they went past and hanging out their flats overlooking the canal"
Q: Did Tom have any preconceptions of what the sport might be like?
Nicola: "He was very open from the start and said he knew nothing. The way he moved to start with was very arms-y, as most people are. Legs are there basically for a good time and the arms are there working.
"He was very arm driven off the front, body open and flung himself back. That was the biggest thing to coach out of him, getting a bit more patient with the legs and holding the body just a bit longer."
Q: Tom rowed from the Queen Elizabeth Olympic Park to Tower Bridge. How did the start go?
Nicola: "The first bit was along a canal and along the River Lea which is really quiet, quite narrow and very bendy.
"That was really sheltered, and he had to go through one lock, 300m around the aquatic centre. From there it was just weaving through down to the Limehouse Basin. He was fine with that; you could barely feel the wind and it was pretty calm.
"People were cheering for him as they went past and hanging out their flats overlooking the canal and calling out to him. That bit was really quite nice, quite steady.
"He only hit one wall when he overcooked a turn and had one duel with a swan, but other than that it was quite uneventful.
Q: … and what about when he hit The Thames?
Nicola: "The complete opposite. The Uber Boats were flying past, shipping boats and the water was being churned up as well as the wind.
"We got him in the boat and set off then maybe 100 metres in he flipped. One of his blades got caught and the whole thing flipped. He was completely upside down, fully submerged. There was a lot going on.
"The safety boat flipped his boat over, he was straight back into the safety boat and then no questions asked straight back into the single.
"We'd practised the capsize in his first session. We joked that he could swim, but he said he couldn't really as he dives, does two strokes to get out and dives again.
"There was no way he was going to be put off by things. He was really good like that."
Support Tom Daley and Red Nose Day
You can support Tom's incredible endurance challenge here.
And on he goes… amazing progress by @TomDaley1994 in shocking conditions today! Donate if you can at https://t.co/DMiouS66gb #KinshipJourney #TomDaleyHomecoming https://t.co/hngeLOpqNy

— Steve Redgrave (@SteveRedgrave5) February 16, 2022