'On behalf of all the students who've learned to row at Queen Elizabeth – thank you'
A special award was given to Geoff and Pauline Higgins from Queen Elizabeth High School RC at the Sport Tynedale West Northumberland Sports Awards last Thursday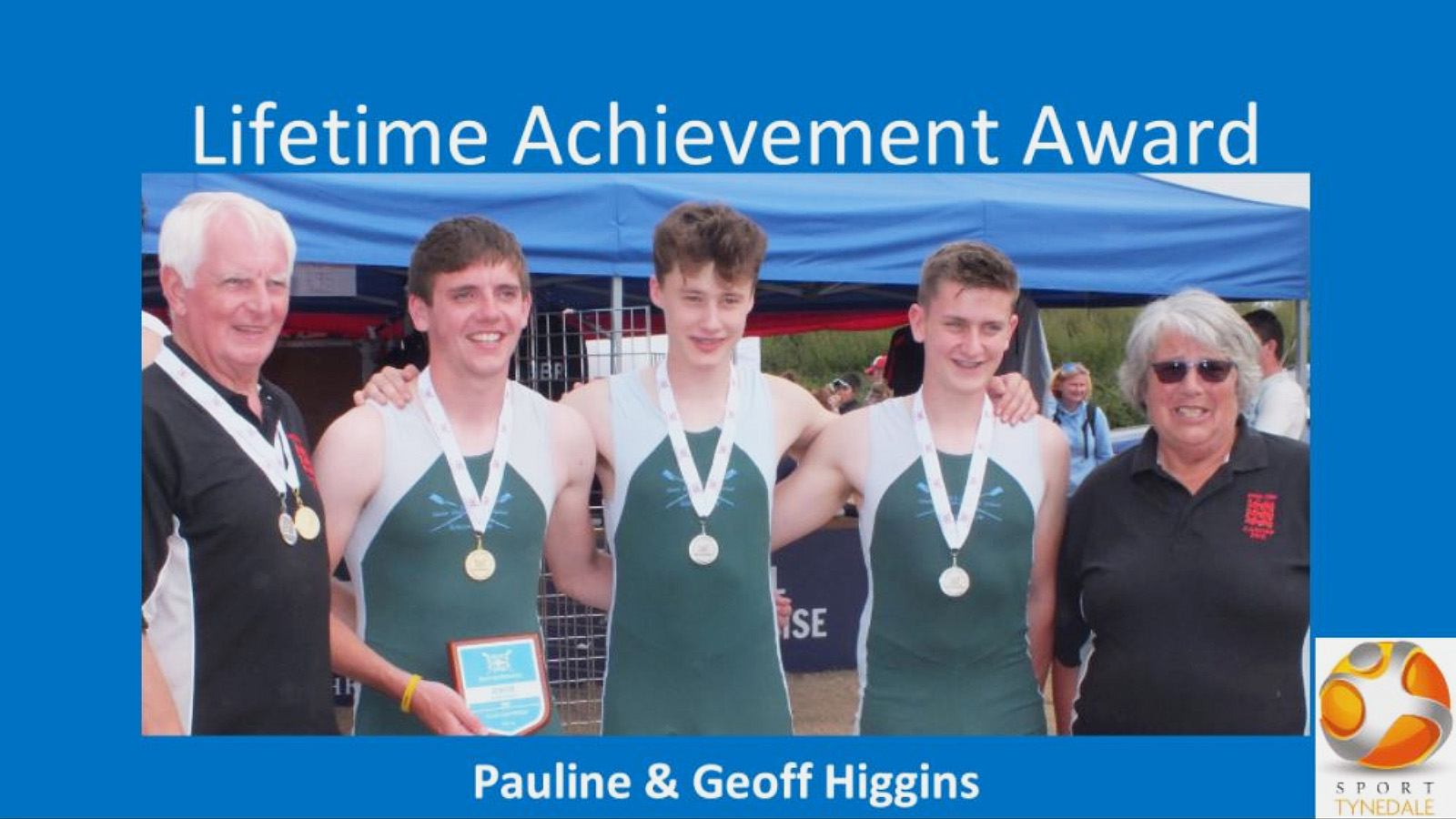 Geoff and Pauline Higgins received the inaugural Lifetime Achievement Award at the Sport Tynedale West Northumberland Sports Awards on Thursday evening, in recognition of their incredible commitment to Queen Elizabeth High School RC in Hexham, Northumberland.
Both have been involved in running the state-school rowing club as volunteers for 30 years, with Pauline managing it since 2003. QEHS Rowing Club has an outstanding reputation in introducing rowing to juniors. With over 120 members, QEHSRC welcomes any juniors who want to row either socially or competitively.
It's a testament to Geoff and Pauline's coaching skills and immense enthusiasm that many members have won medals at Nat Schools and the British Rowing Junior Championships with students progressing to university rowing and even representing their country. But the rowing club is more than just a sports club and there are generations of children who've benefited from life skills learned through rowing, nurtured and encouraged by Geoff and Pauline.
Geoff said: "We will take on anybody and we have lots of children who choose to row socially and who don't want to compete."
After receiving their special award, both said they felt overwhelmed at being honoured in this way.
"One thing that makes QE special is this sense of belonging and this is down to Pauline and Geoff"
Tributes included one from junior rower, Tom, who said that he wouldn't be the person he is without Pauline and Geoff's support and commitment at the club.
British Rowing Deputy Chair Kate O'Sullivan also expressed her gratitude, saying: "I just want to say a huge thank you for the hours that you have dedicated over many years so that all the kids at QEHS at Hexham have an opportunity to enjoy their rowing.
"Observing how your kids all work together to support each other at any race is an absolute testament to the work that you have done."
Matt Wells, who won an Olympic bronze at the 2008 Games, learned to row at QEHS. Speaking about the huge efforts that Geoff and Pauline have made to keep the club going, despite operating on a shoestring budget, he said:
"This success is always down to the people behind the sport – the ones who organise all the races, the ones who take you to the events, who keep the kit organised, who video you at the events and then always say 'well done' to you – whether you've come first or last with the same enthusiasm and positivity.
"However, the one thing that makes QE special – and this is down to the energy and enthusiasm that Pauline and Geoff put in – is this sense of belonging.
"I've made lifelong friends from rowing at QE – 20 years on I'm still as good friends now as I was when I was at school. I have such a strong affinity to the school, club and rowing and I'm not the only ones that they've managed to do this to.
"I think what this opportunity is giving us – the students of QE both old and new – is a way to just say thank you. Thank you for how much you've put in and how much you've changed people's lives. This is just a massive acknowledgement of what you've actually done.
"On behalf of all the students who've learned to row at QE – thank you."